* * * * * * * * * * * * * * * * * * * * * * * * * * * * * * * * * * * * * * * * * * * * * * *
December 2018 • TedGreene.com Newsletter

A warm holiday greeting to all!
This month we have just 11 new items from Ted to share with you. Some of the lesson pages in Ted's teaching archives are self-explanatory and we can just post them "as-is" – whereas others are fairly complex and require considerable time to re-write, re-draw, notate, or whatever so they are easier to read, understand, and follow. So, as we head into more of these types of lessons there will understandably be less of them each month. Now, I've never heard of any of Ted's students complain about not having enough lesson material to work on! Many of his pages can take months or years to really get under your fingers…and we often find ourselves coming back to those same sheets over and over throughout the years. Each month we're adding to this tremendous library of Ted's musical resources that will (hopefully) serve to inspire generations of guitarists of the future. We hope that each month you can find at least something that will food for thought and ideas to keep your fingers learning.
We wanted to share with you Barbara Franklin's account of the last December holiday season she spent with Ted:
On December 12, 2004 Ted played his fifth brunch at Spazio's. When we arrived, all the tables around the stage had been reserved so I sat at a small table in the bar area. While he was warming up, I got some breakfast from the buffet. By the time Lori and Andi arrived, Ted was sounding spectacular. He played many songs just for me. I was enraptured, could not hold back tears, it was so poignant; all the songs had special meaning which he expressed so deeply it penetrated my being. That was his beautiful early Christmas gift to me.
In his datebook he noted, "I surprise Barbie (who's with her best friend Lori & her sis Andi) and play many tunes for her. She is thrilled. Angela for first two hours, Banana Crème for Christmas medley, spontaneous last half hour. This '54 Esquire and my equally beloved Fender Vibrolux Reverb is now producing the sounds I've wanted all my life. Part of it is sitting to the side of the amp (all tuned down one whole step — no, 1/2 step I found out later), Then very last half hour, as fine a sound as I've ever gotten. Spectacular, ringing, throaty, chimey on #4: my beloved '54 Esquire with '60's Vibrolux Reverb: Have Yourself a Merry Little Xmas, O Xmas Tree, Silent Night, White Xmas, The Xmas Song."
The following Sunday Ted played a two-hour early afternoon private party at The Getty Center's Scholar's Lounge. When he came home, he found Lori and I attempting to surprise him by making homemade chocolate chip cookies sans electric mixer, hard work but we succeeded. The three of us, stuffed with warm cookies fresh from the oven, chips melting on our fingers, watched (for the millionth time), and still marveled at, the Wizard of Oz. Then he caught another cold.
Christmas Eve Ted came over unknowingly bringing his illness with him. He'd felt better when he left his apartment, then the illness manifested again here. We knew he shouldn't stay, as much as we wanted to spend the evening together, especially to share the music of the season, but it seemed to be the season itself that caused his illness. I recalled that almost every year, around the same time, Ted would catch a cold. Yet before he left, we exchanged our meager but heartfelt gifts. Photographs and silver coins for an electric mixer (so thoughtful), and a wonderful puzzle.
Ted remained very sick throughout the last week of the year; he taught a student or two, transcribed a few Colombo cues, and worked on some guitars: "Bend 2 contacts for neck pickup and repair (Guild T100D SB) Sadie's toggle switch which wouldn't stay in position, but in order to access her I had to drill out (in 4 stages) one of the stripped, old rusted pickup wiring screws. Success. Readjust. And what a jazz tone, controls full up and neck pickup now very low in its ring in the Peavy Special 130. Even sounding 2 - perfect thick rounded hollowish mid-range tone."
Sad at not having seen Ted for a week it was a surprise to hear him come in on New Year's Eve afternoon, completely recovered from his illness. So glad to see each other, and I was relieved that he was again well. Impromptu, we met Lori and Andi for a late lunch at Solly's Deli. Later spent a quiet, enjoyable evening joined by Lori for a while, the three of us watched "De Lovely," not great, but okay. Ted and I stayed up 'til midnight, saw the ball drop, and at the very moment when I exclaimed it's 2005, Quincy [the cat] kissed me! My first kiss of the New Year, then I asked Ted for my second kiss. I was so glad this year was over, and Ted echoed my sentiment, "B thrilled to be done with 2004 & Quincy's kiss of her right after midnight seals the deal."
From My Life with the Chord Chemist, p.160-161.
by Barbara Franklin

* * * * *
~ Your friends on the TedGreene.com Team

NEW ITEMS
ARRANGEMENTS:
* Lucy in the Sky with Diamonds, 1993-01-10. [Written up as a special request during a private lesson, Ted gives us his interpretation of this well-known Beatles tune, minus the chorus section. Notation and lyrics provided combined with Ted's grids.]
Under the "Lead Sheets written by Ted" header:
* Teach Me Tonight, 1973, September. [Ted wrote this lead sheet back in 1973. There's no arrangement connected with it – just melody and chords. New notation with lyrics added.]
BAROQUE:
* Baroque Major Key Vocabulary, 1974-12-03. [On this page (and the similar one for minor key vocabulary), Ted lists the common triads, common 7th chords, and "bass view of chords" for every degree in relation to each major (or minor) key. He used Roman numerals to describe the chord degrees and chord qualities. Newly typed text for easy reading.]
* Baroque Minor Key Vocabulary, 1974-12-03. [See above.]
* Triads in 2nd Inversion, 1975-01-11. [This lesson focuses on explaining and demonstrating the use of triads in 2nd inversion (that is, 5th in the bass or 6/4 chords). Here Ted defines Cadential 6/4, Appoggiatura 6/4, Pedal 6/4, Stepwise Bass 6/4, and Arpeggio 6/4 chords. Newly typed text with notation and added chord diagram grids for easy reading.]

CHORD STUDIES:
Under the "Harmonization of a Given Melody header:
* 2-to-1 Diatonic Ascending Stepwise Bass Motion w/Delayed Entrance (pt.1), 1985-05-02. [This is a long title to describe these 29 different examples for playing a simple 4-note melody. It's another wonderful addition to this series of how to harmonize melodies. Notation added combined with Ted's grids to make it easier to read and understand. Next month we'll have part 2.]

COMPING:
* Fascinating Rhythm, Comping on the Top 4 Strings (Key of F), 1984-08-28. [This is a fairly easy-to-play comping lesson for this jazz standard. Be sure to check out Ted playing this song with Cathy Segal-Garcia in the "Ted Greene GIT Seminar 1978" recording in our Audio section. Ted isn't playing this lesson page, but you can get an idea of the song and different ways to approach comping it. Notation with lyrics combined with Ted's grids for easy reading. Next month we'll have another comping exercise for this same tune, but in the key of Eb, using the middle strings.]

FUNDAMENTALS:
* Quiz on Chord Names, 1976-05-19. [This is a quiz page Ted gave to his students back in 1976. We re-drew the chord diagrams to make them easier to read and to allow for more space to write in your answers. We also provided "Answers" pages. Although Ted didn't mention it, all the chords are in root position (except for a few that he indicated with the chord tone written below the grid. Even though we're posting this in our "Fundamentals" section, some of the chords are rather advanced for a beginner or intermediate student.]

HARMONY & THEORY:
* Vocabulary Reference Page - The 12 ii-V Groups within a Major Key, 1974-04-27. [If you ever wanted to know all of the ii-V's that relate to all major keys, search no longer. Ted has listed them in a chart, and then explains the "most common functions" of them. This can provide good food for thought, especially for composition or reharmonization. Newly typed text.]

JAZZ:
* Wes Montgomery Octave Visualization via the Bottom Note, 1989-10-17. [Octave playing patterns for dominant 11 chords (and "friends" or extensions), as Ted believes Wes would have visualized them. We provided an extra page with blue dots to show in detail the octave runs.]

THE V-SYSTEM:
* Choice V-1 Dominant Functioning Chords, 1986-10-19. [This is from Ted's Personal Music Studies files, relating to his work on "The V-System." It's a summary of "choice" voicings extracted from his complete list. Many of the chord are quite difficult to play (though not impossible!), and your fingers are not going to like this stuff! You'll find them easier to play higher up on the neck. The red numbers relate to Ted's list of "The 43 Four-Note Qualities" (or 35 in this case), and adjusted or interpreted for dominant chords. He was trying to be complete and thorough in his listing so you'll see many chords that you may not find very useable. If you look closely at the diagrams as they move from the left to right and down the pages, you'll see the logic in and progression of the variations: often one note on a string moving one fret at a time. Newly typed text with added chord grids to show how they lay on the fingerboard.]

* * * * * * * * * * * * * * * * * * * * * * * * * * * * * * * * * * * * * * * * * * * * * * *
November 2018 • TedGreene.com Newsletter

November Greetings!
This month Leon White agreed to share his story of recording Ted for his Solo Guitar album.
Ted Greene's Solo Guitar - About the Recording
By Leon White
Leon White here. We recently received several questions about Ted's Solo Guitar album and how it was recorded, etc. There have been several Forums posts that answer specific questions, but it has been suggested I try to put it all together. Since we've never discussed how the DECISION to make the album was made I thought I'd start with that. Bear with me through some history.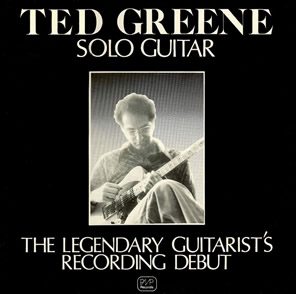 Ted was born in 1946. Fast forward to the early 1970's: Ted is 25 or so, and has already reached legend/guru status as a player and teacher. By 1974 or so he had a two-year waiting list for students. And if a student was going to miss a lesson, he or she had to send a sub. He had experimented with various Gibsons and Fenders (345, 355, Les Paul Jr., Jazzmasters, Teles, etc., etc., etc.). When playing he was almost always seen with one or two blackguard Telecasters - sometimes modified to mars, sometimes stock, and some kind of big Fender amp (Twin Reverb for example). Ted gave names to most of his guitars. According to Barbara Franklin, the blackguard Tele he used for the album was called "Lucky." In an interview Ted says he "used" two guitars. I never saw him do that. The guitar on the album cover, which looks like a predecessor to his last main guitar, "Banana Crème," is the only guitar I recall him recording the album with.
Playing at the Smokehouse
Flash forward to 1975. I'd been a student of Ted's for one or two years, and we had become friends. He got a regular gig working at the Smokehouse restaurant in Studio City for one night each week, and I was living in Studio City at the time. This gig ran for almost two years, and every time he played the place was packed full of musicians. The first night Ted played there the place was jammed with studio players. If someone had tossed a bomb in there, there would have been no studio guitarists for the next day. Also attending was a smattering of Hollywood actor folks, and of course, Ted's students. I'd guess 100+ people minimum that night, as the space was configured a little differently then I think it is now, and the bar area was larger. Ted had trouble tuning at the start. No kidding.
I went almost every time Ted played at the Smokehouse. (It was an easy drive for both of us, and the restaurant is still there at the corner of the Warner Brothers lot.)
Ted and I, and William Perry and Ted, were in the habit of discussing what you might call "philosophy." Unlike the later Ted, this Ted was very 'cosmic' in his interests and views. He had already started his diet of lettuce and diet coke, was curious and undecided about everything outside of music, and was given to changing his mind or rethinking something about every 12 seconds. He considered everyone's point of view on everything. This made it impossible to pin him down on anything, accept musical ideas. And even those had multiple points of view and explanations (as you can see by his revisions on his teaching sheets). I would say he was ambivalent about ambivalence. Of course he was his wonderful and generous self.
I make this point because as hard as it was for Ted to improvise the performance on the album, it was just as intense and draining for everyone dealing with all the decisions, discussions, worries, and the potential to just stop with no album.
Convincing Ted to Record
After Ted's first night at the Smokehouse, I asked him to make a record. He said, "No." Two years later I had convinced him that he owed it to his students and to the people who had never heard him play, to make a record. He said, "Yes, but No, but Yes." Ted had done some studio work with William, and so William pulled the location and mixer together. (Bob Summers, an extremely accomplished guitarist was the mixer, and knew the room and the board well.) Ted then said, "Yes, but maybe, but no, but maybe." I agreed to pay for it, and Ted would have total artistic control over everything on earth. If we finished and he didn't like it, we'd toss it all out.
William made some suggestions on song choices which Ted embraced, and thus this saved the album from having 19 slow ballads! We agreed to record straight to mastering tape – no edits (a so-called "half-track" recording). We made sure we had a LOT of boxes of recording tape on hand, as we were recording at 30 ips (inches per second) which was the maximum fidelity back then. But recording at that speed would eat up a lot of tape, so we stocked up.
Amp Noise
Night one: Bob Summers, William and I are in the empty studio. I'm wondering if Ted will show up. He finally does, and brings along several guitar cases and one amp. He goes back outside and gets his Fender Leslie speaker and hauls it in. (I start to worry that he might have hurt his hands.) He hooks it all up in the center of the room where we have a deluxe stacking chair for his comfort. He sits down and warms up, noodles, listens to his sound, and William and Bob look at me like I'm crazy. The amp is providing its own sound track of odd noises, pops, hiss, and clicks. Ted hears it too. William talks to Ted about the sound/noise. Ted goes outside and gets another amp. The first was a black face Vibroverb (as I recall, I know it had one 15" speaker), the second a Twin Reverb. At least that's the amp situation as I recall it. Ted wanted that great Fender Reverb sound of course, but again the three of us are in the booth cringing at how much noise that great tube reverb is creating in the studio.
Bob mics the Leslie speaker with two mics, and the Vibroverb with one. We made a test recording and Ted came in and listened. He heard the noise, although the amp had quieted down somewhat. Ted and all of us went back and forth for a long time. A direct box was added to the signal chain and the sound is "set." By "set" I mean that we started recording, but then we got ready to make more changes, deal with switch noise on the guitar, and with the amp noise.
The Music
Now the hard part began. Ted played and then asked William and I what we thought. Imagine for the moment that you are there in person. The most knowledgeable and accomplished guitarist in the world (IMHO) is asking your opinion. What would you say? "Hey Ted, you were a little rushed around 4 minutes or so." "Ted that one pickup change pinned the levels in the studio." "Ah, Ted, do you want to take a break?" (Not that those specific things happened, but you can't imagine how intense the listening had to be.) But Ted had serious questions and wanted serious answers. "Should I leave out the section over here?" "Did we like the ending?" "I felt it was a bit too 'loose,' could we listen to it?"
Now, here's the challenge: Are you going to try and convince Ted Greene of what YOU want to hear? Uh, NO! It has to be him. "Mr. da Vinci, that Madonna you're painting? It really needs a big red nose and clown shoes. Really. TRUST ME." Even as I write this I can feel the intense pressure and exhaustion of trying to help him hear, but not impact his musical direction. And as I found out on the second night, he was really depending upon us to be audience as well.
Try to keep it light... watch the fatigue... keep it moving... help him hear. Point out things you think HE should hear on playback... answer questions... be supportive... and remember this may be the ONLY thing the rest of the world may hear from him for a thousand years.
And so, the recording went for two nights. And then it was over. We'd been saving all the out-takes, and had a pile of 1/4" tapes on the floor. Those were all erased….as we promised Ted.
The Gear as I Remember It
For the recording sessions Ted used a Blackguard Telecaster. Ted swapped necks, bridge pickups, etc., so exactly what pieces of wood were there is a bit of a mystery. Here's the gear:
One humbucking pickup in the neck (probably a Gibson at that instant, later to be changed to DiMarzio) lowered into the body. No cover. May have been a PAF, but just as likely not-could have been a T-top or one he just liked.
One older Strat pickup in the middle, also lowered.
One vintage blackguard Tele bridge pickup but with NO baseplate.
An original blackguard Tele bridge plate (1954 I think), drilled to hold 6 saddles and hardware. (Ted did it himself of course.)
Extra switches on the pickguard to allow some single coil sounds out of the Humbucker (and other secret stuff not being shared).
The Fender Leslie with footswitch, AKA the Fender Vibratone. (Ted liked to stop and start it to affect the speed of the rotation of the speaker. I think he did that during the recording.)
The Fender Vibroverb. I do not recall ever changing to the Twin Reverb. (A twin reverb was 80 watts RMS, while a Vibroverb was about 40 watts, if I recall. Ted did his own servicing, but didn't mod the power supply or things like that. The key was the 15" speaker. I do not recall if it had a JBL speaker or some other make.
As I have just re-read Ted's letter to Phil Brown and his comment regarding using multiple guitars, I'll have to defer to his statement that he did use several guitars. Regarding the signal chain, we did take the guitar direct, but we did take the acoustic sound of the Leslie, and we did have some 'presence' from the amp mic lightly in the background of the composite sound (At least at one point...). The Leslie was split right and left, and the guitar was in the center of the 'mix.'
The Aftermath
Ted was pleased with the recording for half a day. Then doubts and questions started. For weeks he asked all kinds of people what they thought. He listened to it on different tape machines, with different speakers, etc., etc., etc. Eventually he concluded that he liked it enough to release it. And for the next 28 years he would accept the many compliments, but always add a little, "Well, sometimes I think it has too much/not enough blah, blah, blah." (The "blah" changing from one thing to another.) He was very appreciative and seemed to understand just how much his fastidiousness and uncertainty cost all of us who were involved in the project. But he never apologized for it, because he felt it was a necessary part of the process.
The tape was leadered and delivered to Bernie Grundman at A&M Records Mastering lab. Bernie did his usual legendary mastering job. Then on to pressing.
As I mentioned elsewhere, when Ted decided to "improve" the equalization to make a new master for the CD release, I didn't like the result. And after hearing that 'mix,' he didn't like it either (per Dan Sawyer). But that's what made Ted, Ted. In hindsight I think the record conveys everything I had hoped for. He improvised off of arrangements he'd played, but essentially was making the whole thing up in the studio. He drew upon all the emotions he wanted to express, acknowledged great film composers who delivered the emotion he loved, and did it two nights.
~ Leon
* * * * *
Additional Commentary from Our Forums and Elsewhere:
From Mark Thornbury (Mark transcribed the Ted's album a few weeks after he heard it, and was a student of Ted's at the time):
I also bugged Ted about the gauge that he was using at the time [that he recorded Solo Guitar], and he wrote it out for me: .015, .018, .026p, .036, .046, .058.
He went down as far as a minor third in tuning, as used on "Summertime", "Ol' Man River", and "Just Friends."
From Dan Sawyer:
Ted had a few Teles like that, but the whole record was definitely played on one of the Teles. Ted preferred Teles from the 1950s with maple fingerboards. As Leon said, the Humbuckers were dropped almost level with the top of the guitar. Ted did this to minimize magnetic pull which causes unmusical overtones, especially above the 12th fret. Another reason is that Ted felt chords sounded more musical when the pickup is farther from the strings.
From William Perry:
Wow, regarding Ted's amp and sound on Solo Guitar: I don't want make this too long. Ted is Ted. Ted's desire was to make the album sound as he wished it. (Do I hear some, kind, loving laughter that fills our hearts when we think of Ted?) Ted NEVER found the sound he liked! He was always searching, and this recording was no exception.
From the 1996 Vintage Guitar magazine article, "Ted Greene – Solo Guitar" by Jim Hillman:
Solo Guitar was originally issued in 1977 in a limited edition…. Ted used two instruments on this project: a modified 1951 Nocaster/Telecaster, and a '60s Telecaster…. The '51 has a Gibson Humbucking pickup in the neck position and as Strat pickup in the middle position. Ted went straight into the board and used a Fender Vibratone [Ted's written comment: "Wish I hadn't"] (for a Leslie effect in a few spots). [The rest of this article/interview can be found in our "Articles & Interviews" section, and Ted comments on each song on the album.]
From Barbara Franklin, in My Life with the Chord Chemist:
…The most momentous event to occur at this time was the making and recording of his album Solo Guitar. Encouraged and produced by his friends, Leon White and William Perry, this project took many painstaking months to perfect and was released in 1977. There were many stories surrounding this tremendous effort, and this was purported to be a very trying albeit ultimately rewarding experience for all those involved. The album was re-released in 2004 on CD through Art of Life Records, and is still available.
From Just Jazz Guitar Magazine, May 2000 article: "Classic Jazz Recordings: Ted Greene – Solo Guitar" by Adrian Ingram:
[All the tunes on this album], while sound to have been double-tracked, were in fact recorded with no overdubbing whatsoever. Ted used his faithful old Fender Telecaster through a Twin Reverb for the entire session. His sound was enhanced by the addition of a small Leslie rotating speaker. The crystal clean sound was taken directly from the board, as well as the ambience of the Twin, resulting in a magnificently pure tone. Greene, as is his usual custom, also detuned his guitar by a whole step (a tone) which again added to the depth and fullness of the sound.
And finally, from Ted Himself – excerpts from a May 5, 2002 letter from Ted to Phil Brown:
Dear Phil,
Please excuse the huge, months-long delay in answering your note. I won't even bother to explain. But to respond to your questions [about my album]:
1) String gauges, and
2) Tuning:
As best I can recall: on the songs "They can't take that Away from Me", "Send in the Clowns", "Watch What Happens", "A Certain Smile", and "Danny Boy" I was definitely tuning down one 1/2 step (or within shouting distance) and using:
13, 16 (or 15), 22 plain (or 24), 32 (or 34), 42 (or 44), 54(or 56).
All in standard tuning, just down 1/2 step – except on "Danny Boy", following Johnny Smith's lead, the bass string down to D, i.e., an additional whole step (to Db concert).
On the tunes "Summertime/Not Necessarily So" (fragment), "Ol' Man River" and "Just Friends", the pitch of the guitar was down a small 3rd [3 1/2 steps] or again, within sight of same. And the gauges were now (expressed here a bit more formally),
.014, .017, .024 plain (or .026), .036, .046, .058 (or .060 single-wrap, not the much quieter double-wrap strings).
The guitars were all beloved Fender Telecasters: a '53 for the 1/2 step down tunes, and both a '51 and a '66 or '67 for the really low ones. All had Gibson Humbucker pickups in the neck position, usually sunk down pretty damn low, with the screw pole pieces extended up at various heights (for nice string balance). I like to hear the wood of a good Tele, and lowering the pickup "hides the magnet" from the strings quite a bit – warmer tone, less signal (2 coils is a tough call for an amp when combined with big strings). Raising the pole pieces also gives back some of the definition you lose by lowering a pickup so far.
….They did record me right into the board – I fought with them, but their board did the job and let my Teles speak with the voices I had worked all those hours to find them. They (the engineers and producers) were right and I was not. My amps were too noisy, so we had to go this route. I still play and cherish the '51 and '53.
* * * * *
~ Your friends on the TedGreene.com Team

NEW ITEMS
ARRANGEMENTS:
* Green Onions, 1998-10-15. [Ted shows a student the chord progression for this blues. Notation and basic melody/solo line included.]
* I'll Be There, 1992-09-03. [This is an interesting lesson sheet, written up during a private lesson in which the student apparently asked Ted how to play this popular song by the Jackson 5. I'm assuming Ted wrote this out without any sheet music or recording as a reference – probably based on his incredible ear and memory of the song. For the A section he wrote out a fairly easy-to-play chord-melody arrangement. But then when it comes to the Bridge, it appears that he switched to a comping style, since he is outlining the chords but has abandoned the melody as it is sung on the recording. Notation and some suggested "follow-thru" chords added for easy reading.]
Under the "Lead Sheets written by Ted" header:
* Sentimental Journey - lead sheet and analysis, 1974-04-27. [Ted's handwritten lead sheet, combined with his "modern chord substitutions" for creating a more advanced arrangement. He also added an analysis of certain passages. New notation provided for easy reading.]
ARTICLES & INTERVIEWS:
* "Recording Ted Greene's Solo Guitar Album" by Leon White. [See Newsletter message above.]

CHORD STUDIES:
* Major Type Chord Forms: Cumulative Melody from the Bass Up, 1983-07-01. [These major type chords are grouped according to their bass notes and lower-end voicings. Then Ted adds different soprano notes (usually ascending) to those chord structures to create different chords. An additional page with the chord names included is attached.]
* Minor 7th Type Chord Forms: Cumulative Melody from the Bass Up, 1983-08-03. [These minor 7th type chords are grouped according to their bass notes and lower-end voicings. Then Ted adds different soprano notes (usually ascending) to those chord structures to create different chords. An additional page with the chord names included is attached.]
Under the "Harmonization of a Given Melody header:
* Major Scale Harmony and Melody: 1-to-1, 1986-01-29 [Nine different harmonic treatments of a 3 note melody in four keys. Notation provided combined with Ted's grids.]

COMPING:
* What's New? 1984-01-05. [Ted's beautiful comping for this 1939 Burke/Haggart song. Notation and lead sheet with lyrics combined with Ted's grids.]
FUNDAMENTALS:
* Chord Names and Chord Tones Quiz, 1978-10-26. [Even though Ted listed this as a quiz for chord names AND chord tones, he used it only for testing the names. Answers sheet provided.]
* Chord Names Quiz, 1978-04-25. [Answers sheet provided.]
* Chord Tones Quiz, 1978-11-30. [Answers sheet provided.]

HARMONY & THEORY:
* Embellishing Tones, Broken Chords, and Decoration, 1974-12-24. [Ted explains and gives examples of various ways to decorate chords. Typed text with new notation provided for easy reading and understanding.]

SINGLE-NOTE SOLOING:
* Double-Line Playing: Density #1 (physical layout page), 1981-01-28. [Even though this page doesn't technically belong in the "Single-note" soloing section, we've place it here because they're closely related. On this page, Ted gives several different ways to play four exercises of double-note scales. The dots on the grids represent the notes to be played – two at a time – going up and down the grids. Notation provided, in which Ted's grids are aligned, showing how to play the same passage on different parts of the guitar neck.]

THE V-SYSTEM:
* V-5 Minor 7 - Cumulative String Crossing, 1990-01-03 & 01. [A few exercises in working with V-5 minor 7 chords.]
TRANSCRIPTIONS:
* Musician's Institute Seminar (1993, June 6). [This is Ted's entire 50-minute clinic, written out in standard music notation and Tab, and linked to the YouTube video. It also includes some comments, analysis, and summary throughout the score. It was transcribed by Jon at PlayLikeTheGreats.com, and it is hosted on Soundslice.com. Please support both of these sites.


* * * * * * * * * * * * * * * * * * * * * * * * * * * * * * * * * * * * * * * * * * * * * * *
October 2018 • TedGreene.com Newsletter

A warm Fall greeting to all Ted Greene friends, fans, and students!
This month there are a few new items that we'd like to discuss briefly. First off, we want to let you know that we created a new header in the "Chord Studies" section called "4th Chords." A couple of weeks ago, as part of the "Lesson File Upgrades," we moved all of Ted's previously posted lessons relating to 4th chords into this new area, and at the same time upgraded them as needed. Some of the older files were a combination of 2 or more pages that really didn't belong together, so we separated, upgraded (usually by adding standard notation and/or adding chord names), and renamed them for clarity sake. You can find a break-down of exactly what was done in our Forums under the "Forum/Site Updates" section in the thread on "Lesson File Upgrades."
If you have your own collection of files that you've been downloading from our site, we hope you've been keeping up with all these improvements over the past couple of years. The rest of the "upgrades" should be completed in the coming months, and we'll keep informed about future developments.
For this Newsletter we've added Ted's remaining lessons on 4th chords from his teaching archives as well as from his Personal Music Studies files. This pretty much finishes that section now, unless other related pages are discovered in Ted's PMS collection (which is still not completely indexed yet, due to the size and complexity of it).
Another treat we have for you this month is two different arrangements of "The Man I Love" by Ted. He first wrote out a basic "simpler" version of it in 1974 in the key of Eb, and included a brief "analysis" for some points of interest in the arrangement. During this time Ted had not fully developed his system of chord grid notation (using dots, x's, squares, and triangles to show moving lines on the chord), so we redrew the diagrams (using Ted's later, more developed grid system), added standard music notation, and provided the lyrics to the song. All this should make it much easier for you to navigate thru the piece.
(If you're somewhat new to Ted's grid system we would recommend that you look in Modern Chord Progressions, pages 5-10, and also check out this document that we posted in our "From Students" section: How to Read Ted Greene Chord Diagrams.)
Now, for an added bonus and aid for learning this piece, Tim Lerch agreed to do a YouTube video performance and review of this arrangement for us. Tim really brings the piece to life and shows some very useful tips for playing and expanding upon the arrangement. I especially like his observation of the repeated descending chromatic line that was part of the original Gershwin piano score, and how he integrates that into Ted's arrangement, and then elaborated further on that by added a contrary-motion line to it. This is quite nice, and it makes the arrangement richer and more interesting. Here's a link to Tim's YouTube review/lesson for Ted's arrangement in Eb. The Man I Love.
As Tim points out, these written arrangements of Ted's are not meant to be played strictly as notated. The notation acts as a guide to help you to get the elements in the right places and with the proper melody and structural format—but Ted always encouraged the student to add their own personal interpretation and variations in order to bring some new life and color to the piece. Make it your own!
We're very grateful to Tim for taking the time from his busy schedule to make this video. If you haven't checked out his YouTube channel be sure to do so: Tim Lerch YouTube channel. You'll be pleased to find many videos relating to some of Ted's lessons, arrangements, comping studies, blues, and other items, as well as a ton of his own excellent guitar lessons, arrangements, equipment reviews, etc.
In addition to the 1974 arrangement, Ted also made a more complicated version of "The Man I Love" in the key of E during October of 2000. This one has some similar chord moves to the 1974 version, but is much more involved, which requires extra time to get under your fingers. Because it's in the guitar-friendly key of E it utilizes some open strings which sound very nice. If you're ambitious you might want to learn both the Eb and the E versions and then combine them by either transposing the 1974 version to E, or by starting off playing the 1974 version, then modulate up a 1/2 step and play the 2000 version. Or try making your own combinations, experimenting with transposing to different keys, adding intros, interludes, modulations, etc. Whatever you do you'll find a wealth of musical ideas hiding within these pieces.
And finally, we want to end this month's newsletter by sharing Tim Lerch's comments from the Ted Greene Memorial Blog, which he wrote back in August of 2005:
Ted has had an incredible influence on me. I have spent years striving to play solo guitar in a way that is musical, improvisational and fun to listen to. Ted has always represented the high watermark on all of these points.
Over the years he encouraged me, gently called me on my weaknesses or laziness, and always inspired me to continue to search for my own voice. As we all know, it was easy to lose yourself in Ted's brilliance, but he never let me get away with just imitating him or anyone else. It was fine as far as it went, but now what do you have to say for yourself? This question continues to guide me.
Having Ted as a teacher and mentor was a privilege that we will all be thankful for as long as we live, play, and help others. While there is obviously a musical influence, perhaps the most important thing Ted gave me is that he was one of the most genuine and authentic people I have ever met. He said things to me in the course of lessons and phone calls that have percolated into the deepest regions of my mind and heart, and have helped me to form a compassionate and healthy world view.
Ted helped me grow less cynical and embrace beauty. I learned about ethics from him and how it is possible to really care for others and still be honest and even critical. He showed me how you can believe in yourself and your convictions and not be arrogant. It is rare to meet a truly generous person, a truly kind person, one who gets joy from the simplest of human interactions. Ted was a true Bodhisattva.
I miss you Ted. Thank you
~Tim Lerch
Okay, now jump in and enjoy the new lesson material, and use it to help you in creating your own musical vocabulary, your own voice, your own artistic expressions of beauty.
* * * * *
~ Your friends on the TedGreene.com Team

NEW ITEMS
ARRANGEMENTS:
* The Man I Love (key of Eb), 1974-05-15. [See newsletter message above. Notation, new grids, and lyrics provided.]
* The Man I Love (key of E), 2000-10-30. [See newsletter message above. Notation and lyrics provided.]
ARTICLES & INTERVIEWS:
* "Ted Greene – Chord Chemist" by Stuart Goldman. Unknown music magazine, January 1980 issue, p.88. [We found this article on the Internet but have been unsuccessful in determining the magazine in which it was published or in contacting the author. If you happen to know more about this, please contact us.]
BAROQUE:
* Phrases with Root Position Triads (Chorale Style), 1975-03-08. [In this lesson page Ted wrote out 20 short phrases with soprano and bass lines only. The assignment for the student is to fill in the missing inner voices (tenor and alto) with a Chorale style. Ted gives two "sample solutions" for the first example. New notation is provided, but no other suggested "solutions" are given. Because Ted instructed the student to do all the examples in various keys using close and open voicings, with good voice-leading or with parallel motion - the possibilities are too numerous for us to try to make suggestions. You'll have to come up with your own. Good luck.]

CHORD STUDIES:
Under the "4th Chords" Header:
* 4ths, undated. [Five examples in the key of F.]
* Diatonic 4th Chords - V-3 and Others, undated. [Two examples: in the key of C and F.]
* Miscellaneous 4th Chord Studies, various dates. [This is a collection of several ideas Ted jotted down for this personal study and observation – not intended as lessons pages.]
* Seminal 4th Chords, 2004-05-20. [Here are a few 4th chords for major, minor and dominant types that Ted deemed as important. An additional page is provided that includes the chord names.]
* Stacked 4ths, undated. [This is a collection of five exercise using diatonic 4th chords in melodic phrases. Notation is given, along with some "follow-thru" and chord names when applicable.]

COMPING:
* Watch What Happens (key of D, V-2 and V-1, middle strings), 1980-02-04. [Great comping study using both V-2 (drop-2) and V-1 (close voicing) chords. This study focuses on the middle 4 strings.]
* Watch What Happens (key of D, V-2 and V-1, top strings), 1980-02-04. [As above, but this study is for the top 4 strings only. You'll notice that the notation/notes are exactly the same in this version and the middle strings version: only the location and the shape of the chords on the neck changes.]
* Watch What Happens (key of D, middle 4 strings), 1980-02-04. [This version is a variation of the other study on the middle strings – very similar, but slightly different in spots. You'll have to study it to see where the differences occur.]
FUNDAMENTALS:
* Chord Construction Quiz, 1976-05-25. [We typed out Ted's page and added new grids to make it easier to read. In addition, we've included an "answers" page. This might be a good item to hand out to your guitar students for homework.]

HARMONY & THEORY:
* Modes, Scales, Tonal Resources, 1975-02-07. [Ted lists various periods of music (Ancient, Baroque, Classical-Romantic, Impressionistic, 20th Century) and explains what modes or scales and other elements that were used at that time in that music. Typed out text for easy reading.]

SINGLE-NOTE SOLOING:
* Double-Line Playing – Preparatory Page for Learning, 1981-02-26. [Even though this page isn't about "single-note soloing" – it seems like it is related to this kind of soloing, and we've therefore added to this section. We added notation to show exactly what Ted is illustrating in in grid diagrams.]

THE V-SYSTEM:
* Choice V-1 for Top 4 Strings, 1992-12-18 and 1993-01-09. [Here Ted wrote out "only the practical" choice voicings for the 35 4-note chord types that land on the top 4 strings. This is his "initial rough list." Chord type #1 was not included, probably because Ted decided that they were not practical for playing. New grids have been drawn to make it easier to read, and some of the groups were rearranged so that the chord types are in sequential order (as Ted indicated on his work sheet).]


* * * * * * * * * * * * * * * * * * * * * * * * * * * * * * * * * * * * * * * * * * * * * * *
September 2018 • TedGreene.com Newsletter

September Greetings!
This month we're happy to present an article about Ted written by Adam Levy just for us.

Three Things I Learned from Ted Greene

I studied with Ted Greene intermittently in the early- to late-1980s. I may have only had eight or 10 lessons with Ted over that seven-year span. In that small handful of hours, though, I learned so much — because Ted had so much to share and really knew how to share it. To me, that was his gift. He could very quickly assess a student's strengths and weaknesses, tap into the musical things that they were passionate about, and find clear ways to help them achieve their goals — if they were willing to work hard.
Now that Ted is no longer with us, what's left behind are his published books, students' lesson sheets posted on tedgreene.com, his Solo Guitar album, and some wonderful video clips. I'm grateful that all of these exist. They continue to inspire and enlighten anyone who takes serious interest. Still, I sometimes feel that Ted's teachings are misunderstood by those who didn't have the opportunity to know him. For instance, lots of guitarists seem to think that Ted only appreciated music that was rich and complex. In my experience, however, he loved triads and simple melodies just as much as he loved altered-dominant sounds and Bach chorales. With that spirit in mind, I want to share three things that I learned from Ted — things that you might never know if you didn't have the chance to spend some time with him.
Voice-Leading Can Be Wonderful, But It's Not Compulsory
In one of my first lessons with Ted, he noticed that I didn't seem to be giving voice-leading much consideration. He suggested that I work on it — giving me a few guidelines to follow and a worksheet or two to practice. When I came back for my next lesson, I was nearly paralyzed with fear. I'd taken his advice too literally. I thought he meant: You must perfectly voice-lead every chord movement at all times. When he saw how petrified I was, he gently talked me out of my terror. Properly voice-led chord progressions can sound exquisite, and I should continue working on voice-leading concepts, he explained, but I should cut myself some slack and keep making music. The rules of species counterpoint can be very useful, but they're not meant to supersede musical creativity or intuition.
Good Music Is Good Music
For my first lesson with Ted, I asked him about modern jazz harmonies — specifically, some voicings I'd heard pianist Don Grolnick play. When I went back for another lesson a couple years later, I'd been practicing lots of jazz and was studying guitar at the Dick Grove School of Music. Modern harmonies we coming easily to my ears and hands. The primary gigs I was doing at that time, however, were with an old-school rhythm-and-blues band. We played hit tunes and some deep cuts from the songbooks of Motown and Stax. That music seemed like it should be easier to play than, say, John Scofield tunes, but I had very little idea how to approach it. Considering Ted's reputation as the jazz-guitar Yoda, I felt a little silly asking him how to play four-chord songs. When I did, though, I discovered that he loved soul music too! I remember spending an entire lesson with Ted listening to Aretha Franklin records and Bill Doggett's "Honky Tonk, Part 1." Ted saw that that was where my heart was at that time, and also appreciated that this was the music that I was regularly getting paid to play. He wanted me to play it as best as I could. I could reharmonize "Stella by Starlight" with rootless 5-note voicings some other time, if I wanted, to but there was no need to spend all of my practice hours on music that seemed somehow more "serious." Good music is good music, and work is work.
Loose Sketches of Tunes May Be More Useful than Air-Tight Arrangements
During the time that I studied with Ted, I was just beginning to write my own solo-guitar arrangements — though I wasn't actually playing solo-guitar gigs yet. I sent Ted an arrangement of "Somewhere" (from West Side Story) that I'd been working hard at. (In 1989, after I moved from Los Angeles to San Francisco, Ted let me do a few lessons via mail.) When he wrote back, his feedback was very helpful, if a little surprising. Firstly, he said that it was hard to say a lot about my arrangement without hearing me play it. (I'd written it out on manuscript paper, but had not sent him a cassette.) Secondly, he said that my arrangement looked like it would be very difficult to perform. Rather than crafting things that were nearly unplayable, he said, I might be better off writing arrangements that were more open. That way, when I had actual gigs, I wouldn't be sweating bullets — and there would be room to play more freely and extemporaneously. Once I started playing solo gigs on a regular basis, I really began to appreciate Ted's advice.
Ted may have given very different advice to other students. I know he did, in fact, because I sometimes arrived at my lessons a little early. When I did, I got to overhear the last few minutes of the previous student's lesson — hoping to learn just a little more. I heard Ted teach other students differently than he taught me. As I said earlier, that was his gift. He genuinely connected with each student, individually. I hope that by sharing my own experiences with Ted, I can help those who never knew him to read between the lines — and dots, and X's — just a bit.
* * * * *
Guitarist Adam Levy is a recording and performing artist, music educator, and journalist, well-known for his work with Norah Jones, Ani DiFranco, Tracy Chapman, and many other artists. As a solo artist, he has a dozen original recordings to his credit. Adam has several instruction books and video courses, teaches at Los Angeles College of Music, and has a popular YouTube series, Guitar Tips. As a journalist Adam has written hundreds of feature articles for Guitar Player, Acoustic Guitar, and Fretboard Journal. You can visit his site here: www.adamlevy.com
One of his Guitar Tips videos is titled, "Dig Ted Greene" – check it out!

* * * * *
~ Your friends on the TedGreene.com Team

NEW ITEMS
ARRANGEMENTS:
* It Had to Be You, 1989-11-22. [For this song Ted wrote one "outline format" arrangement, and another "more advanced" partial arrangement. Our notation pages combine both versions: the "partial" is used for the first 4 measures, and the "outline" is used for the rest of the piece. We've added chord names, lyrics, and even a couple of "fill" phrases that are in keeping with the other fills (also try your own fills instead). Many of the chords land with the melody on an up-beat (the "and of 4"), so we've notated many of the other fill chords to be similarly syncopated, even though Ted didn't indicate this on his page (it just seemed to sound better this way). These are just suggestions, and of course you should also experiment with other rhythms to find what sounds best to you. In his "outline format" arrangements, Ted expects that the student will add the moving melody notes on top of the basic chord forms he provided.]
* Li'l Darlin' (arrangement sketch), 1977-07-06. [Ted's lead sheet with original basic chord changes, simplified changes, and "new chord melody harmonization" changes. Compare this to Ted's full arrangement of this song. New notation provided for easy reading.]
ARTICLES & INTERVIEWS:
* "Three Things I Learned from Ted Greene" by Adam Levy. [This is the same article that is featured in this month's Newsletter. We're giving it a permanent home in this section of the site. Thank you, Adam!]
BAROQUE:
* Phrases with Inversions and Embellishing Tones – Chorale Style, 1975-03-15. [On this page Ted wrote a two-part melody — soprano and bass. He also indicated inversions with figured bass below some of the bass notes. The assignment is to fill in the chord names, analysis it with Roman numerals, and then add the inner voicings (alto and tenor). We've provided a notated version of Ted's original page with Roman numerals analysis, plus another page to include "suggested" chord names and the inner voices in the chorale style.]

CHORD STUDIES:
* Diatonic Major Key Voicings (More), 1986-10-06. [Grid chord diagrams. An additional "answers" page includes chord name in blue.]
* Mixing in Upper Voicings with the Basic Ones, 1988-01-01. [Various ii-V voicings. Notation + grids page provided.]
* Using Altered Dominant Chords from the 5th String Root, 1985-08-28. [Various ii-V progressions with altered dominants. Translation page provided with chord names added.]
Under the "Harmonization of a Given Melody" header:
* Warm Harmonization of Melodies with b7, 1980-10-01. [Different treatments of a melody using the b7 of the scale (F scale with an Eb note). Notation page included.]

COMPING:
* Bye Bye Blackbird, (key of E, V-1 & V-2, middle strings), 1985-06-30. [Another version of Ted's comping lesson for this song. You'll want to compare the voicings on this with the other versions we've already posted. Notation combined with Ted's grids. We also included Ted's lead sheet page.]
* Skylark (key of Eb), 1992-03-16. [Ted subtitled this, "Accompaniment to voice." Not sure why he specified "voice" – he's never done this before on other comping pages. Anyway, we've included the notation, plus lead sheet, lyrics, and filled in the "assignment" of adding the chord qualities to the root letters. Almost all of the chords are pretty easy to play, so this might be a good one for someone looking for an easy start with Ted's comping pages. Try singing along with the chords for the best results.]
FUNDAMENTALS:
* Cumulative Chords – Dominant 7ths, Group 1, 1984-03-06. [This page has a collection of dominant chords, including extensions, but no alterations. Ted used yellow and pink dots above some of these diagrams, but didn't explain what the colors mean. The bottom half of the page shows "companion minor" chords that go along with the corresponding dominants in the top half of the page. An additional "answers" page is provided which includes the chord qualities. (There isn't much room on the page, so I had to put the chord name inside the yellow & pink dots.)]
* Cumulative Chords – Grouped by Color and Visuals, 1983-03-28. [This is for 5th string root forms, of 3- or 4-note chords (mostly unaltered). Ted's comments about this page (and for the whole cumulative series): "Main purpose: to get an understanding of how chords are built. Secondary purpose: to also learn at least a few chords along the way." A second "answers" page is provided which gives the chord qualities of each grid diagram.]

THE V-SYSTEM:
* V-2, Organized by or Derived from Shape or Form, Top 4 Strings, 1987-01-02. [Comments from James Hober: "This page is Ted exploring every possible V-2 shape, (excluding the 8 dissonant x 4 inversions = 32 shapes not covered). The numbers (in pink on Ted's original) are simply Ted counting the shapes, arriving at a total of 133. "Reverse" and the white dots with curved lines connecting them mean that the notes on the second and third strings can be swapped. (He doesn't count such a swap as an additional shape.) Some of these chords may hurt your hand or ears!" Newly drawn grids and translation provided for easy reading.]


* * * * * * * * * * * * * * * * * * * * * * * * * * * * * * * * * * * * * * * * * * * * * * *
August 2018 • TedGreene.com Newsletter

Summer Greetings to all our friends and students (both old and new) of Ted Greene.
This month we'd like to share some accounts from the Ted Greene Memorial Blog by those who knew Ted and as relating to Norman's Rare Guitars – one of Ted's favorite places.
First, some excerpts from Barbara Franklin's book:
In May Ted attended the fabulous 2-day Norm's Rare Guitar Show, which took place at the Hollywood store. Ted and owner Norman Harris had already formed a long and solid friendship, and this was an especially exciting and rewarding weekend. An elated Ted expressed in his datebook, "One of my fondest memories these two days."
At least once a month we'd also visit…Norman, Danny, and "the guys" at Norm's Rare Guitars.
…One of our errands included stopping at Norm's Rare Guitars to pick up a tape of a song Ted needed to learn for the next night. Norm had asked Ted if he would play at his and Marlene's 25th anniversary party. Of course Ted would never have declined this honor from such a good friend. We sat in the living room and I listened and watched as Ted figured out the song in less than an hour, conversing with me at the same time and giggling over many things, including Ted telling me he was a licensed hypnotherapist.
In Ted's datebook was this: "Work on '100 Ways' (by James Ingram) for tomorrow. And wonderful laughing time for a few hours w/Barb…"
About the night of the party, in Ted's words: "Norm & Marlene's 25th anniversary party…An all-time supportive vibe night. My dear '52 Tele 'Lola' tuned 1/2 step down & my black face Vibrolux Reverb. Some of the great support: Barbara, Scott Borden ("I'd like you to meet the greatest guitarist in the world"), Rob Bolger, Danny Duehren, his sister Marianne (she loved the music), Robert Stamps (gave me the "trigger"), his employee Jim ("You tore the place up. It was great to hear real music"), various musicians who have Chord Chemistry, Barry Z., and especially Norm & Marlene both stopped and told me they loved it after their favorite singer Donnie and I did '100 Ways'…as I was leaving the stage. And the sound the crowd made when he said my name after we did the song, I'll cherish the love sent toward me. It's such a joy to be able to make others happy."
~ Barbara Franklin from My Life with the Chord Chemist, pages 13, 42, and 50.
* * * * *
Ted Greene's impact on the L.A. guitar community was monumental. He shared his knowledge unselfishly with all, and many successful musicians owe an extreme debt of gratitude to him. Ted was a very special friend to many, and always had time to listen and talk with anyone that needed help.
Ted and I met about 35 years ago when I first came to Los Angeles. We became close friends, and a lot of the success of my business came from Ted's recommending my store to his many friends and students.
Everyone that knew Ted will miss his beautiful playing, but most of all will miss his kind spirit and demeanor. Ted will never be forgotten and it was my pleasure knowing him for so many years.
~ Norman Harris, Norman's Rare Guitars
* * * * *
I first met Ted at Norm's Rare Guitars back in the early 1990's. If my memory serves me well it was on a Tuesday and I was just hanging out and Ted came in (at the time I didn't know who he was). Dan Durhren, who was Norm's partner at that time approached me and did his Jimmy Stewart-meets-Mumbles voice and says to me, "Jim, Jim, just shut-up for a minute!" I asked why, and Dan said, "If you will be quiet, he might play (guitar) and he's the best there is." I heeded Dan's advice and sure enough Ted grabbed a Telecaster off the wall and plugged it into a Silver Face Twin Reverb and played some of the most incredible music I have ever heard. In less than 5 minutes Ted had coaxed just about every imaginable tone possible and in several genres of music. After Ted left, I asked Dan who that was and he told me that was Ted Greene.
The next time I met Ted was again at Norm's and I was noodling away on a guitar trying to figure out a song and doing a bad job of it. After about 10 minutes Ted walked by me and casually said, "You have a good right hand." I later learned that that is what Ted was all about: he always had something kind to say. One of my biggest regrets will be not getting a chance to see Ted play more than I did, or ever get to know him more than just a couple of brief encounters at a guitar store, as he was a true gentleman as well as one hell of guitarist!
~ E.J. "Big Jim" Mead
* * * * *
The first time I went to Los Angeles was in the mid 1970's with my friend Steve Watson. We went to Norm's Rare Guitars while we were in L.A. to check out some guitars. I heard what I thought was a record being played in the back room and asked the owner, Norm, "Is that the Great Guitars with Barney Kessel, Herb Ellis and Charlie Byrd album you're playing?" (It sounded like three guitarists playing simultaneously.) Norm replied, "No, that's Ted Greene trying out a Telecaster." I said, "No way that is just one guy!" Norm said, "Go back and take a look."
Steve and I went back and there was Ted playing a Telecaster through a small Fender Deluxe amp. He motioned for us to come in and we sat there in awe! I had never heard such shimmering beauty from the guitar in all my life! (and haven't since!)
Ted was so nice and friendly to us and spent the afternoon talking with us. When he found out we were from Florida he invited us to his house and gave us both lessons and copies of his book. His sweet mom made us a snack and we went back to Florida with such inspiration it was unbelievable! We became friends and kept in touch, and several years later when I moved to L.A. I took lessons with him.
Ted was not only one of the greatest guitarist/musicians the world has ever known, but one of the finest human beings that ever was. His passing is a sad time for all of us who knew Ted. We rejoice his beautiful spirit and the genius that touched our lives.
~ Ted Shumate
* * * * *
Since I began teaching privately in the San Fernando Valley in 1972, I can't remember a time when Ted Greene was not known as the greatest private guitar teacher around. Ted was the one who most of the successful guitar instructors I knew studied with and would refer any students to who were beyond their expertise.
I will always treasure the memories of our talks about teaching, the early L.A. Dodgers, watching him play at Norman's Rare Guitars (and even playing classic guitar for him!), and the honor of having him record some overdub improvs at my home studio in Reseda for Jordan Harris (Norm's son) and my own son Jason Gutierrez.
Ted Greene has left us heavy hearted but not empty handed. Every time we play the guitar we should think of the love and respect he shared for the music, the instrument, and the human beings privileged to play it.
~ Sal Guitarez
* * * * *
We are very grateful to the many contributors who continue to send us their transcriptions of Ted's recordings. Our collection is growing! This month we have another transcription from Ted's "Private Concert at Alex Sliverman's Home" which we posted in 2016 in our Audio section. This gem that comes from Francois Leduc, which includes notation, TAB, and Grids. Also this month we've got a well-notated transcription of Ted's "Autumn Leaves" from the MI Seminar, by Andres Schifferdecker. Andres sent this to us several months ago, but for some reason it got misplaced and forgotten until now. So sorry for the delay! Thank you, Andres and Francois for sharing your wonderful work!!
~ Your friends on the TedGreene.com Team

NEW ITEMS
ARRANGEMENTS (under the "Classical Pieces" header):
* Bach – Chorale No. 44 (BWV 377), 1980-05-27. [Ted's handwritten arrangement of this Bach Chorale. We created new notation and added "suggested" chord grids.]
* Bach – Chorale No. 45 (BWV 108.6), 1980-05-27. [As above. Ted wrote these two pieces on the same page...perhaps he thought they should be played together.]
CHORD STUDIES:
* Combining 6th and 5th String Root Chords in Short Progressions, 1985-09-15, 16.
* Diatonic Major Key V7-I Root Position – Intense Focus, 1986-09-21. [Ted didn't write the chord names for each grid. We've added an extra "answers" page with translation page in case you have difficulty reading his handwriting.]
* Diatonic Major Key V7-I Root Position, 1986-09-21, 22. [This file has 4 of Ted's original pages. We've included standard notation to the first two, and we added chord name "answer" pages to the other two.]

COMPING:
* Bye Bye Blackbird, V-1 & V-2, Key of E, Top 4 Strings, 1985-06-30. [This is a somewhat easy page to play, with a nice combination of V-1 and V-2 chords. Notation and lead sheet with lyrics added to help you to sync up the chord with the melody.]
* Our Love is Here to Stay, Key of F, V-2, Top 4 Strings, 1991-08-18. [Here we have another relatively easy comping page that sounds great. Notation, lead sheet with lyrics, plus Ted's original grids.]
FUNDAMENTALS:
* 3rd in the Bass Chord Forms – Introductory Page, 1983-09-28 &1984-02-29.
* 5th in the Bass Chord Forms – Introductory Page, 1984-02-29.
* Cumulative Chords - 3-Note Major and Minor Close Triads and Friends, 1984-03-06. [On this page Ted shows chords with the 3rd string "anchor" root and the intervals surrounding it. Then chords are built upon that. No chord names are given, and it's your assignment to fill in the names.]
* Cumulative Chords - 3-Note Major Types, 2nd String Root-Anchor, 1984-02-26. [As in the above page, Ted shows chord with a 2nd string "anchor" root. Again, you'll need to fill in the chord names.]
* Cumulative Chords - 3rd in Bass - From 5th String, 1983-06-26. [There are two pages here. The first one Ted called an "exposure page," showing the root on the 3rd string and the intervals. The second has the 3rd in the bass on the 5th string. Extra pages with chord name "answers" has been included.]
* Cumulative Chords - 6th String Root, Major Types, 1984-03-03, 04. [Ted subtitled these pages "memorizing layout." You can see at the top left-hand corner of the first page the 6-dot-up arrow-R symbol. As mentioned in last month's Newsletter, this indicates that the root it on the 6th string, and the downward pointing arrow means that the chord forms are all built pointing downward from that root note, or toward the bridge of the guitar. Ted's second page has the 6-dot-up arrow-R symbol, meaning that this page has the chords being built upward from that root, or toward the nut of the guitar. Additional pages with the filled-in chord names have been included.]
* Cumulative Chords - 6th String Root, Sus Types, 1984-03-04. [As above, this "memorizing layout" page has the 6-dot-down arrow-R. configuration of sus type chords. root on the 6th string. An chord names page is included.]
* Cumulative Chords - Beginning Progression to Apply, 1984-02-02 & 1984-06-15. [Some very basic short progressions.]
* Interval Layout and Some Common Combinations - 6th String Root, 1984-03-16. [This page shows the 6-dot-arrow-R, with the arrow pointing both upward and downward. Ted is showing the beginner player how to visualize the layout of the intervals in relation to the 6th string root.]

SINGLE-NOTE SOLOING:
* Sustained Scale and Slide Sounds in the Pentatonic Scale, 1985-01-23. [Ted wrote for this page, "Keep notes sustaining wherever you can throughout this page." Notation combined with Ted's grids.]
TRANSCRIPTIONS:
* Autumn Leaves, from MI Seminar, June 1993. Transcribed by Andreas Schifferdecker. Notation and TAB. Watch it here: YouTube. Andres sent this to us several months ago, but for some reason it got misplaced and forgotten until now. So sorry for the delay! Thank you, Andres for sharing your wonderful work!
* Ol' Man River, from "Solo Guitar" transcribed by Francois Leduc, Notation + TAB + Grids. [This is an updated version that Francois has just given us. You'll want to swap this with the one you downloaded months ago. Thank you, Francois, for keeping us updated on your Ted transcriptions. We really love them!]
* Somewhere Over the Rainbow, from "Private Concert at Alex Silverman's Home." Transcribed by Francois Leduc. Notation + TAB + Grids. This beautiful rendition of this classic piece comes from a recording we posted in our Audio section in June 2016 (go back and read the June '16 Newsletter for more info. about that recording). Thanks again, Francoise!


* * * * * * * * * * * * * * * * * * * * * * * * * * * * * * * * * * * * * * * * * * * * * * *
July 2018 • TedGreene.com Newsletter

Summer Greetings!
This month we have 12 new lesson pages for the Fundamentals section. Most of these pages come from a couple of folders in Ted's teachings file cabinets that he listed as "Cumulative Teaching Program." What the heck is that?
Cumulative: Merriam-Webster defines this as, "Increasing by successive additions; made up of accumulated parts; and formed by the addition of new material of the same kind." This is a term Ted used several times (mostly during the 1980's) for describing how to approach either learning or teaching new concepts. The idea is to expose the student with a small bite-size chunk of information first. Once that is learned, he would then add another small chuck to the first. Then another after those two were grasped, and so on. Thus, the pieces were absorbed accumulatively. The brain seems to better understand, absorb, and retain information gathered this way.
Sometimes Ted presented the cumulative method by introducing a basic chord form, then made slight modifications to it, one note at a time, thus resulting in a large collection of different chords all based off the original starter chord form. You can see this at work in some of the lessons presented this month, particularly the "Cumulative Chords - 5th String Root, Middle Strings, 4-Noters" page.
Since most of these "cumulative" lessons sheets deal with basic building blocks for chords, we have put them in our Fundamentals section. On some pages the cumulative process is not always clear. Perhaps it was Ted's job as the teacher to explain what was going on in each lesson. Since we don't have Ted to do this, you'll be required to think deeply and analyze each lesson: play thru the examples, try to see what's going on, and use some intuition to unlock the ideas. The concepts will come to you.
On some of Ted's cumulative chord pages he has a symbol in the upper left corner with at number, a dot, and interval and an arrow or arrows. For example: 5•R→ shows that the 5th string is the bass note and is the Root of the chord. If the arrow is pointing downward, that indicates that the chord forms are built on the frets above the bass note (towards the guitar bridge). If the arrow is pointing upward, then this shows that chords are built on the frets lower on the neck (towards the guitar nut). If the arrow is straight, then the chords are built straight across from the root. I believe these symbols were mainly meant for Ted himself, not the students, so you can ignore them if you wish….but it will give some idea about the organization of the lesson page. All of Teds' little symbols and notes have a reason behind them.
This all may be an oversimplification of what Ted meant by the cumulative process, but at least it serves as a starter for you understand what these pages are all about. Next month we'll be presenting another batch of similar cumulative pages. Please keep in mind that although most of these lessons are placed in the Fundamentals section, they're not all just for beginners only. Even the veteran player may find something useful, or see new ways of looking at the guitar fingerboard, etc. So, give these pages a quick review – you may be surprised.
Thanks to James Hober for his help in proofing the very complex V-5 page we've posting this month. And much appreciation to Robert G. Smith for sharing his transcription of Ted's improvised performance of "Autumn Leaves" from the Musician's Institute seminar in 1993. (Check out the video if you haven't done so already.)
Also, you may remember that in April we posted part 1 of an article about Ted published in Guitar Teacher magazine. Tony Darren was able to provide us with the full article, which we have now added to our "Articles & Interviews" section. Thank you, Tony and Jason Garoian!
~ Your friends on the TedGreene.com Team

NEW ITEMS
ARRANGEMENTS:
* Fools Rush In, 1997-08-04. [This arrangement was written up during a private lesson for one student. Standard notation with lyrics combined with Ted's chord diagrams provided for easy reading/following.]
* Bach – Chorale No. 341 (BWV37), 1974. [Here we have yet another one of Ted's Bach Chorale arrangements for guitar. As usual, Ted wrote out standard notation, and we've provided suggested chord grid diagrams for playing it. This is an incomplete arrangement. For some reason he only notated the first 6 measures. We've included the full original Bach notation as a reference, and for those who feel inspired you could continue with the remaining 11 measures.]
ARTICLES:
* Ted Greene – by Jason Garoian, Guitar Teacher magazine, Winter 2006 [Previously posted as an excerpt in our April 2018 Newsletter, this is the full article from Guitar Teacher magazine.]

CHORD STUDIES:
* Chord Progressions Using Middle 4 Strings – Root in Bass Types, 1984-03-12. [One page of short progressions using Root position chords built off the 5th string. And extra page includes the chord names.]
* Cumulative Chords - 5th String Root, Middle Strings, 4-Noters, 1984-03-11 [One page of various 4-note chords in Root position, built off the 5th string. An additional page is attached with the chord names added.]

COMPING:
* Bye Bye Blackbird - V-1 and V-2, Key of F, Top Strings, 1989-06-29. [This is a very nice comping study on a familiar jazz standard. It has a nice mixture of V-2 chords (easy to play) with a few V-1 chords ("stretchy", nice-sounding but sometimes challenging if too many are used at once). As usual we've added notation of the comping, combined with Ted's grids, and another staff of the lead sheet: melody, basic changes, and lyrics.]
FUNDAMENTALS:
* 3-Note Voicings - 5th String Root in the Bass, 1984-04-01 [This has two pages that are excellent for new guitar players to help them to see the fretboard with chord intervals in relation to roots on the 5th string. Page 1 is a more general listing for major, minor, dominant, diminished, and augmented chords. Page 2 is a more complete listing of just major and minor.]
* 3-Note Voicings - 6th String Root in the Bass, 1984-04-01. [As above, but with the root on the 6th string, and only the general listing.]
* 5th String Root Chord Forms – Middle 4 Strings – Quiz, 1984-03-11. [Two pages of quizzes, plus we've added "filled-in" pages of the answers. Ignore these until you've done the work yourself. Great items to hand out to your students.]
* 6th String Root Chord Forms – Quiz 1, 1984-03-16. [Another quiz page as above, but for chords built on the 6th string root.]
* Chord Name Quiz – Forms from the 5th String Root, 1983-03-05. [This quiz deals with the chord qualities to be answered for each diagram. Again, an "answers" sheet it provided.]
* Cumulative Chords – Forms from the 6th String Root, 1978-11-26, 1983-03-13 & 14. [Two more wonderful pages for intermediate guitar players just learning the intervals of chords on the neck, with roots on the 6th string. Chord names added as "answer pages."]
* Cumulative Chords – Forms from 5th String Root, 1974-05-20, 1978-11-26, 1983-02-15. [Two cumulative learning pages: on page 1 Ted first shows the basic intervals in relation to the roots on the 5th string, then builds more complex chords (an "answers" sheet is provided). On page 2 he shows some basic forms with lots of optional notes (shown with unfilled circles). You'll need to figure out the chord names for page 2.]
* Cumulative Chords – 4th String Root, 1983-03-22. [Using the 4th string as an anchor for the root, Ted shows the intervals and then builds some chords. An extra page with the chord qualities is given.]
* Interval Layout and Their Combinations – Middle Strings, 5th String Root, 1984-03-11 [This is another great page for a beginner to understand and see how the intervals relate to a 5th string root. Chord names are not given, so you'll need to work that out if you're somewhat new to these chords. Information about chord spelling can be found on the "Chord Construction" page in the Fundamentals section.]
* Learning the Basic Chord Forms – Root in Bass Voicings, 1979-10-14. [As the title says, this is "basic chord forms" but I think many of these chords are for somewhat advanced players. Ted grouped them as major, dominant 7, and minor 7th types, but didn't add the chord names or qualities to each. That will be your homework. This is another good reference page of chords.]
* Moving Line Chord Progrs. for Intro Page of 6th String Root – Major Chord Forms, 1984-03-01. [In this lesson, Ted is giving short progressions with 6th string roots, showing the inner line movements.]
* Root in the Bass Chord Forms from the 6th String – Introductory Page, 1984-03-01. [All examples given on A root, 6th string: major and dominant types.]
THE V-SYSTEM:
* V-5 – The 43 Four-Note Chord Types, 2000-08-22 & 24. [This is Ted's exhaustive notation of the 43 4-note chord types using V-5 voicing group chords. If you're unfamiliar with the 43 types, please refer to the corresponding chapter found in the V-System section under "Explanation by James." Some of the chords on this page are rather unmusical when played alone, and many of them will sound better in higher registers. We've re-notated Ted's page and added grid diagrams to help you work your way thru it. Ted would undoubtedly advise a student to play thru them, and make note of any that you like, and then use it and put the others aside. Special thanks to James Hober for proofreading the notation and chord diagrams.]
TRANSCRIPTIONS:
* Autumn Leaves (from MI Seminar, 1993-06-06), Transcribed by Robert G. Smith.
[Using Ted-style grids, Robert mapped out this fine improvised performance by Ted during a seminar at MI. You'll need to listen to the video to follow along. (maybe someone might be inspired to notate it in standard notation and/or Tab as well.) Thanks to Robert for sharing this with us.]

* * * * * * * * * * * * * * * * * * * * * * * * * * * * * * * * * * * * * * * * * * * * * * *
June 2018 • TedGreene.com Newsletter

June Greetings!
This month we're gonna keep the newsletter short and sweet. We'll start out by sharing one tribute to Ted from the TG Memorial Blog by one of his long-time students:
After 19 years of studying with Ted Green on a bi-monthly basis, I received a phone call from a close friend, Loni Spector, who had received a call from Dan Sawyer, saying that Ted Greene had passed away last Saturday. It has taken me several days and many hours of discussing with my wife my heartfelt grief over the loss of Ted. I had looked forward to another 30 years of Ted's guidance. I could go on forever about all the stories I have about him, but I just wanted to share just one little gem:
About 7 years ago Ted was playing at a little restaurant called the Seashell on Ventura Blvd., near his home. Ted liked to be close to home. Those of you who know Ted, know he was not a self-promoter and would seldom say where or when he was playing. On that evening I waited for the dinner crowd to thin out and then greeted Ted. As usual he was still playing because he never took a break. Unlike me who can't put two words together when I play solo guitar, Ted kept on playing as we talked for a few minutes.
Then I sat down at a table by myself next to two fellow long-hairs – obviously guitar-types and obviously expressing a mutual admiration for Ted. We broke into conversation. One of the gentlemen introduced himself as Shawn Lane. (Those of you who know, the incredibly talented Shawn Lane unfortunately is now deceased, too.)

After Ted had played for 2 - 3 hours, noting our enthusiastic support, he decided to give us a little something extra. Starting with what seemed to be an almost folk-like theme, Ted proceeded to spin the theme covering Baroque, R&B, Bebop, you-name-it, ultimately returning to its original simplistic form. All I can say is that it was akin to what Keith Jarret can do when he grabs a hold of a theme: spontaneous composition. About half way through this display of incredible musical prowess, I realized I had tears running down my face. I turned and looked over at Shawn and saw that he, too, was crying.
After the show was over, Ted and Shawn talked for hours about 1920-30 classical pianists, as well as their love of Bill Evans and Art Tatum. Ted and Shawn were both truly diverse in their love of music. It was an incredible night.
Every once in a while in life you come across something incredibly special – to me that was Ted Greene. His quest, as he told me numerous times, was beauty. And Ted could articulate that in a way that no one else that I've ever met could.
I will miss my dear friend, teacher and mentor forever. God Bless, Ted.
Love,
Bob Holt
* * * * *
This month for our new items we're posting the last of Ted's pages of preliminary ideas for his "Bass-Enhanced Triads" book that he intended to write. There still may be a few pages hiding in the unindexed folders of his Personal Music Studies files – and if we do come across any we'll be sure to post them right away – but at this time I think we've got 'em all.
And now that we've finished posting all of Ted's "official" V-System hand-out sheets, we can now focus on sharing some of Ted's worksheets for the various voicing groups. This month we have something for V-2, V-3, V-4, and V-5. Thanks to James Hober for his explanation of the V-5 page relating to the Overtone Dominant scale.
It was great to have some extra contributors for the new materials this month. It really helps! Special thanks to Tony Darren for sharing three more of his pages from private lessons with Ted, and to Hak-Yoo Lee and Radons Atremble for their transcriptions. (Radons invites you to visit his YouTube channel for more free transcriptions here. And he anticipates that he'll be doing more transcriptions of Ted in the not-so-distant future that he will share with us.) Thanks, guys!
~ Your friends on the TedGreene.com Team

NEW ITEMS
ARRANGEMENTS:
Under the "Classical Pieces" header:
* Bach – Chorale No.274, 1974. [This is another very early transcription/arrangement by Ted of one of Bach's chorales. It's not exactly clear where Ted left off with this score. It could be that this is just the first stage in the process of making his guitar arrangement: combining the 4 voices onto one staff. From there Ted usually would slightly modified that notation so it would be more "guitar-friendly," like change keys, or move one of the notes to make it playable. He might have written it down, or just worked it out in his head and fingers. In the case of this chorale, it seems he stopped, since he never wrote out anything further as either notation or chord grids. We've put Ted's original notation on the computer to make it easier to read and added some "likely possibilities" for chord forms to play it, although you may find other forms that you prefer. We also added a copy of the original Bach notation in 4 voices.]
Under the "Lead Sheets Written by Ted" header:
* Day by Day (from "Godspell"), 1974-04-26. [Ted's lead sheet is written in 4/4 time, whereas this song is normally played in 3/4 – perhaps the 4/4 is a common variation, or maybe it's Ted's unique rendering. New notation plus Ted's original sheet.]
BAROQUE:
* Baroque Modulation Schemes, 1975-03-27. [Ted details about 90 different progressions for modulations in the key of C, and he grouped them as: I to ii, I to IV, I to vi, I to iii, and I to V. He further classifies them as to the type of modulation used: via chord scale, via cycle, ascending/descending bass, direct modulation, sequence modulation, etc. Keep in mind that for many of the chords he wrote figured bass to indicate specific inversions. (see Ted's page on figured bass for more info. Here or here.) Ted had two different copies of this lesson, one with extra text he added later. We've typed out the text, combining both copies.]

CHORD STUDIES:
Under the "Bass-Enhanced Triads" header:
* Bass-Enhanced Triads - Misc. Ideas 2, 1996-1999. [A collection of miscellaneous idea tidbits for B.E.T., taken from Ted's Personal Music Studies papers. New notation added to his grids.]
Under the "Harmonization of a Given Melody" header:
* Diatonic Major Harmonization of Ascending Bass Starting from Various ii's, 1985-03-14. [The melody in this case is a major scale, starting on the 5th degree (or you could call it a mixolydian scale), and harmonized with diatonic chords from that key using ascending bass lines and a 2-to-1 melody-to-chord ratio. There's some nice ideas here in this group of 21 examples. Notation added with Ted's grids for easy assimilation.]

COMPING:
* The Shining Sea, 1995-01-09. [This is the love theme for the 1966 comedy film, "The Russians are Coming, the Russians are Coming!" written by Johnny Mandel, lyrics by Peggy Lee. I was expecting this page to be an arrangement, since it was filed along with Ted's other arrangements. I had a hard time tracking down a lead sheet for this song. Apparently, this song was popular in 1966, but it has pretty much become a somewhat obscure tune. After purchasing a chart online, I discovered that Ted's page is really a comping study. I believe that the 4-measure intro is Ted's own. If you want to play this as a solo piece you'll have to make your own arrangement. You might use Ted's reharmonization and chord forms as a loose guide to get you started. Notation with lyrics combined with Ted's grids for easy reading…oh, and we added the chord qualities to his grids, as would have been the homework for the student.]
FUNDAMENTALS:
* Basic Major, Dominant, and Minor 7th Type Chords and Intervals from 5th & 6th String Roots, 1985-09-16. [This page provides some basic first steps in learning to see moveable chords on the fingerboard, using root tones as anchor points and showing the 3rd, 5th, 7th, and 9th tones in relation to it. Filled-in "Homework" pages are provided along with Ted's originals.]
* Locating the Tones in the Main Chord Forms, 1978-11-26. [More fundamental work on seeing chord intervals in relation to a given root tone. Filled-in pages included for reference.]
THE V-SYSTEM:
* V-2, The 15 Major Extensions in Efficient Transformation Schemes, 1993-05-26. [Ted labeled this page as "the 15 major extensions," but he only did 7. These are all V-2 chord, and by moving one or two of the notes he shows how they are various transformed to other chord qualities. We've added a page of newly drawn grids with text to better show the transformations.]
* V-3, Choice V-3 Major Types, 1986-01-26. [Ted lists the 15 "regular" major chord types with extensions (no altered, 11 or #11 chords), and then gives V-3 forms for each, grouped according to the soprano voice. This page focuses on the middle 4 and top 4 strings only. Newly drawn grids with typed text provided for easy reading.]
* V-4 Voicings for Minor 7 and Minor 7/11, 1988-04-01. [On this worksheet Ted is exploring all the voicings for chords #32 and #30 from his list of the 43 4-note chord qualities. Newly drawn grids for easy reading.]
* V-5, All V-5 Chords in the Overtone Dominant Scale, 2001-04-27. [This one is a bit difficult to understand. In this worksheet Ted is listing all V-5 chords that are diatonic to the Overtone Dominant scale, organized according to the soprano note. The chords have not been named. Included are newly drawn grids for easy reading plus a valuable explanation by Mr. James "V-System" Hober.]
TRANSCRIPTIONS:
* Just A Little Lovin' – Transcribed by Radons Atremble. [Standard notation with TAB. Take from the YouTube video of Ted on December 19, 2004 at Mark Joseph's birthday party.]
* Manha De Carnaval – Transcribed by Hak-Yoo Lee. [Standard notation with chord grid diagrams. This was taken off the video lesson made by Nick Stasinos on Jan. 16, 1997. Be sure to also check out the comping page Ted was playing thru in the video: ManhaDeCarnaval.]
FROM STUDENTS:
Under the "Contributions from Tony Darren" header:
* Dorian to Dorian – Lesson from Ted, 2002-03-31. [The title is deceptive – it's a page with a collection of different progressions: Dorian to dorian, Gospel, Just a Little Lovin' and Straight Gospel 3. Ted grids only. Your homework is to play thru and give names to the chords and understand the progressions.]
* I-IV-iii-vi-ii-V-I Studies – Lesson from Ted, 1986-12-31. [Diatonic chord progressions in the key of B, D and A. Ted's grid chord diagrams.]
* Minor Key Jazz Progression – Lesson from Ted, 1988-10-19. [Again, the title describes only the first of the three examples. Number 2 = "Fusion" and number 3 = Diatonic Melodies with Harmonization.]

* * * * * * * * * * * * * * * * * * * * * * * * * * * * * * * * * * * * * * * * * * * * * * *
May 2018 • TedGreene.com Newsletter

May Greetings!
Before we dig into the new lesson material we'd like to share an excerpt from an essay written a few years ago by Omar Haddad: Ted Greene–The Legacy Lives On, an essay by Omar Haddad which can be found in our Personal/Articles & Interviews section. You'll want to read the rest of the article if you haven't already done so.
* * * * *
Probably the greatest influence on Greene's capacity to deal with many voices and treat them independently was his study on baroque and neo-baroque music, two styles that reside in polyphony. Ted Greene's knowledge of this music has been widely reported on several media, including his own website, TedGreene.com: The Legacy of Ted Greene Lives On, where his own students have posted private lesson material dealing with baroque music.
Greene directly talks about the connection between his solo arranging approach and baroque music in his 1993 master class, available on YouTube as "Ted Greene 1993 GIT Seminar pt.3," which took place at the Guitar Institute of Technology, an affiliate of Music Institute of California: "The root movements f Bach… those are just like those old standard tunes…. These kinds of progressions… have been around for a long time. It's still the same stuff," he says as he improvises a walking bass line, solo line, and chords on "Autumn Leaves" (6:25).
Greene also explains his conception of Bach's music: "Implied chords. That's what Bach did. Bach teaches us that his music is about chord tones that are stitched together with either scale tones or chromatics, and the genius is that there are motifs binding it all together, themes… but if somebody wrote in a similar style but didn't use actual themes, they could still get the effect of the harmonic environment of a Bach, if they knew his harmonic vocabulary" (2:41).
Based on all these accounts, it is possible to establish that Greene's interest in and knowledge of baroque music aided him in the development of his solo arranging style capable of polyphony. Additionally, the incidental connection between jazz and baroque music through similar chord progressions (cycle of fourths) and moving bass lines (the baroque basso continuo and jazz walking bass line) made the music of Bach a practical model whereby Greene could develop mature arranging and performing techniques.
Another of Greene's musical incorporations in his style, taken most likely from jazz pianists, can be seen in his voicing choice. The introduction to "They Can't Take that Away from Me" on Solo Guitar shows how Greene moves far away from typical guitar voicings. The progression constitutes a chromatic cycle of fifths that supports a soprano voice moving independently. Greene strategically selects rootless altered dominants of four or five notes, creating a dissonant texture by using the tritone and two of the dominant's alterations or far extensions, such as the sharp ninth or the thirteenth…. [Go to full article to see the notated example.] These quartal dissonant chords resemble Bill Evans's voicings and are played within the uppermost frets of the guitar, a usually neglected area. Thus, this approach addresses the need to incorporate universal jazz vocabulary beyond the resources that the instrument offers.
Ted Greene stands out as a solo arranger and performer by achieving polyphony on the guitar, giving different voices independent treatment simultaneously, and incorporating piano and bass resources into guitar playing. These accomplishments are all the more admirable when observed in the context of the year Solo Guitar came out, when nobody was doing anything similar at that time or before. Wes Montgomery had incredible command of the fretboard on chord soloing and captured a wide range of audiences with his particular touch, but he never established polyphonic textures, much less develop such an unusual stylistic crossover.
A similar comparison could be made between Ted Greene and Joe Pass, who was a pioneer on progressions with walking bass lines but did not achieve the voice independence present in Greene's style. Furthermore, Pass did not develop a technique that would allow him to play walking bass, chords, and melodies at the same time, although he was able to stand alone solidly and improvise on jazz standards with his own accompaniment.

Pass and Montgomery's music was significant in and of itself, and Greene's development does not invalidate or diminish either performer's accomplishments. Measuring artists against each other is like comparing apples and oranges, and competition is not the point of this observation, as all music has its own right to be enjoyed and preferred. Nevertheless, these contrasts point out that Ted Greene was indeed one of the greatest jazz masters of all times, as we can perceive in Greene a high degree of musicality development and unique innovative contributions to music and jazz guitar in particular.
* * * * *
Special thanks to Alex Mesquita and Demma K. for sharing their cassette recordings of Lessons with Ted. Alex mailed them to us from Brazil and we now have the mp3 files in our Audio section. We'd also like to thank Tony Darren for sharing the pages from his private sessions with Ted. These have been posted in our "From Students" section. We'll have a few more of his pages to share next month.

~ Your friends on the TedGreene.com Team

NEW ITEMS
ARRANGEMENTS:
* And Your Bird Can Sing, 1989-03-14. [This is not really an arrangement as much as it is a transcription of Ted's interpretation of the "lead breaks" for this old Beatles song from the album "Revolver." He wrote this up as a special request during a private lesson. We added a lead sheet to Ted's grids to show the format of the song….you'll have to fill in the rest of the chords.]
* Just in Time, 1982-12-15. [This arrangement is not too difficult to play and might be a good one to start with if you're relatively new to playing Ted's pieces. Notation and lyrics added to Ted's grids.]
AUDIO:
* Ted Greene Guitar Lesson with Alex Mesquita and Demma K., 1997-05-21.
[mp3 file, 35 min., 320 kbps.]
* Ted Greene Guitar Lesson with Alex Mesquita, 1997-06-19.
[mp3 file, 48 min., 320 kbps.]
* Ted Greene Guitar Lesson with Alex Mesquita, 1997-10-13
[mp3 file, 51 min., 320 kbps.]
BAROQUE:
* Common Diatonic Chord Progressions in Baroque Harmony, 1975-03-24. [Ted explains the common chords for both major and minor keys, defining Primary and Non-Primary Triads as well as Related Triads. He shows these relationships in Tonic, Subdominant and Dominant families. He then gives 34 progressions for major and 38 examples for minor using Roman numerals. He titled this for "Baroque Harmony," but the concepts explained here have a much broader application and can be used for other kinds of music. Typed translation page included for easy reading. (Ted had two copies of this page, one with additions notes later added.)]
CHORD STUDIES:
Under the Bass-Enhanced Triads header:
* Bass-Enhanced Triads - Misc. Ideas 1, 1989. [A collection of ideas Ted jotted down in 1989, probably saved to be used for the book he intended to write about Bass-Enhanced Triads. Notation provided for easy reading.]
Under the Harmonization of a Given Melody header:
* Warm Harmonization of Diatonic Major Scale Melodies, 1985-09-01. [In this lesson, Ted provides 14 different ways to harmonize a melody of E, F#, D, A, and he gives a brief description of each version, like "Scale-wise bass heading for IV, or Expanded Diatonicism via bVII, etc. Lots to learn by playing and analyzing these examples. Notation and chord names added for clarity and ease of absorbing the concepts.]
COMPING:
* All the Things You Are (V-1 chords), 1985-06-18. [Ted subtitled this page, "Mostly V-1's on the middle strings," so you'll encounter a few long stretch chords here. We combined Ted's grids with their notation and a lead sheet with lyrics. This allows easy analysis of Ted's reharmonization compared to the original chord changes.]
OTHER:
* For My Book on Harmony (or The Harmony of American Music), 2000-10-10. [This is from Ted's Personal Music Studies files, and it's one of several pages he wrote as outlines for various books that he wanted to write. On this one he describes some ideas for a chapter on "Favored Diatonic Progressions." These outlines afford us a window into his thought processes for presenting some musical concepts. New typed text included for easy reading.]
SINGLE-NOTE SOLOING:
* Diatonic Major Scale Runs - Part5, 5th Position, 1977-11-11. [This is a continuation of the series we posted last month. They come from Ted's original manuscript for his Single-Note Soloing Vol. 1 book, although he never included these pages, but instead chose other similar ideas. New music notation has been included to make it easier for you to read.]
* Diatonic Major Scale Runs – Part6, 6th Position, 1977-11-11. [see above.]
* Diatonic Major Scale Runs – Part7, 8th Position, 1977-11-12. [see above.]
THE V-SYSTEM:
* Chord Homonyms for Favorite 4-Note(Voice) Chords, 1980-04-18 &1984-11-22. [This is a worksheet from Ted's Personal Music Studies files, and shows his analytical thinking revolving around exploring every possible combination of 4-note chords. As James Hober writes in the comments/introduction page, "This page is the birth of his V-System." It's a monumental achievement that outlined a path which Ted might not have expected to go down, but now seems inevitable owing to the extreme thoroughness in his harmonic investigations. The V-System is one of his unique contributions to guitar pedagogy, and this is the page that set the stage for it to flower. We meticulously transcribed every smudged letter from his original page (no easy feat that!) and present it here for your consideration – if you feel so inclined to join Ted in his exploration. We've placed this document under the header, "Ted's Comments on the V-System." Thanks to James Hober for his explanations and gentle prodding for us to get this page transcribed. Whew!]
FROM STUDENTS:
Under the "Contributions from Tony Darren" header:
* Chord Progression, 1991-12-00. [All these pages are ones that were written up during private lessons with Tony Darren. This one focus on a progression of E11-Amaj9-Am7/11-Am9-Gmaj9-Abm9. The top line of this page is not Ted's grids or chord names, but instead is probably a homework assignment written by Tony.]
* Chord Spelling-Triads, 1993-01-06. [This is a fundamentals lesson on triad spelling.]
* Cumulative Mental Scale Practice, 1988-10-31. [Another fundaments lesson on how to add flats in key signatures, plus he shows the name of the keys by bolding the second-to-last flat in each key signature. Ted wrote out a descending A major scale in small, then larger and larger portions, for "cumulative" learning. Ted wanted this to be primarily a mental practice.]
* Harmony Fundamentals, 1988-07-13. [This lesson contains a lot of fundamental information all crammed on one page: triad spelling, intervals, diatonic triads, harmonized scale, Roman numerals, etc. ]
* Mental Drills, 1986-02-26. [I believe this page was intended to provide some drills for practicing the guitar mentally only, focusing on the learning the notes all over the fretboard.]
* Notes on Tony's Tunes, 1991-01-31. [I assume this is Ted's comments he jotted down after listening to some tunes that Tony wrote. It has some analysis of some concepts/tendencies that Tony seemed to favor. Ted listed his main "harmonic palette." It is interesting to see how Ted can quickly sum up a person's level of harmonic understanding by reviewing a few of his pieces…one of the signs of a great teacher.]

* * * * * * * * * * * * * * * * * * * * * * * * * * * * * * * * * * * * * * * * * * * * * * *
April 2018 • TedGreene.com Newsletter

April Greetings!
Hope you all have been digging into the mountain of lesson material that we've been posting over that past several months. It's really starting to accumulate, and it's probably impossible to absorb it all. Something that Ted tried to do was to not overwhelm his students with too many lesson pages. Well, he could overwhelm us with just one page! So, you'll just have to pick and choose which lessons or arrangements you want to focus on and put the rest aside…at least for a time.
We wanted to share the following article we found on the web from Guitar Teacher magazine. This is part 1 of a 2-part series, published in their Winter 2006 issue. Unfortunately, the magazine is no longer in business and we've been unable to locate part 2 of the article. And we have been unsuccessful in attempts to contact either the publisher or the author. If anyone has a copy part 2 in their next issue (Spring 2007) or contact info, please let us know via this site. But for now, you can read part 1. Enjoy!
* * * * *
Ted Greene
The renowned teacher left a legacy of passion and knowledge for his students.
By Jason Garoian
Ted Greene was one-of-a-kind, a teacher's teacher. Although he only released one album under his own name, 1977's Solo Guitar, his contribution to music, through guitar teaching, is immense. The brilliant guitar instructor passed away at his home in Encino, California, on July 25 at the age of 58, leaving behind legions of inspired students and a catalog of superb teaching materials. Chord Chemistry, the comprehensive chord book which is his best-known work, has secured him high rank in the pantheon of guitar geniuses. A consummate teacher and eternal scholar, Greene's commitment to music and his students is a testament to what is possible in the world of guitar pedagogy.
Pinpointing a Student's Musical Personality
Greene was a gentle, caring spirit who extended himself far beyond the typical teacher-student relationship. "If you kept coming back and you became friends with him, he would go that extra mile, doing whatever it took to help you," says Tony Darren, a longtime student and friend of Greene's.
To Greene, teaching wasn't just his job. According to his students, he felt he was entrusted with their musical development, and he took great care with that appointment. Extremely sensitive to his students' level and interests, Greene would quickly pinpoint a student's musical personality and assist them in their musical evolution. He'd get a sense of what someone liked by playing records and chord progressions for them. In Darren's lessons, that attention even extended to chords. "He knew what I liked," says Darren. "At the time, I didn't know these chords, but he'd play major sevenths, major ninths, 6/9s, and I thought, 'I love that chord.'" Greene would compile tapes for Darren and introduce the new voicings in increments.
Guitar Guru
Greene's home studio was lined with stacks of books, records, and videos, and he had piles of amps and guitars. No distinction was made between living space and workspace. He could always be found with a guitar in his hands, most often his '52 Fender Telecaster. Famous guitar players would seek him out for a lesson when they were in town. "Going to Ted's was like going to Yoda's den," says Darren. "He always had bare feet, he never had shoes, and he never sat in a chair. He'd always sit cross-legged on the floor. And then, when we'd listen to music, he'd close his eyes and just kind of bob his head up and down and really get into it."
Even though Greene was an expert guitarist, he was always able to meet people at their own level. If a student wasn't getting something, he would find a different way to communicate the concept. "His mind was like an iron trap, and it worked a million miles an hour," says Darren. "Sometimes I couldn't keep up with it. Then, he'd break [the concept] down and simplify it to its most basic element. He wouldn't stop until you understood it. You wouldn't meet a sharper guy, that's for sure. He was definitely firing on all cylinders."
While writing out a lesson, Greene would have Darren play the material they'd covered the previous week. Never skipping a beat, he'd correct Darren without looking up from the paper. "He'd say 'No, no, what was that chord?'" Darren recalls. "And I'd say 'minor-seven-flat-five.' And he'd say, 'No, no, play it again.' [If I made a mistake] he'd pick it out in a minute, but he'd never stop writing the next lesson."
A Fountain of Knowledge
Greene covered so much ground in his hour lessons that most people found it necessary to record them just to keep up. "I used to have hours and hours of those tapes," says Mike Rao, a guitar instructor at Blue Bear School of Music in San Francisco. "The time would go by really fast. You never knew what you were going to walk out with. It was really intense."
In addition to the tapes, Greene's handouts are the stuff of legend. His students remember how he regularly churned out comprehensive learning materials. "He'd have chord-melody arrangements laid out for 'Prelude to a Kiss,' 'Misty,' 'Stella by Starlight'—every jazz standard you can think of," recalls Rao. "He'd written all this stuff out by hand in the same way that he'd written all his books out. (The chord diagrams and fretboard charts in Greene's books are handwritten.) He had this wealth of material laying around. I still have a lot of that stuff. Once in a while I'll Xerox it for a class, and I'll mention to the students to make sure they look into his books."
* * * * *
And now, on to the new lesson material….
One note: this month we've added yet another header to the "Chord Studies" section. It's called "Harmonization of a Given Melody" and we'll be adding more pages to it in the future.

~ Your friends on the TedGreene.com Team

NEW ITEMS
ARRANGEMENTS:
* Brian's Song (The Hands of Time), 1992-07-23 [From the 1971 movie of the same name, here is Ted's arrangement of Michel Legrand's theme song for the film. Lyrics are from Marilyn and Alan Bergman. This 1992 arrangement is relatively easy to play and might be a good one to start with if you're new to Ted's pieces. Standard music notation and lyrics have been added to Ted's grids for easy reading.]
Under the "Classical Pieces" header:
* Bach – Chorale No. 26 (BWV 20), 1972. [This is Ted's early transcription/arrangement of Bach's Chorale #26, or also known as "O Ewigkeit, du Donnerwort", which translated is: "O Eternity, You Word of Thunder." For some reason Ted did not do the last 4 measures, but he did add an "Intro in A" at the end with undefined rhythmic values. We've transcribed Ted's notation and added Ted-style chord grids as suggestions for playing (other chord forms are also possible). We also went ahead and finished the transcription and added suggested grids. The original Bach score has also been added to Ted's original page for comparison.]
CHORD STUDIES:
* I-IV-III-VI-II-V-I Variations, 1978-12-02. [For each of these 19 examples of an ascending scale harmonized with a variety of I-IV-III-VI-II-V-I chords (all major or dominant in quality), Ted wrote the melody, bass lines, and chord symbols. Based on his very specific chord names, we've added "suggested" chord voicings and chord forms to aid in following his page. Optional notes in the grid diagrams have been added with circles to show Ted's alternate chords. The examples are mostly in the key of A, and just the last two in Gb. New notation and grids provided for easier reading.]
Under the "Chord Streams" header:
* 3-Note Close Harmony Dominant Extensions, 1989-07-20. [Last month we posted the first part of this series for "major sounds," and this month we finish this series with the dominate extensions and minor extensions lessons. This page focus on the middles 3 strings (2, 3, and 4) for A7, E7, Bb7, and F#7 dominant sounds. Ted really liked the sound of using these sequences, and encouraged students to persevere in working on them, difficult as they are to get up to a nice smooth execution. Notation and chord names provided for easy assimilation.]
* 3-Note Close Harmony Dominant Extensions, Top Set, 1989-07-20. [Another page of dominant sounds, this time for the top 3 strings for D7, F7, A7 and F#7 sounds. Notation and chord names provided.]
* 3-Note Close Harmony Minor Extensions and Friends, 1989-03-12. [This is the final lesson for this series of 3-note close harmony exercises. Twelve exercises all given for G minor sounds. Notation and chord names added.]
Under the "Harmonization of a Given Melody" header:
* Diatonic Harmonization Through Counterlines, 1983-05-10. [With this lesson we start a new area in the "Chord Studies" section. This is the first in a series of pages in which Ted gives a short melodic phrase and then harmonizes it in many different ways, using different devices, such as counterpoint, pedal tones, contrary-motion, diatonic chord scales, sustained notes, approach chords, etc. In this lesson Ted's melody is a I major triad: 5-R-3-5, and he has limited his harmonization to diatonic notes/chord for the given key. There are 43 examples presented here, in a many different keys. Notation and chord names provided to go along with Ted's gird chord diagrams.]
Under the "Bass-Enhanced Triads" header:
* Bass-Enhanced Triads – Slash Chords, 1987, 1988, 1989. [This file is a compilation of four ideas Ted wrote for his Personal Music Studies papers. They were all titled as some kind of "slash" chord, so we combined them. Notation and chord names were added to Ted's grids. Bear in mind that you'll want to add rhythmic variety to what is written—to give them more musical life.]
COMPING:
* All the Things You Are (V-2 chords on the top 4 strings), 1985-01-08. [This is a great page for beginning to learn comping. The chord forms used are very common and easy to play, and Ted's combination of these is very musical. Notation added to Ted's grid diagrams, along with lead sheet with lyrics.]
PERFORMANCES:
Under the Live Performances header:
* 1973, March 2-3 — Ted Greene at with Gabor Szabo at McCabe's Guitar Shop
* 1973, August 24-25 — Ted Greene with Joe Pass and Herb Ellis at McCabe's Guitar Shop
* 1974, February 8-9 — Ted Greene with Al Viola at McCabe's Guitar Shop
* 1992, January 21 — Ted Greene at Monteleone's Restaurant
* 1993, February 5,6 — Ted Greene at the Seashell Restaurant
* 1993, April 16, 17 — Ted Greene at the Seashell Restaurant
[Thanks to Steve Herberman for discovering and sharing these dates and their corresponding newspaper ads.]
OTHER:
Under the "Harp-Harmonics" header:
* More Consonant 6-Note Voicings for Harp-Harmonic Technique, 1979-12-03. [Ted gives us 93 more chord forms to use with the harp-harmonic technique. Many of these are very difficult to play cleanly, but you'll find plenty that are easier to grab and sound beautiful. Good luck! Redrawn grids for easier reading.]
SINGLE-NOTE SOLOING:
* Diatonic Major Scale Runs, Part 1, 2nd Position, 1977-11-02. [This series of lessons are from Ted's original manuscript for his Single-Note Soloing Vol. 1 book, although these pages were never included. He ended up using some similar pages, but the examples here are slightly different.] Next month we'll post parts 5-7 of this series. We added new music notation to make it easier to read.]
* Diatonic Major Scale Runs, Part 2, 4th Position, 1977-11-08.
[See above comments.]
* Diatonic Major Scale Runs, Part 3, 5th Position, 1977-11-08.
[See above comments.]
* Diatonic Major Scale Runs, Part 4, 7th Position, 1977-11-08.
[See above comments.]
THE V-SYSTEM:
Under the "Combined Sets" header:
* V-8 and V-9, Seven Basic Qualities and their Systematic Inversions – Worksheet, 1989-10-06. [This is the worksheet Ted made prior to making his individual pages for the V-8 and V-9 "Seven Basic Qualities" pages. If you look at those pages, you'll see that this is just redundant material, created 2 or 7 days earlier. Redrawn grids for easy reading.]

* * * * * * * * * * * * * * * * * * * * * * * * * * * * * * * * * * * * * * * * * * * * * * *
March 2018 • TedGreene.com Newsletter

Welcome to the March edition of the TedGreene.com newsletter!
If you're relatively new to this site we invite you to thoroughly explore all the different areas here. Keep in mind that there's a lot of stuff packed away in the deep recesses of the various sections. For instance, go to Lessons / The V-System / V-2 to find a load of V-2 (drop-2 voicing) lessons. Or read through the Newsletter Archives to find articles nowhere else published, including some words from Barbara Franklin (who wrote and coordinated all the early Newsletters), Leon White, Jim Carlton, Andy Brown, Cathy Segal-Garcia, Rowanne Mark, Steve Lukather, Dan Sawyer, Tim Lerch, and more.
And check out the Audio section (found by going to the tab on the top right of the Homepage) to hear recordings of Ted that are not published elsewhere, including tons of recorded private lessons with Ted, seminars, interviews, and albums. The Personal / Articles & Interviews section has many articles published by or about Ted that make for great reading.
We could go on and on…and someday we hope we'll have some kind of "tour guide" that can take you through to it all. But for now, enjoy the exploration. We're sure you'll find something that will perk your interest, get you thinking, inspire you or simply enjoy…and it's all for free! Oh, and of course, don't forget the Forums…especially going back and reading older posts (try using the search feature to find subjects you're into).
If you've been following the Forums lately you'll have noticed that Steve Herberman recently provided us with some YouTube links to a recording he made of his extended lesson with Ted back in 1995. This is a fabulous encounter between two awesome musicians. You can tell that Ted was excited to find such an accomplished young player. A couple of times Ted told him, "You don't need lessons…." There's a great exchange of musical thoughts going on here. We wanted to let you all know that we've added those recordings (more accurately, the YouTube links) to our Audio section under "Lessons with Steve Herberman" (see description below). If you could, we're asking if you could support Steve's YT page with a "like" and to subscribe to his YT channel. He also is providing us with two Ted recorded lessons with John McCain, one of which is an upgrade from a 1991 lesson we had published previously, and the other is a unpublished 1989 recording. Thanks for sharing these, Steve and John!
And finally, we wanted to leave you with some memories of Ted by some of his students, extracted from the Ted Greene Memorial Blog:
"I first met Ted in the early '70s while shopping for a tele at Betnun Music in Los Angeles. I remember hearing what I thought were two guitarists playing in another room. When I looked around the corner there was only one player, and of course it was Ted. His gentleness and artistry are the two traits I will remember the most.
"Our paths crossed many times over the years, and every time I felt I was in the presence of a great artist and an exceptional human being. Ted had a profound influence on guitarists everywhere and it's difficult to imagine a world without him. Thank you, Ted for making our world a more beautiful place. I'll never forget the beauty of your playing or the purity of your heart."
~ Jody Fisher
"Ted was probably the most inspiring man I have had the privilege of meeting. As an Australian resident, I managed to organize a handful of lessons during my infrequent visits to Los Angeles. It is no exaggeration to say that these meetings had a profound and lasting effect upon my life. On one occasion I inquired as to why he performed so infrequently. His response was that it was no longer a priority. When pressing him as to what was a priority, he replied simply: knowledge! How many people in this day and age devote their entire being to the pursuit of knowledge? He was truly a remarkable being whose teaching extended far beyond the musical arena."
~ Lucas Michailidis
"I met Ted and began studying with him when I was 17 years old. I am now 36 [this was written in 2005]. Ted and I became friends from the first phone call. And there was a waiting list at that time! Remember that? Some of you out there will remember his first apartment that had 2 chairs, a music stand, an ashtray, and needless to say, a tape recorder with which he demanded that the lesson be taped. The lessons and the man were serious then, really serious. (The apartment was clean to a fault.) But, even as we have known him in recent years, he was very kind, understanding and selfless then as well.
"At this time he became like a surrogate father to me. Many times we wouldn't even pick up the guitars – we would just talk for 2 hours. He helped me learn how to live life. So many times he talked me through some really rough experiences. He was more of a father to me than my father. Ted was not only a teacher of music for me, but he taught me so much about living! I could talk to him about anything. I do not know where I would be without having him in my life. And now in 2005 he is still like my father and dearest friend.
"We shared quite a bit together. I am sure that there are others out there who got to share some special times and special conversations with him. There were many sides to Ted. I will cherish the memories of speaking to him so frankly on such a wide range of subjects! And he surprised the hell out of me with his vast knowledge and ideas about so many things.
One time I brought him a bunch of my Roman and Greek coins to see. The next week he had started up again with his coin collection. They were all over the place!! Quarters galore! He said that he loved the quarters! I loved sharing with him my collections of all things ancient.
"Ted, you know how much we will all miss you. You touched so many lives. I'm not sure what I/we will do without your direction, opinions, thoughts, and guidance. I am sad beyond words, and the world—and especially the world of music and guitar—is a different place without you here."
~ Rich Glasband
~ Your friends on the TedGreene.com Team

NEW ITEMS
ARRANGEMENTS:
* Love Walked In (key of G), 1977-05-25. [This arrangement is the G version that Ted wrote up for students back in 1977. We posted the Eb version last month. The G version ends after 24 measures, and Ted just wrote, "etc." – meaning, it is up to the student to finish it. On the write-up, we included the melody, lyrics, and basic changes for the remaining 8 measure, but left out any harmonization so you add your own ideas. A couple of suggestions: you might look at the harmonization that Ted used elsewhere in the G arrangement and borrow those chords for the final 8 measures. Or, you could look at the Eb version and transpose the last 8 measures to G and import it. Yet another idea that might be more "Ted-like" would be to start off by playing the G version, then at measure #24 modulate to the key of Eb, and play Ted's entire Eb arrangement. Experiment and find out what works best for you. Enjoy!]
* Softly as I Leave You, 1989-09-10. [This is a beautiful song that Ted created a really nice version that I think you'll find very satisfying and not too difficult to play. Probably the hardest thing about Ted's original page this was trying to follow or navigate it as he intended (measure 36 onward), and to notate it accordingly. One key to playing this (and other Ted arrangements) is to be sure that the melody really sustains above the moving harmony. "Make it 'sing'" – as Ted would often say. Notation, lyrics, and chord names provided for easy reading, learning, and absorbing.]
AUDIO:
Under the "Lessons with Steve Herberman" header:
* Ted Greene Lesson with Steve Herberman, 1995-12-04 (part 1) Length: 45:52
* Ted Greene Lesson with Steve Herberman, 1995-12-04 (part 2) Length: 47:01
* Ted Greene Lesson with Steve Herberman, 1995-12-04 (part 3) Length: 47:35
* Ted Greene Lesson with Steve Herberman, 1995-12-04 (part 4) Length: 18:19
Total length: 2:38:47
Comments from Steve:
Part 1: This was my first meeting with master musician Ted Greene at his apartment in Encino CA. We discuss George Van Eps, Lenny Breau, Johnny Smith, cross rhythms, bringing out lower harmonics in chords, and Chord Chemistry.
Part 2: Topics in this part of 4 include Lenny Breau essential tone comping, Low A string gauges and string cores, A-Frames, deep tuning, "greasy" blues & gospel, astrology, cycle 5 on blues, George Van Eps, and more.
Part 3: Ted continues his discussion/demonstration of American and European guitar styles for chord/melody improvisation. Topics included are: Ted's amazing Baroque-style playing, "Bouncy" playing Chet Atkins style (stride and ragtime), finding and nurturing one's own voice, playing for the audience, Ted's love of sustained sounds and delayed entrances, being yourself, Lenny Breau, Chord Chemistry's chord reference charts and his voicing system (the V-System), Gretsch 7 string, Ed Bickert's Tele, vacancy in Ted's building!, beauty and groove, Pseudo-Latin style and New Orleans style, Gospel 3 and Doo-Wop 3.
Part 4: This final portion includes: arranging techniques including keys and feels, Beatles tunes "And I Love Her" and "Ticket to Ride," shuffles, marches, different types of waltzes, tumbao bass, folk fingerpicking, Bo Diddley beat, New Orleans grooves, Lenny Breau's practicing and George Van Eps!
Under the "Lessons for John C. McCain" header:
* Ted Greene Lesson for John C. McCain, 1989 (part 1) Length: 46:19
* Ted Greene Lesson for John C. McCain, 1991 (part 2) Length: 46:11
[These 2 lessons were recorded by Ted on a single tape cassette and mailed to John as "correspondence lessons." They're the result of Ted sitting in front of a tape recorder, guitar in hand, and giving a spontaneous lesson without the benefit of the student being present. It was provided to us by Steve Herberman, who had a cassette copy of this recording from John. John's tape had deteriorated over time and parts of it were corrupted, which resulted in a wobbling speed and distorted sound. But Steve's copy plays perfectly, and it now replaces the older file we posted previously. Thanks, John and Steve!]

BAROQUE:
* Baroque 2-Voice Counterpoint, 1989-08-08. [Three extended exercises in F#m, Dm, and Bbm. Ted subtitled this page, "Adding a part to an ascending scale-wise bass – in 2-to-1 ratio." Notation provided plus chord symbols that represent an interpretation of the "implied" harmony. Just two notes can often be harmonically interpreted several different ways, and we're not saying that the added chords names are absolute, but we thought to include these to show at least one version, because it can be helpful to see thinking behind the notes, and thereby help you to create your own 2-voice counterpoint. (Thanks to James Hober for his help with this page.)]
CHORD STUDIES:
Under the "Chord Streams" header:
* 3-Note Close Harmony Major Extensions, 1st Series 2nd Set of Strings, 1989-07-24. [Five exercises on stings 2,3,4 for E major and Db major sounds. This series better fits into the category of "chord streams" rather than triads, since many of the forms are more chord fragments (such as 6no3). Ted really liked the sound of using these sequences, and encouraged students to persevere in working on them, difficult as they are to play smoothly. Notation and chord names provided for easy assimilation.]
* 3-Note Close Harmony Major Extensions, 2nd Set of Strings (pt.1), 1989-03-12. [Nine exercises (well, 10 actually if you count 8a as one), all for D major sounds. Notation and chord names provided.]
* 3-Note Close Harmony Major Extensions, 2nd Set of Strings (pt.2), 1989-03-12. [A continuation of part 1. Twelve exercises for D major and G major sounds. Notation and chord names given.]
* 3-Note Close Harmony Major Extensions, Top Set of Strings, 1989-07-20. [Five exercises for A, F, E, and Db major sounds. This page focuses on the top 3 strings. As usual, notation and chord names have been added.]
* 3-Note Close Harmony Major Extensions – Used in Little Melodic Phrases, 1989-02-20. [This group of exercises are for strings 2,3,4, and are a bit more melodic than the previous pages. Notation and chord names are given, though you want to think of them all as just major with extensions.]
Under the "Bass-Enhanced Triads" header:
* Cool Rock and Motown-ish B.E.T. Colors, 1992-12-16. [Ted had this page filed away with his other "B.E.T. sheets, although there really isn't any "B.E.T. or "slash" chords here. Notation and some chord names provided for easy reading.]
COMPING:
* Stella By Starlight, 1988-10-26. [Here's another comping page Ted made for this classic standard, using V-1 and V-2 chord voicings. For some reason Ted titled this page, "Stella That Starlight Girl" – maybe because he was thinking of publishing it and didn't want to use the copyright title. We added notation for Ted's grids, along with lead sheet, lyrics, and chord "qualities" to Ted's chord root names.]
FUNDAMENTALS:
* Cumulative Aeolian Scales, 1989-06-17. [Ted often used the "cumulative" approach for learning new things. This involves first learning little pieces, then adding another small portion, and then adding more. It breaks something into bite-size chunks that are easier to absorb. In this series, Ted shows some fingerings for the Aeolian minor scale for Fm, and Bbm. Notation provided to make it easier to see what Ted is describing with his chord grid diagrams.]
* Cumulative Major Scales, 1989-06-13. [As above, this page has 7 runs in E major.]
* Cumulative Mixolydian Scales, 1989-06-15. [And 7 more runs for E Mixolydian.]
* Triads, 1973-03-24. [This is an early lesson page Ted gave to students to cover a wide variety of subjects relating to triads: basic forms, chord formulas, common progressions, substitute principles, etc. At this time, Ted defined chord voicings as "small, medium, and large" – this was before he discovered his V-System of organizing 4-note chord voicings. He later discarded these definitions of small/med/large chords. Translation page with newly drawn grids provided for easy of reading.]
HARMONY & THEORY:
* Scale-Chord Relationships in Popular Music, 1974-03-23. [On this page Ted defines the diatonic, secondary chord, and "other secondary chords" along with their extensions and associated scales. Typed out translation page added for easy reading.]
* Tonality Types for Solo Guitar, 1975-03-25. [Ted subtitled this page "Dealing more with norms than exceptions." He listed 5 major and 9 minor types and their various rhythmic and harmonic elements. Typed translation page to make it easier to read.]
OTHER:
Under the "Harp-Harmonics" header:
* Harp-Harmonic Forms on the Top 5 Strings (More Dissonant), 1980-11-01, 24. [On these two pages Ted wrote out 329 grids to be played using the harp-harmonics technique. He labelled them as "more dissonant," but many of them sound wonderful "in context." You might also find that a lot of them are great for unusual/odd/eerie sounds for things like a movie soundtrack. A great deal of these forms are extreme finger-stretchers – but all are reachable, especially for those with small guitars, large-hands, or an iron determination and perseverance to get it down! I'm sure Ted would advise one to try them all, to highlight the ones that you love, and just set aside the rest. Don't overburden yourself with too many, because there's a limited use for these sounds, and you certainly don't need a lot of them. Newly drawn grids provided to save your eyes from squinting at Ted's original pages.]
SINGLE-NOTE SOLOING:
* Scale Hearts – Dominant, 1987-06-16. [Here's another approach Ted used for teaching scales and arpeggios relating to chords in the same positions. Translation page provided.]
THE V-SYSTEM:
* V-3 Diatonic, (undated). [Last month we completed the posting of all of Ted's "official" V-System lesson pages. We'll now continue posting some V-System pages, but they will be from his "Personal Music Studies" files, generally not intended to be given to students. This V-3 page has some fragments of diatonic chord scale patterns, and with broken melodic patterns. Notation and chord names provided.]


* * * * * * * * * * * * * * * * * * * * * * * * * * * * * * * * * * * * * * * * * * * * * * *
February 2018 • TedGreene.com Newsletter

Greetings to all old and new fans, friends, and students of Ted Greene – the Chord Chemist!
In the process of preparing the new lesson material for this month, we came across one of Ted's lead sheets for "Lullaby Medley" arranged by Cathy Segal-Garcia and Ted. As you may already know, a beautiful recording of this can be found in the GIT seminar from 1978. I contacted Cathy and asked if she was okay with us posting the arrangement, and if she had any comments about that piece. We've combined her thoughts along with Ted's notation and harmonization. You can find it in the "Arrangements" section below.
And since we were looking at that piece, I thought it would be nice to share the comments that Cathy added to the DVD/CD, "Never Forgotten" she released in 2014:
Never Forgotten
Album Notes by Cathy Segal-Garcia
Ted Greene was my friend since the day I met him in 1976. I had heard about him at Berklee College of Music in Boston when I attended 1972-1975, since there were a lot of guitarists there when I attended. Ted was (and still is, in my opinion) a gentle and kind spirit. Intensely focused and obsessed with what he was obsessed with! A loving and giving friend to many, he got a real kick out of people, and helping them. His sweet girlfriend Barbara totally "got" him, and loved him with all she had. I'm content that they are traveling spirits together now. Humble, almost to a fault, I'm afraid Ted would not have loved that I put these recordings out. But like I always said to him, we're artists because we can reflect the state of mankind, and that's a gift that we've been entrusted with – we've got to do it and give it to the people! So Teddy, this is for you, and me, and everyone. You've made mankind just a little bit better because of you and your art. I love you.
This package is one DVD and one audio CD. The DVD is a complete gig in 2000 at the famed "Rocco's" in Los Angeles, up on Mullholland Drive. Ted and I did a mix of old pop hits, standards, and other genres. Seeing Ted play and hearing him speak is a joy and a treasure! These archival audio-only recordings are from two places: One from 1978 at the old Musician's Institute in Hollywood, a performance for the students. And the other from 1998 when we did a gig at Papashon Restaurant in Encino. The audios were originally recorded on cassette, and re-mixed in 2014, for quality listening by the amazing musician and engineer, Wayne Peet, of Killzone Music, Los Angeles.
I was one of the only vocalists to work with Ted. I met him when I waitressed at the well-known jazz club in L.A., "Donte's". He fainted (he had a problem with loud sound) and I was leaning over him when he woke up! I knew of him, but had never met him. When he found out I was a singer, he asked me if I wanted to get together and play. We did. We worked up a repertoire of standards, in which every single one modulated to at least one other key. I remember when I had my first non-Ted gig after that, I totally had disregarded for myself that my songs were in several keys. Oh boy! That was an embarrassing night!
The first gig Ted and I had was at The Sound Room in Studio City, for owner David Abhari. I had to convince David to book us, we were the first live group he hired. I went around and put up 3 flyers. I didn't realize that Ted didn't play out a lot, and that he had a serious following. When I showed up at the gig, there was not even standing room! That was actually my first gig in L.A.
For those of you who know Ted's playing, you'll love being privy to him just playing a few gigs, like a regular guy! For those of you who don't know Ted, look him up on the web, he has a site. He played the bass line, the chords, and the melody all at the same time. And amazing harmonies to boot. A beautiful human being and a major contributor!
* * * * *
If you don't have a copy of this album, you might enjoy hearing and watching a master accompanist working with a fine jazz singer. I wanted to point out one very subtle thing in Ted's preamble to "Lullaby Medley," which I've transcribed here:
Ted: "[This is] a medley of lullabies and associated tunes Cathy had put together, and hopefully it'll put you in a nice place…not to suggest you're not in it already."
This last short comment is so typical of Ted. My experience with him was that he never criticized people, or even suggested that they had problems or imperfections. As a guitar teacher it's so easy to get into the mode of pointing out things that are wrong with a student's playing and to being somewhat critical in the helping process. Ted would do exactly the opposite by complimenting you on some aspect of your playing, no matter how small or seemingly insignificant it was. He made you feel like you were progressing just fine, and that he was simply sharing some new ideas and sounds that you might like or find helpful to your playing. He made you comfortable about where you were at, but was always encouraging you to push yourself beyond your comfort zone.
So now…on to the new lesson material…not to suggest that you need any of these ideas or that you're playing isn't in a nice place already….
~ Your friends on the TedGreene.com Team

NEW ITEMS

ARRANGEMENTS:
* Love Walked In, (key of Eb), 1977-05-25. [This arrangement comes from Ted's "red period" – when he used red ink with a chord grid stamper. Boy, we don't like writing up these pages, because every grid needs to be straightened and cleaned of all the extra lines, etc. If you don't know this song, listen to Ella Fitzgerald sing in on YouTube… then slow it down even more so that you can make the melody sing with the sustaining chords. New notation provided.]

AUDIO:
* Ted Greene Lesson for John C. McCain, September 1991. [This is a lesson recorded as a special request for one of his students. Ted was alone while making this tape, and talks without the focus of having a student present, so the content is more stream-of-consciousness. Some subjects touched on are I-vi-ii-V formulas with walking bass, "I Remember You," some blues improvisations, and some comments about studying/practicing and teaching. MP3 file, 177 kbps, 50 minutes. This file has been added to the "Miscellaneous" section under the header "Lesson for John McCain."]

BAROQUE:
* Progressions Using 1st Inversions; Figured Bass, 1974-12-27, [Ted explains Figured Bass, and details 75 different progressions using Roman numerals and figured bass. See Mark Thornbury's "From Students" file for the chord grids he made as "homework" for this lesson. His chords provide just one of the countless ways to play these progressions.]

CHORD STUDIES:
* Melodizing ii7-V7-I in Close Harmony , 1980-11-10. [Some interesting ii-V-I moves with mostly V-1 type voicings. Five exercises with moving voice in the bass, and five with moving voice in the soprano. Ted's grids combined with standard notation.]
* 3-Note ii7 Voicings in ii7-V7-I Progressions , 1984-01-01. [Eighteen examples of ii-V-I progressions with 3-note voicings, most of which are close voicings, or V-1 type or fragments. Notation added to Ted's chord diagrams.]

In the Bass-Enhanced Triads section:

* Bass-Enhanced Triads Stuff, 1991-09-30, 1992-12-10. [Some misc. ideas Ted collected for his B.E.T. book. Notation provided and added chord names.]

COMPING:
* Time After Time, 1977-08-21. [Key of C. Please also see Ted's arrangement of this song and his lead sheet/arrangement outline page.]

FUNDAMENTALS:
* Chord Progressions , 1974-12-25. [Ted explains and lists 13 basic progressions. Typed text provided.]
* Guitar Layout and Sight-reading Foundation Studies , 2001-09-24.[Using large-sized grids, Ted shows how one melody can be played in several places on the guitar neck. This understanding lays a foundation for being able to sight-read all over the fretboard, not to be stuck in just one or two positions.]

HARMONY & THEORY:
* Non-Voice Leading Exercises on Important Progressions , 1974-11-15. [Ted explains some things to do when voice-leading is abandoned. He also gives 11 progressions in major, and 10 in minor as homework for the student to work out different chord voicings using to these ideas. Re-typed for easy reading.]
* Tonality Types – Modulation & Tonality Transitions , 1975-10-10_12. [Ted lists 15 different tonality types and defines them by rhythms, textures, chord types used, and other various uses such as bass movements, moving lines, pedal tones, and other harmonic devices. A good reference sheet or a tool to help inspire new ideas. Typed text added to save your eyes from too much squinting.]

OTHER:
* Harp-Harmonic Forms on the Top 5 Strings, (More Consonant), 1980-11-01, 24 & 1980-12-07. [Here Ted defined 329 chord forms to be used for harp-harmonics. These are ones which he considered "more consonant" sounding. There's quite a few finger-stretchers here, and lots of optional notes. Next month we'll give Ted's collection of "more dissonant" chord forms for harp-harmonics. Re-drawn grids for easy reading.]

PERFORMANCES/SEMINARS
* 1978 — G.I.T. Seminar. Given at the first G.I.T. building at 5858 Hollywood Blvd, Hollywood, CA. [Ted gave two seminars this day with Cathy Segal-Garcia to the students and faculty. An audio recording of one of these can be found in our AUDIO section as well on the DVD/CD" Never Forgotten." See Set List.
* 1998, Dec. 10 — Papashon Restaurant, Encino, CA. Ted and Cathy Segal-Garcia performed live here. This event was audio recorded and appears on the DVD/CD " Never Forgotten." See Set List.
* 2000, June 13 — Rocco's, Los Angeles, CA. Ted and Cathy Segal-Garcia performed live here. This event was videotaped and appears on the DVD/CD " Never Forgotten." See Set List.

PERSONAL/DISCOGRAPHY & PUBLICATIONS
* 2014 — "Never Forgotten" DVD/CD. Cathy Segal-Garcia & Ted Greene. A documentary: Live at Rocco's in Los Angeles, CA, 2000, plus live audio recordings from 1978 at G.I.T and 1998 at Papashon Restaurant in Encino, CA.

SINGLE-NOTE SOLOING:
* Major Scale Sounds for Single-Note Playing, 1975-07-15. [Here is one of Ted's early reference sheets for single-note soloing. Here is one of Ted's early reference sheets for single-note soloing. It outlines five basic positions for the notes in the key of Bb major and shows the corresponding chord and various arpeggios for each degree of the scale. This is great for those new to soloing or for those who want to better see the chord/scale/arpeggio relationships within the scale patterns. Redrawn grid diagrams for easy reading.

THE V-SYSTEM:
* V-1, ii7-V7-I on Top and Middle 4 Strings , 1980-11-05 and 1979-06-23. [Ted called this page, "Exercise and 'Acquaintance.'" He wrote out 75 different voicings. Although he didn't title the page as a V-1 lesson, it certainly falls in that category, with the exception that some of them are 3-note chords, rather than a formal 4-note V-System voicing. Be ready for some finger-stretchers here!]
* V-1 Minor 7th Streams as ii7 or vi7 , 1985-04-19. [This lesson could also have been placed in our "Chord Studies/Chord Streams" section, but since Ted titled it as a V-System page it seems better suited to be combined with the other V-1 lessons. Standard notation provided for all 10 examples. Ted indicated in red that he thought it was best to divide this lesson into 2 pages when giving to students, but apparently he didn't do this. However, you can just consider examples 1-5 as part 1, and examples 6-10 as part 2.]
* V-1 Minor 7th Types - Close Harmony-Derived Voicings , 1980-11-09. [Ted details the voicings and names of 95 different V-1 minor 7 types: 31 for the top 4 strings, and 64 for the middle 4 (and top 5) strings. Technically, 5-note chords do not belong in the V-System lessons, but since Ted titled this page as such we've included it. The page was created in 1980, but at some later date he made a few additions with his red pen (as Barbara Franklin told us that he was constantly reviewing and revising many of his old lesson pages).]

FROM STUDENTS:
* Progressions Using 1st Inversions; Figured Bass , 1974-12-27 [Mark Thornbury's chord grids he made as his "homework" assignment for this lesson page. These sheets are an excellent companion to Ted's original lesson. Be sure to see the typed version of Ted's page in the "Baroque" section. Thanks Mark!]


* * * * * * * * * * * * * * * * * * * * * * * * * * * * * * * * * * * * * * * * * * * * * * *

January 2018 • TedGreene.com Newsletter


Happy New Year greetings to all Ted Greene fans, friends, and students!

The beginning of the year is a good time to take a look at where we are, how far we've traveled in the past year, and to look ahead at the coming months. I did a quick review of the new Ted lessons and other related items that we posted in 2017 and here's what I came up with:

2017 New Lesson Items Posted: 222
Arrangements: 48
Articles & Interviews: 4
Baroque: 18
Blues: 14
Chord Studies: 33
Comping: 18
Discography & Publications: 1
From Students: 5
Fundamentals: 11
Harmony & Theory: 3
Jazz: 3
Other: 8
Performances: 1
Single-Note Soloing: 6
Transcriptions: 24
The V-System: 25.

And many, many of these lesson pages are multi-page, most of which contain some kind of translation or notation that was added for clarity. So, it would be safe to round that number up to about 275 for new lesson pages. Not bad for one year! Even if you studied privately with Ted every week for years, you still wouldn't have amassed as much material as we're providing on this site. However, what you would have gained is a unique one-on-one experience with one of the finest guitar teachers and musicians. So, what we lack in that personal instruction we try to compensate with quantity. We also do our best to translate many of Ted's pages into legible, easy to read and follow lessons that one should be able to absorb what Ted was trying to teach. Nevertheless, a lot of the learning comes from your own diving deep into each lesson pages and tuning in to whatever Ted was trying to convey.

But let's not forget one of the least-used resource on our site: the Forums. It seems that it has been neglected in recent months, with only a few posts per month. But this is a wonderful place to discuss anything related to Ted Greene, with an excellent community of guitarists ready to tackle any technical, musical, or off-the-wall questions – many of whom are Ted's former students and they are happy to share insights to Ted's approach, his techniques, his music, gear, and lots more. Don't be shy about using this fine resource.
And now looking at the "Lesson Files upgrades" we did since we started this project in December 2016:

Upgrades Total so far: 186
Upgrades: December 2016: 18
Upgrades in 2017: 168 (94 of which are in the "Arrangements" section)

Wow!

Reviewing all the lesson pages in Ted's Teachings Archive, it's hard to say exactly where we are, but a rough estimate is that we've posted about 82 percent of all the sheets that were scanned by Barbara Franklin and Leon White. This doesn't include his Personal Music Studies folder, in which only a small percentage have been posted, and it hasn't been fully indexed yet. Many of those sheets were never intended to be given out by Ted as lesson material, but is mostly a collection of miscellaneous musical ideas, work sheets, calculations, sketches, etc. Tons of them are really not worthy of posting, being just scribbled ideas that Ted wouldn't want us to publish. But after all the files in the formal Teaching Archives have been posted we'll be going through the PM Studies papers and pulling out and posting anything that seems remotely useful or informative.

A review of the status of the arrangements and comping sheets shows that roughly 80 percent are now published on our site. Many of the remaining ones are from private lessons, or are fragments of songs—but there are quite a few gems yet to be posted, so stay tuned!

Almost the entire "V-System" lesson pages are now posted (just 3 more pages to go)! Whoopie!! Barb Franklin told us that this was Ted's "pet project" and it was what he considered one of his major contributions to guitar pedagogy. Unfortunately, he didn't put all these ideas into a complete and graduated method or system of study, but he would be happy to know that everything he wrote has been disseminated to the world (not to mention the superb explanations provided by Mr. James Hober). There are numerous V-System items in Ted's Personal Music Studies files, and we'll now begin going go thru and writing up anything from there that is helpful or that sheds some light on the subject of the V-System.

Looking ahead at 2018: We'll continue to push through with the Lesson Files Upgrades project, and try to finish this before we make any major design changes to the site. But the output for 2017 was enormous, and 2018 will have to be less prolific.

We should be able to finish up all of Ted's "Bass-Enhanced Triad" lessons, "Ear Training" pages, "Harp-Harmonic" sheets, and "Blues" lessons sometime in 2018. We also plan to create a new series with a header in the "Chord Studies" section called, "Harmonizing a Given Melody" to house the pages Ted wrote up on this subject. These are among some of my favorite sheets—Ted doing what is does so well: taking a simple melody and harmonizing it 20+ different ways, with different textures, colors, moods, feelings, etc. It should be fun, but it'll take a lot of time notating some of these sheets. We also plan to put some focus on posting more of Ted's Baroque pages. And, of course we hope there'll be more transcriptions forthcoming from all of you.

We want to deeply thank everyone who has contributed to the growth of the site this past year, either by monetary donations, or by sharing your transcriptions of Ted's recordings, or your Ted-related lessons for our "From Students" section, or by aiding in the proofreading some of the lesson write-ups. All of these efforts, plus our monthly newsletter/new items, helps to keep us as one of the most exciting sites on the web for learning solo guitar. Oh, did I mention that we're also the most affordable place to learn and improve your playing?

~ Happy New Year from your friends on the TedGreene.com Team

NEW ITEMS

ARRANGEMENTS:
* Days of Wine and Roses (key of F), 1984-09-14. [Ted subtitled this page as "Ensemble or solo style harmonized melody (intermediate level). I think you'll find this one fairly easy to lean and fun to play. Standard notation added to Ted's grids.]
* Here Comes the Sun, 1973-09-04 and 1993-09-30. [This is not a transcription of the Beatles tune, but Ted's fingerpicking arrangement of it. He made the notation version of it back in 1973, and then during a private lesson he mapped out the chord diagrams to correspond to his notation. We simply combined both and added chord names to his grids.]

BAROQUE:
* Examples of Progressions Using 1st Inversions, 1975-02-09. [Major keys, various diatonic progressions with Roman numeral analysis showing first inversion figured bass (with a subscript 6). New notation with chord names provided. For chord grid diagrams of each example, please see Mark Thornbury's "homework" of this page in his "From Students" section.]

CHORD STUDIES:
* Approach Chords - Contrary Motion Soprano, 1985-10-30. [This is a simple page which shows approach chords from a half-step above the target chord, which has an 11th in the soprano and the root in the bass.]
* Mixed Major Tonality - bIII-bVII-IV-I, 1989-12-14. [Some ideas Ted wrote up for add9 or major 9th chords. These pages almost qualify to be part of the B.E.T. collection. Almost. Translation page with chord names provided for clarity.]
* Multi-Tonal Major – Diatonically Mixed Major, 1989-12-17. [Like the lesson listed above, this page has some "moves" for add9 chords, and might be considered part of the B.E.T. lessons.]

Listed under the BASS-ENHANCED TRIADS header:

* B.E.T. Language and Misc. Ideas, 2000-02-05, 1992-02-01, 1994-09-11. [This file combines one page and 3 fragments of some of Ted's "Bass-Energized Triads" for the book he intended to write. Notation and chord names provided. ]

Listed under the TRIADS header:

* I-ii Low-End Open Triads, 1985-09-20. [This is a fill in the dots assignment. Answer page given as reference.]
* Low-End Open Triads, I-IV-iii-I and I-IV-bIII-I Chains, 1985-09-20. [Another fill in the dots lesson.]
* Low-End Open Triads in I-IV Progressions, 1985-09-18, 20 and 1986-01-11. [This file combines three related lesson pages, two of which are the fill in the dots variety.]
* Low-End Open Triads Using iii and vi, 1985-09-20. [Some minor triad forms for open triads.]
* Open Triads, I-ii-IV-iii-I, 1987-01-07. [Translation pages with filled-in dots included.]
* Open Triads - Low-End Major and Minor 1st Inversions, 1985-09-17. [Two original pages plus two translation/filled-in pages.]
* Open Triads - Low-End Major and Minor 2nd Inversions, 1985-09-17. [One original plus a translation page.]
* Using All 3 Low-End Open Triad Major Forms, 1985-09-18. [Summary homework page with answer page provided.]

COMPING:
* Days of Wine and Roses, (key of Eb), 1984-09-04. [Comping on the lower strings (mostly V-2 chord types and some fragments. Notation with lyrics added.]
* Days of Wine and Roses, (key of F), 1984-09-04. [Comping on the middle strings (mostly V-2 chord types and fragments. Notation with lyrics included. This lesson and the one in the key of Eb are identical except that they are a half-step apart and the chord forms are located on different string sets. Other than that, the voicings are the same, so this should make learning easier after you've learned one.]


FUNDAMENTALS:
* The Dominant 7th Scale, 1977-12-30. [This is a very early lesson sheet. It may have been a draft for a book he was writing. The original page also includes an incomplete paragraph on "Scale-Chord Relationship" that he crossed off. This was not included in the translation write-up.]


THE V-SYSTEM:
* V-1 Dominant 7#5 on Top, 1985-08-09. [Have need of a dominant 7th with a #5 on top, look no further – Ted has a few for you here, plus various resolutions to major type chords.]

FROM STUDENTS:
* Examples of Progressions Using 1st Inversions, 1975-02-09. [This is Mark's "Homework" pages for this lesson. He used Ted-style chord grids to map out all of the examples on Ted's original sheet. Find it under the "Contributions by Mark Thornbury" header.]



* * * * * * * * * * * * * * * * * * * * * * * * * * * * * * * * * * * * * * * * * * * * * * *


- back to top -