* * * * * * * * * * * * * * * * * * * * * * * * * * * * * * * * * * * * * * * * * * * * * * *
DECEMBER '07 NEWSLETTER
The Holiday Season is upon us...... Ted felt that the true meaning of the holidays had become completely obfuscated, therefore the holidays were not a particularly enjoyable time of year for him (or me), and I'm sure this is so for many others. We've witnessed too much hypocrisy, commercialism, and pressure. This should not be.
In honor of Ted, and for the world around us, perhaps we could all try to remember the initial concept: Caring. Peace. Common decency.
In the past month, Paul Vachon has bestowed upon the website some very special gifts. Under General Topics in the Forums, Paul has painstakingly scanned much of his invaluable personal lesson material to share with one and all. Many of us have discovered this information already and have expressed our sincere gratitude. For those who have not yet seen this, a wonderful surprise awaits.
Since Paul was a somewhat advanced student when he began studying with Ted, this month's lessons offer some fundamentals, e.g. Ted's "Five Main Areas" concept, which I hope will assist (to some degree) in understanding the lessons Paul offers. What is presented is more for those just beginning a study of theory & harmony, basic concepts Ted would recommend committing to memory prior to tackling more advanced studies. (and it's just the tip of the ol' musical ice burg) These studies can be found in the LESSONS section under HARMONY.
I have also chosen two pages on Guitar Mechanics as per request from many of you, which can be found in the LESSON section in the category OTHER.
Under TUNES you will find two versions of "A Foggy Day". Each arrangement offers a different approach to playing this piece. The intention behind this is to broaden the imagination.
In this last Newsletter of 2007, I want to wish everyone a peaceful and enlightening holiday experience to bring into the New Year.
May Ted's spirit be kept alive in all our hearts. Barbara Franklin, Dan Sindel, Bob Holt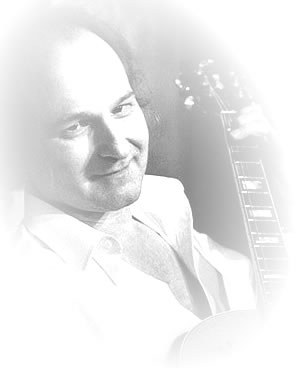 And don't forget, finally......
The "Ted Greene Remembered" CD
from El Dorado Records featuring tribute performances by Tommy Emmanuel, Lee Ritenour, George Winston, Laurence Juber, John Pisano and Ted, Dan Sawyer, Anthony Wilson, Mark Goldenberg, Phil deGruy, Jay Graydon , Steve Ferguson, Stephen Bruton and produced by Tom Bocci will be released on November 10th. The four-panel Digi-pak with Ted on the wrap-around cover plus the accompanying 12 page booklet insert with liner notes by Barbara Franklin and the artists themselves, make a beautiful package. You can learn more by visiting www.eldoradorecords.net to listen, read about, or place an order.

NOVEMBER '07 NEWSLETTER

* * * * * * * * * * * * * * * * * * * * * * * * * * * * * * * * * * * * * * * * * * * * * * *

Autumn Greetings, In the past month I have received two CDs that are certainly worth your attention. Both of these fine musicians were students of Ted and although each has their own unique qualities, you will notice Ted's influence subtly resting just below the surface. They are:

"The Solo Guitar of Tsuyochi Ichikawa"
Soon to be released on Art of Life Records

"Andy Brown trio and solo"
String Damper Records
andybrownguitar.com

Much pleasure was derived from listening and I humbly offer my highest recommendations. I can say with all assurance that Ted would be very proud of these two talented people.

Also I had the opportunity to listen to Joey Backenstoe's Tribute to Ted, a 6 minute medley of standards incredibly well put together and masterfully executed. Joey is a fine player, and hopefully all of you will be able to enjoy this soon.

And finally......
The "Ted Greene Remembered" CD
from El Dorado Records featuring tribute performances by Tommy Emmanuel, Lee Ritenour, George Winston, Laurence Juber, John Pisano and Ted, Dan Sawyer, Anthony Wilson, Mark Goldenberg, Phil deGruy, Jay Graydon , Steve Ferguson, Stephen Bruton and produced by Tom Bocci will be released on November 10th. The four-panel Digi-pak with Ted on the wrap-around cover plus the accompanying 12 page booklet insert with liner notes by Barbara Franklin and the artists themselves, make a beautiful package. You can learn more by visiting www.eldoradorecords.net to listen, read about, or place an order.

In support of the album's release there will be an informal gathering of some of artists who contributed to the CD on:
November 6th, 8:00- midnight at:
Spazio
14755 Ventura Blvd.
Sherman Oaks, CA. 91403
(818) 728-8400

*John Pisano, Phil de Gruy, Dan Sawyer, Laurence Juber, Steve Ferguson, and Anthony Wilson have offered to play and Tom Bocci will be there to have CDs available for purchase. It should be a very special evening in honor of Ted.

**Regarding new material:
Last month, as many of you know, Nick Stasinos generously lent his time and energy to scanning and posting Ted's hand written "notes" on Wes Montgomery to share with everyone. Thank you so much Nick!

This month, staying in accordance with the subject, I have posted Ted's studies and ideas on Wes-style playing. Some of these sheets are formulated lessons, others are jots of ideas. You can find them in the LESSON section under JAZZ.

We have also added NEW VIDEO of Ted playing "Embraceable You" from an '03 Seminar at Calif. Vintage Guitars! Compliments of the very gracious & talented Phil Chen.

I also chose 2 songs, Georgia & Bach Aria in A Maj. which can be found in the LESSONS section under TUNES.

I hope everyone had a meaningful summer, attained some growth and fulfillment, and of course, joyful moments.


As Always, Enjoy!

Barbara Franklin, Dan Sindel & Bob Holt

* * * * * * * * * * * * * * * * * * * * * * * * * * * * * * * * * * * * * * * * * * * * * * *

OCTOBER '07 NEWSLETTER

The problem of "small hands" and/or being able to reach for those difficult chords Ted frequently utilized generated a lengthy discussion in the Forums section (General Topics- small hands). Many people offered viable solutions, and advise. This discussion is what I took into consideration when I was trying to determine what lessons would be most appropriate to post for this month.

Barbara asked me to comment on three pages Ted titled "Three-Note Chords Hearts: Major." Barbara refers to these as being finger-stretching exercises, and to an extent they do accomplish that. But these pages represent pentatonic scales played in three-note stackings that contain notes of a major 6/9 chord (Note: they are not necessarily triads). My recollection is that Ted played these with fingers 1, 2 and 3, leaving the 4th finger open for embellishment. He would play them concerted (i.e., all notes sounded at once) or as arpeggios, playing up and down the stack. Or he would play them with one of his favorite devices – first the inner voice then the outer voices, next chord play the outer voices and then the inner voices, and vice versa. In his later examples he creates little motifs, moving the stacks up the neck, melodically. The thing I remember very vividly was how much this would sound like Eric Johnson's floating harmonies; since the major 6/9 chord is synonymous with the minor 7/11 chord, the same forms would work in minor. The third page is different from the first two in that he's added the major 7th, which creates the larger stretches and he's not moving up the neck symmetrically, but making adjustments based on his ear. -- Bob

*The "Three-Note Chords Hearts" can be found in the LESSONS section under CHORDS

I also chose 2 songs which Ted had categorized under the heading "easier," which I know is subjective but I hope many of you can enjoy playing. These are: "When You Wish Upon a Star" and "Fly me to the Moon". It should be duly noted that because of recent discourse in the forums we have posted many Christmas arrangements and all this can be found in the LESSONS section under TUNES.

I hope everyone had a meaningful summer, attained some growth and fulfillment, and of course, joyful moments.


Barbara Franklin, Dan Sindel & Bob Holt

* * * * * * * * * * * * * * * * * * * * * * * * * * * * * * * * * * * * * * * * * * * * * * *

SEPTEMBER '07 NEWSLETTER

Although the remnants of Hurricane Dean obscured the sun and to some extent lowered the temperature, the humidity maintained a level equal to the tropics. However no rain dampened our spirits and the 2nd Ted Greene Memorial Picnic was a surprising success.

Bob Holt brought CDs he made from a cassette (compliments of Bill LaSalle) of a radio show Ted did for KPFK in 1994. If possible we will add it to the site.

Tom Bocci brought and shared with us some cuts of his newly produced soon to be released Ted Greene Tribute CD. (This is truly exquisite!)

Here is the info he sent me:
Coming soon from El Dorado Records will be the release of "Ted Greene Remembered" , a tribute CD with thirteen new tracks especially recorded to honor Ted's legacy as a legendary player and beloved teacher. Featured artists include Tommy Emmanuel, Laurence Juber, Lee Ritenour, George Winston, Anthony Wilson, Dan Sawyer, Jay Graydon, Phil de Gruy, Stephen Bruton, Mark Goldenberg, Steve Ferguson, and a duet of John Pisano and Ted. Produced by Tom Bocci with liner notes by Barbara Franklin and the artists themselves, this loving musical remembrance will be available for purchase by mid-October. Stay tuned for details.

For your amusement, Nick Stasinos has a group photo he will post in the Forums - under the "2nd Picnic" category.

Considering the possibility of impending rain, I brought everyone Ted's solo guitar version of "Here's That Rainy Day". For those who couldn't join us it's now posted in the Lessons section under Tunes.

Recently I realized that I have not posted any of Ted's Jazz studies, therefore this months lessons are entirely related to that genre. I do believe you will be pleased by these examples. Go to Lessons section "Blues/Jazz".

Enjoy!

Barbara Franklin

* * * * * * * * * * * * * * * * * * * * * * * * * * * * * * * * * * * * * * * * * * * * * * *

AUGUST 07 NEWSLETTER
Happy Summer Greetings!!

Just a reminder THE PICNIC IS SUNDAY AUGUST 26 EVERYONE WELCOME!

Again Here are the details:
When: SUNDAY AUGUST 26, 2007 11am to 2pm
Where: ENCINO PARK on Ventura Blvd. 1/2 Blk. East of Balboa Blvd. North Side of Street
(next to Smart & Final, same park as before)
**Please remember to bring food & drinks - this is a "pot-luck" style feast, we all share.
See map for directions. For directions, here is a link to a map


NEW LESSON INFORMATION

Owing to a growing interest in Harmony & Theory via discussions in the forums I have chosen some applicable studies applied to the guitar.

Under

BAROQUE

, you will find some examples of excellent Voice Leading. Also check out the sequence of Chord Changes on Page 1 of these studies!

Under

HARMONY

, you will find a wealth of examples in application and the

understanding of basic chord progressions and more!

Under

TUNES

, I have posted Ted's "Moon River". This song can be harmonized simply with I IV V (although not sounding too great) but I thought it was a good example of Ted's "Harmonic Vocabulary" usage and worth analyzing if one is so inclined.

That concludes this month's news.

As always,

Barbara Franklin, Dan Sindel & Bob Holt




* * * * * * * * * * * * * * * * * * * * * * * * * * * * * * * * * * * * * * * * * * * * * * *

JULY 07 NEWSLETTER
Happy Summer Greetings!!

Guess what? There is going to be another picnic! All are welcome to come.

Here are the details:
Why: Since the first one was so much fun everyone wants to do it again.
When: SUNDAY AUGUST 26, 2007 11am to 2pm
Where: ENCINO PARK on Ventura Blvd. 1/2 Blk. East of Balboa Blvd. North Side of Street
(next to Smart & Final, same park as before)
For directions, here is a link to a map


The next item I want to bring your attention is that our wonderful and most knowledgeable DAN SINDEL has added NEW VIDEOS to the Ted Video Section.
Exquisite. I'm sure you'll agree.

Just close to lastly, but certainly not of least interest, once again, there is new LESSON material.

In the SINGLE NOTE section you will find a continuation of the prior studies, this is the next subject covered in the series.

In the HARMONY section you will discover Ted's application of harmonic principles all demonstrated through first phrase of How High The Moon. This exercise offers much insight into the multitude of options Ted had stuffed in his pockets and equally a multitude of ways to utilize these options.

In the Chord Studies section you will find the "Harp Harmonics" lesson sheet that Ted prepared for Lenny Breau. This was the handout at Lenny's seminar. Also, there's a page from Howard Morgen's book, "Concepts", with some hand written notes from Ted about his history with this technique.

Now, lastly and on a slightly somber note, July 23rd will be the two year anniversary of Ted's passing. Perhaps take a moment on that day to reflect on Ted's world philosophies, and all the joy and insight Ted has given to you personally, then perchance find some way to make another person's day a little better.

Hope many of you can attend the picnic.

Enjoy!

Sincerely,
Barbara Franklin, Dan Sindel & Bob Holt

* * * * * * * * * * * * * * * * * * * * * * * * * * * * * * * * * * * * * * * * * * * * * * *

JUNE 07 NEWSLETTER
Early Summer Greetings!!

As of this writing it looks like the 1st TED GREENE ANNUAL PICNIC is actually going to take place. There is much discussion about this in the forums under General Topics.
The response however, has not been overwhelming and it is a holiday weekend so........
If you can make it - a bunch of us will be there.
Details: ENCINO PARK on Ventura Blvd. 1/2 Blk. West of Balboa Blvd. North Side of Street (next to Smart & Final)
For directions, here is a link to a map
(more details in Forums - General Topics - Ted Greene Picnic)

In regard to that, due to the Holiday you will notice the NEWSLETTER & LESSONS are posted early this month.

I don't recall anytime in the past having mentioned Dan Sindel's musical work. Dan's highly unique approach is in the re-orchestration of classical works formulated for guitar. What makes his "Symphonic Guitars" sound particularly unique is the playing of each individual line of the piece on guitar then over dubbing the lines, hence an "all guitar orchestra". Each line is clearly depicted bringing out the harmonies and counterpoint. Quite fascinating.
Please enjoy a few of his podcasts!
Podcast #1 - "Excerpts From Handel´s Messiah"
Podcast #3 - Vivaldi Four Seasons - The Spring
Podcast #8 - "Better Living Through Chemistry"

Regarding this months posted lessons:

There have been many requests for more Single Line studies, therefore this month begins Part 1 of a continuing series in this area. This can be accessed in the LESSONS section under SINGLE NOTE.

Also this month, I've included several incredibly great pages on the Harmonization of Scale Lines, which can be accessed in the LESSONS section under HARMONY.

Enjoy! Maybe see you at the picnic??

Sincerely,
Barbara Franklin, Dan Sindel & Bob Holt

* * * * * * * * * * * * * * * * * * * * * * * * * * * * * * * * * * * * * * * * * * * * * * *

MAY 07 NEWSLETTER
Greetings!

Sometime during the middle of April, we added more video to the TED VIDEO SECTION. The video is from Joey B.'s wedding reception and I'm glad to inform everyone that there is much more to come, as this video is almost 2 hours long! A heartfelt THANKS to Joey B. for providing this fabulous footage.

There is yet another & another testimony this month to Ted's ability as a teacher which came to my attention and is definitely worth your while (in my opinion) to check out.

The first is from Ted's student Steve Brodie, his new myspace site enables you to feel Ted's influence through Steve's truly beautiful playing.

I also want to mention Dan Sindel's new endorsements of some highly recognizable guitar products, an honor which Dan attributes to Ted's guidance and influence.
* Visual Sound
* GHS - Rocktron
* Peterson Tuners
(Congratulations! Mr. Sindel)

Two more of Ted's talented students coming late to my attention have also posted some fine examples of their playing.
For those inclined to take a listen: Mark Levy & John McCain

Now, on to the lesson selections for this month.

In the lesson section under CHORD STUDIES you will find 5 very explicit pages on the use of Dominant and Altered Dominant Chords. Ted has taken the time to write in detail the function and use of these chords in his very sensible and unique method.

To somewhat accompany the Chord Study lessons, you will find in the SINGLE LINE section a page on Applying Altered Dominant Color, which is laden with many possibilities. I've also included in the same section a page on scales entitled Applying Spice to Major Scales which I personally found to be both enjoyable & useful (a particularly welcome combination). Ted is so wonderfully clever & will never cease to amaze me.

As always, I hope something of the above appeals to a large percentage of all who visit.

Sincerely,
Barbara Franklin, Dan Sindel & Bob Holt

* * * * * * * * * * * * * * * * * * * * * * * * * * * * * * * * * * * * * * * * * * * * * * *

APRIL 07 NEWSLETTER
Springtime Greetings!

Recently there has been an interest in Bach harmony and analysis, therefore this months selections for lesson material are focused on BAROQUE COUNTERPOINT.
Many of you will find this aspect of study interesting, useful and perhaps incorporate the ideas into other areas of playing.
The lessons are located in the LESSON section, under BAROQUE.

Bob Holt recently added another Bach piece in the Forums "Single Note" section under the title "SHRED WITH TED". Quite a challenging exercise, yet beautiful & rewarding if you stick with it.

Additionally, for fun I've also added some BLUES PROGRESSIONS, which can be found under the SINGLE NOTE category. There is a standard notation version of these pieces in the "From The Student" section.

A rather brief letter for this month, but we're still cooking up new ideas to further enhance the site. And remember your comments & suggestions are always helpful and welcome.

Enjoy,
Barbara Franklin, Dan Sindel, Bob Holt

* * * * * * * * * * * * * * * * * * * * * * * * * * * * * * * * * * * * * * * * * * * * * * *

MARCH 07 NEWSLETTER
Greetings!

Seems as if every day there is a new contribution to the Ted Greene Forums, usually as a result of a discussion or question which leads to the posting one of Ted's pages as an example or reference and many informative detailed explanations from students. Consequently there are many "gems" buried within each category.

Lately I have noticed or have been notified of places all over the web featuring Ted's seminars. For all who have been sharing these with the world I thank you kindly. So in regard to that, I thought it appropriate to add video to this site as well.

Dan Sindel has formatted some very special clips chosen from various videos and has designed a new section specifically for viewing such treasures and we will certainly be adding more. We believe much of the footage we have chosen many of you may not have seen before. Click here to watch Ted Greene Video footage.

Regarding the lessons for this month, the last category to be addressed in our LESSON SECTION: SINGLE LINE. The studies comprise some of Ted's ideas for soloing and additional resources that may be useful.
Much of Ted's Single Line Studies are found in his SNS Vol. 1 & 2, which I realize are difficult to procure these days. However I must be careful not to "step on anyone's toes" at Alfred Publishing. Perhaps I can somehow encourage them to reissue these books?

Nonetheless, I'll do the best I can to offer as much of Ted's material as possible in all areas of Ted's studies.

Hope you enjoy this.
Barbara Franklin

* * * * * * * * * * * * * * * * * * * * * * * * * * * * * * * * * * * * * * * * * * * * * * *

ADDENDUM TO FEB 07 NEWSLETTER
What? No comments on the Ear Training exercises?
Ted always told me it was difficult to encourage his students to practice this way. And once again I'm guessing he was right.

Therefore I've decided to include another lesson, possibly with much more appeal. No, not Ear Training again, but perhaps some of you will yet pursue that. How about some Baroque Harmony studies! This was the main basis for Ted's amazing improvisational skills. The fundamental study I've chosen proposes much applicability to many areas of playing. You will find the lesson in the LESSON section under BAROQUE.
The lesson is entitled CYCLES.

********Note: On Page No.3 (Baroque Minor Key Vocab.) In the VERY LAST EXAMPLE "Other Textures to Apply" Ted is using #3 as a Model - NOT #2********

Enjoy! Barbara

* * * * * * * * * * * * * * * * * * * * * * * * * * * * * * * * * * * * * * * * * * * * * * *

FEB 07 NEWSLETTER
Warm greetings to all,

There actually is something new to relate. An addition to the site we hope you will all find to be a pleasant distraction is that of a Photo Section designed beautifully (by Dan Sindel, of course) as a "Memory Book" consisting of Ted with friends, favorite guitars, and Ted just being Ted. So please, check it out.

Now on to another main focus of this update.

One aspect of musicianship Ted was well noted for was his incredible ability to hear everything: what key a piece was in, what chords were being used, modulations, or individual voices in an orchestra. This ability was not a gift from birth, it was nurtured and developed over many years through various methods Ted devised to hone each area of hearing into perfection. Ear training was also a very important part of his teaching and he stressed the importance and advantages of ear training to his students.

One day I asked him how he taught himself to hear so well and this is how he said he began. I'm not sure exactly how old he was, just that he was a much younger man. He chose what was then his "favorite" pitch - E. He drilled the sound of E into his head, humming it all the time, checking to make sure it was correct, until the sound of E was so ingrained he could hear it, or pick it out anywhere, anytime. With that E sound being unequivocal, he could use it to determine any other note. Hence he developed perfect relative pitch. He worked on it constantly. He worked on it for years.

Listening, understanding & analyzing music was an integral part in Ted's life. For instance, at first when ever we would watch a movie Ted would say to me, "Barbie, I'm sorry I have to figure out what chords those were", and he would stop the movie and listen over & over until he got it. This would happen so often during a movie, that some nights we never got to the end. Finally I had to ask him to please mark the place and go back to it afterwards. He understood and graciously complied with my request. But this is even more incredible; Ted eventually was able to determine what pitch people were speaking in! The point being that there was never a time when he was not listening & analyzing.

So.........choose a pitch!

By now you might have guessed I have chosen some Ear Training studies for this months selection. You will find them in the LESSONS section under OTHER. You will notice in one of the exercises Ted asks you to sing an arpeggiated chord. Ted always felt that being capable of singing the lines you play, not only improved your ear, but your playing in general, especially when improvising and if you are so inclined, composing.
Also take note that Ted encouraged practice without the guitar - visualizing the sound mentally, in other words knowing the sound of each note on the guitar & where to find it on the fingerboard IN YOUR HEAD!!!!

Sound like a lot of work? It is. Yet if you sincerely, deeply want to learn this - it is within your ability, absolutely attainable!

As always, enjoy!
Barbara Franklin

And with much appreciation to Dan Sindel & Bob Holt for all their assistance.

* * * * * * * * * * * * * * * * * * * * * * * * * * * * * * * * * * * * * * * * * * * * * * *


- back to top -