November 2019 • TedGreene.com Newsletter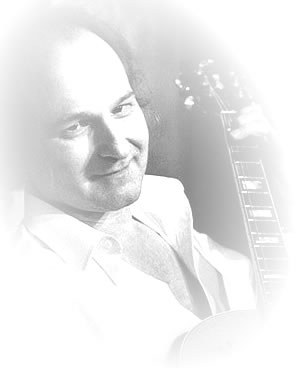 November Greetings to all students, fans, and friends of Ted Greene.
Before we jump into the new Ted lesson material, we wanted to give you a brief update on the status of the site related to the posting of Ted's lessons. We're very excited about the progress made over that past 14 years since this site began. We've created a monster resource of guitar lessons that are for serious guitar students and players, and for those who'd just like to improve their understanding of the guitar – and specifically on harmony as Ted Greene played and taught…and all freely offered to the world.
To begin with, last month we posted the final installment of the "Lesson Files Upgrades" project. This project began 3 years ago in November of 2016. At that time, we did an inventory of all the lessons posted on the site, and discovered that there were about 320 files that really needed to be cleaned-up and clarified. And over the years we discovered several more that we added to that list, so all in all we fixed up about 335 files. Whew! That was a big undertaking – more than I expected, and because of it the regular monthly lessons were a bit short-changed at times. Hopefully we'll be back on track, providing a better assortment of new lessons each month.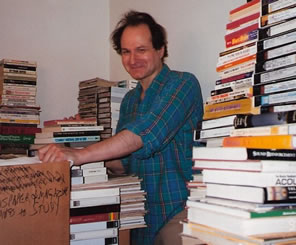 Some files which didn't receive upgrades are the "Original Tunings" collection in the "Other" section. These pages will have to take a back seat and wait for their upgrade sometime in the future, since it was determined that these are not a high priority. Possibly we missed a few others, and so we'd like to ask your help: if you come across any lessons pages that appear as though they were overlooked and need some "sprucing up," please contact us know and we'll try to do an upgrade on them.
Now that the upgrades are complete, this clears the road for us to start working on developing a revision or complete revamp of the site. Some preliminary work has begun, but this is very labor/time intensive and will require hundreds of hours, and will probably be done in bits and pieces. We're not trying to pinpoint any completion target date, but we're hoping for sometime late in 2020. You can help hasten this project immensely by continuing your donations to support this site. Thank you!
Looking at the TG Teaching Archives, there are roughly 150 lessons still to publish. At our current rate we should finish posting these in about 3 years or less. Many of these are pages that we've avoided over the years because of the amount of work needed to get them ready. On some of his early hand-outs Ted crammed hundreds of grids onto one page, making them hard to read, and which will require that we redraw each chord. So some of these pages will take a lot of time to prepare.
Here's a brief summary of the different sections:
Arrangements:Currently we have 173 arrangements in the general area + 41 in the Classical Pieces area + 25 in the Christmas Tunes = 239 total. And we've got about 18 yet to post. We usually add one or two each month. In addition, there are 39 lead sheets written by Ted with 9 more to go.
Baroque: About 25 left to go here; however, some of the pages that Ted filed away in his Baroque folders actually seem more appropriate for placing the Chord Studies or Harmony & Theory sections, since they often deal with exercises that go beyond just the Baroque style. In Ted's Private Music Studies archives there are hundreds of pages of miscellaneous Baroque ideas. These will be fun to explore and post.
Blues: Except for 5 pages that are very difficult to interpret, this section is finished. However, in Ted' Private Studies files there are hundreds of Blues fragments that may be of interest. We'll have to wait on these for now, but they'll be a subject of interest once we jump in.
Chord Studies: This is the biggest section, and most of the remaining unpublished lesson pages will go here. We may have to define some additional sub-headers as it grows and we can see logical groupings of what ends up in the final collection.
Comping: Currently we have 100 posted, and there's 12 more coming.
Fundamentals: A few more pages left for this section, coming mainly from Ted's early hand-outs.
Harmony & Theory: The pages in this section deal mostly with Ted's written words of instruction. Most of this has already been posted, but there may be a few stragglers in the files that could fit here. However, most of his "explanations" were given verbally during private lessons (and much is also contained in Ted's published books), so there's not as much of these kinds of text-heavy lessons.
Jazz: Pretty much finished, but we'll probably have some items from the PMS archives in the future.
The "Other" section: This seems to be a catch-all folder for miscellaneous items. We may have to expand on and add more headers as it grows.
Single-Note Soloing: Mostly finished, but a few pages still waiting to go. Again, there is a lot of SNS tidbits in the Personal Studies files, and of course Ted's two published books on SNS covers most of what he taught on soloing.
The V-System posting was completed a couple of years ago. Many unpublished "work pages" in his PS files could also be posted…but these are ones that would require a lot of work to make legible and would require some sort of explanations. Quite of few of these pages are not suitable for posting (or useful or helpful in any way), so not everything will be released. Trust us on this one!
What will happen once we've finished posting all of Ted's Lesson pages? Don't worry, we'll have many, many years left of new material to post each month from Ted's Private Music Studies files. This is an area entirely separate from his regular "Teaching Archives." Only a few of these pages have been posted in recent years, but there are thousands of them – a mountain of ideas Ted collected over the span of his lifetime, waiting to be sorted out, cleaned up, and shared.
Some of these pages may translate well into something that could be seen as one of Ted's regular lesson pages, but most are just fragmented ideas, written using either grid diagrams or standard music notation. There's also quite a bit of pages of "rough drafts" that he used for developing lesson sheets or catalogues of specific harmonic techniques, and exploring new concepts. And lots of lists and work sheets of systematic approaches to different subjects. And he did this all by hand, not being a "computer guy" at all.
The Private Music Studies index needs to be finished (…I gotta get on that!). Currently I have about a third still left to do. A big THANK YOU to Barbara Franklin and Leon White for the wonderful scanning job they did years ago for all these pieces (not to mention the regular Teaching Archives as well). We'll begin to seriously look at this collection after Ted's regular lessons are completely published. When we post these Personal Studies pages we may have to create new sections for all those "Fragments, Ideas, Sketches, and Misc.," since it may be confusing to mix them in with the already overwhelming number of regular lesson pages.
If anyone is willing to help with some of the graphics work involved with these lesson pages, please contact us. And of course, we always welcome and appreciate any transcriptions of Ted's recordings you may create and are willing to share in our growing "Transcriptions" section. Also, other insights, analyses, lists, indexes or other helpful information related to Ted and his music that you've done may be sent to us, and we'd be happy to add them to our "From Students" section.
Enjoy the new lesson material!
~ Paul and the TedGreene.com Team

NEW ITEMS
ARRANGEMENTS:
* Here, There, and Everywhere. [Here's a very early Beatles arrangement by Ted. It was written up during a private lesson and is incomplete. Please see the introductory note attached to the file to understand what was done in the notation and "follow-thru" of this arrangement.]
* Red River Valley. [This was posted in the Forums years ago, but somehow was absent from our official lessons section. It comes from a private lesson, and was given to instruct how to spice up a very "straight" or ordinary song. Notation provided. Also see our "Single-Note Soloing" section for Ted's "Red River Valley - Basing your solo on the given melody."]
Under the "Lead Sheets Written by Ted" header:
* Tell Me a Bedtime Story. [This is Ted's very early write-up of a Herbie Hancock tune. We don't have a date on this page, but Ted's handwriting here is similar to his other late '60s or early '70s pages.]
CHORD STUDIES:
* Expanded Diatonic Color. [A simple example of a progression using the bVIImaj7 chord. Notation and chord names added.]
* i7 – bII (and vice versa), i7 - bvi7 in Large Voicings, 1987-02-09. [A collection of 16 beautiful voicings for i7 to bII or bvi7. The "large voicings" refers to 5-note chords, not to a particular V-System voicing group. The wrote on this page, "I tried to write warm successions of chords. I hope you stay with them until you can play them smoothly, although this may not come for quite some time – a lot of the juiciest chords on the guitar are tough…but so what…man, you feel great when you get 'em!" Notation and chord names provided to make it easier for you to dig into this stuff!]
* i7 – bVI in Large Voicings. [Another set of 16 beautiful voicings and textures of i7 to bVI. Notation is provided based on Ted's directions for the first example, but at the end of the lesson he gives homework for the student to play other textures and feels. He wrote, "…have fun with this material and I hope you will share my love of large, rich, juicy chords."]
* Ideas for Gm7, Ideas for Key of G, 1995-01-16. [Three progressions for Gm7 ideas, and Two long progressions for key of G major. There are some excellent voice leading or chord streams patterns that you might want to add to your library of chord licks/fills. Notation provided for easy reading.]
* Dominant 7b9#9 Color: Chord Forms and Some Application. [This page is one that Ted started and probably had plans to expand to a full lesson page, but it only has one example. The focus here is on a dominant chord with both the b9 and the #9 (and the 3rd). Notation and chord names added for clarity.]
JAZZ:
* Wes Montgomery – Dominant 7 and its Companion Minor 7 Colors. [Ted's original file isn't labelled as "Wes Montgomery" but it was filed away with his other "co-minor" pages by Wes. This was a concept that Ted often associated with Wes' style of playing. We didn't provide new notation since the original page is easy to read and self-explanatory.]
SINGLE-NOTE SOLOING:
* Red River Valley. [Three "jazz treatments" for "basing your solo on the given melody (even if it's really 'straight') plus some "variations" that we found in Ted's Personal Music Studies files. New notation and TAB provided for easier reading.]
FROM STUDENTS:
* Ted Greene on the Guitar Sound. [This file is placed under the header, "Contributions by Tomás Campbell." It contains bullet points that Tomás collected from various video and audio recording of Ted. Subjects include: Guitar Set-up and Build, Guitar Playing Technique, and Ted's Guitar Heroes. Thank you, Tomás.]




Ted on YouTube

The Official Ted Greene Forums

* Of course, most of the videos are posted right here in our Video Section


+ + + + + + + + + + + + + + + + + + + + + + + + +



- - - - - - - - - - - - - - My Life with The Chord Chemist - - - - - - - - - - - - - -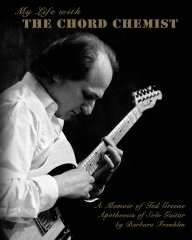 My Life with The Chord Chemist
A Memoir of Ted Greene, Apotheosis of Solo Guitar
By Barbara Franklin

BUY NOW - Available at amazon.com


Publication Date: Nov 24 2009
Page Count: 276
Trim Size: 8" x 10"


ABOUT THE BOOK
A retrospective of Ted Greene, virtuoso solo guitarist, beloved music teacher, world-renowned author and innovator of unique music concepts for guitar. This book also includes an overview of Ted Greene's early life and musical development, plus an insightful narrative of the 13 years prior to his death
Six agonizing months after losing my beloved Ted, I slowly emerged from a state of profound disbelief, almost coma-like. At that time I didn't know what to do with the remnants of my life; then a path began to unfold before me. This website was started and became a saving grace.

During the ensuing years, I organized and categorized Ted's material and personal studies. Upon completion of that massive undertaking, once again, I didn't know what to do, so I began writing.

I wrote pages, and then threw them away, until once again a path began to unfold. What I wrote is mostly a personal memoir. I suppose it was what I had to write first.

From the preface:
"The decision to reveal parts of our personal life was something I deliberated over for a long time. Because our lives became so inextricably bound, I included what I felt necessary, but not without a considerable amount of apprehension. This book illustrates the many parallels between Ted the musician and Ted the person. I felt it was important to convey how Ted was driven compulsively not just to pursue music, but so many other things he loved."
With this in mind, here is our story. It IS very personal and I still have apprehensions about publishing it. My hope is that it brings you closer to Ted, as you begin to get to know and understand this unique and extraordinary man and musician.
+++++++++++++++++++++++++++++++++++++

Don't forget to visit the Newsletter Archives :)