September 2019 • TedGreene.com Newsletter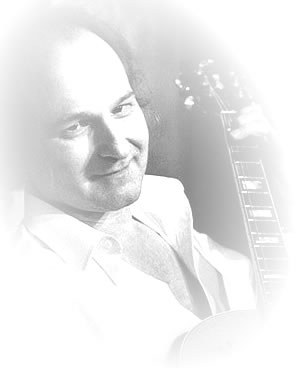 Fall Greetings!
This month we'd like to share a few short excerpts of thoughts about Ted, as taken from the Ted Greene Memorial blog:
When we were young, I met and jammed with Ted on many occasions. He loved to improvise in counterpoint and harmony, which was something we shared. Always a gentle and respectful friend, I envied his home life and the appreciation his family all showed toward his obvious genius. Three weeks ago we shook hands and laughed a little together, and I was amazed at the strength he had maintained in his exquisitely facile right hand.
Music incarnate, and a heart of pure gold, I will miss him a lot.
~ Jimmy Smith
* * * * *
I studied off and on (mostly off) with Ted since I was twenty. I am the least of his students, but that I am eking out a living playing solo guitar is all due to Ted. He was a marvelously complex and brilliant man, as kind as he was intelligent, as musically gifted as he was disciplined and diligent. He set the bar high. Let us all at least attempt to strain to those heights!
~ Bob Sobo
* * * * *
He was the sweetest, most giving human being I ever met. We both grew up in the same part of Westchester County New York. Lessons would almost have flashbacks about local guitar legend Link Chamberlind of the Orchids and Blue Eyed Soul singer from White Plains, Billy Vera. His harmonic prowess was as tall as Everest, and his patience was as deep as the ocean.
~ Bob Schuster
* * * * *
I have known Ted since 1967 and have always considered him the most amazing guitarist, the kindest man, and one of the most honorable men it has ever been my privilege to meet.
~ Derek Dickson
* * * * *
Ted and I knew each other for over thirty years. He was an inspiration as a teacher and player. He showed me the perfect chord for a certain note in one of my own compositions.
~ Barry Zweig

* * * * *
Ted Greene was a very humble giant. His contributions to the world of music has made us all better – not only musicians, but as human beings. We all owe a lot to you, Ted.
~ Del Casher

* * * * *
I loved Ted and was a student of his since 1985. He changed my life in so many ways it is hard to remember them all. I will always admire and remember him for his positive attitude and inspiration. Life will never be the same without Ted, and he will always live in my memory as long as I am alive.
~ Mark Seigle
* * * * *
Ted will always remain my dearest love. He brought me up and out of my self-absorbed, self-pitying nightmare and came to my bedside in intensive care to share the light with me in 1969. We had one of those relationships that is eternal, ethereal, and deep. Playing with Ted was the greatest experience I could have as a guitar player, and I will always think of those days when we would sit around "chicken pickin."
~ Randall Zacuto
* * * * *
Enjoy the new lesson material!
~ Your friends on the TedGreene.com Team

NEW ITEMS
ARRANGEMENTS:
* I Feel Fine, 2000-01-19. [Another Beatles song! This was written up in a private lesson at the request of the students. Ted didn't write out the into guitar lick, so we took his G7 write-up and transposed it to D7 and C7 as required throughout the song. We've added standard music notation and the lead sheet to Ted's grids, and formatted the form of the song to make it easier to follow and learn.]
BLUES:
* Basic Walking Bass Blues Style, 1979-09-27. [This study covers only the first 8 bars of a blues in Bb. You'll find this example is pretty simple to play and is a good one for getting started in playing a walking bass with chord punctuations. Ted wrote it out in standard notation back in 1979, and we've added the "most likely" chord forms he would have used.]
* Blues Progression with Walking Bass, 1978-07-03. [This is just the first 4 bars of a blues in F. Undoubtedly, Ted wrote this out to primarily to capture the contrary motion move in measure 4. Your job is to finish the progression, trying to retain a similar style. We added notation and chord names to Ted's grids to make it easier to follow. The chord names in measures 5 thru 12 are merely suggestions — you'll probably want to experiment with other harmonizations.]
CHORD STUDIES:
* High-Register Opening, 1989-11-11. [Ted subtitled this page, "For ii7-V7-iii7-vi-ii7-V7-I or III or VI. Also V7sus-I-V7sus-I or II or VI." This is meant to give you some food for thought when creating intros or "openings" to your arrangements. Check out Ted's "Solo Guitar" album for examples of similar ideas that he used there. We added standard notation and combined it with Ted's grids, plus we added the chord names in blue. You'll want to play around with different rhythmic interpretations in order to give some added "life" to these examples.]
* Progressions in 3 and 4 Voices, 1983-05-18. [Seven exercises in moving lines with 3 and 4 voices. As was common in Ted's lesson pages, he left the chord names blank as homework for the student to fill in. We wrote out all seven progressions in standard music notation, and then combined them with Ted's grids. We also added "suggested chord names" in blue – but these are just one way of looking at those progressions. You may prefer to interpret some of them differently, according to how you see/hear them.]
* Studies in Parallel Motion, (undated). [This is a small collection of ideas with parallel motion. There's nothing challenging here to play on the guitar; its primary aim is to help you develop an ear to be able to instantly recognize these sound when you hear them in songs, and to know when your inner ear want to you to use that sound in your own compositions and arrangements. Ted left many of the chord diagrams blank for the student to fill in, but of course we went ahead and did that on a "filled-in" page using blue dots.]
Under the "Triads" header:

* Triad Exercises in Major – Broken Chords, 1985-08-31. [This page compliments the previously posted lesson written up for "minor." We added two pages of music notation using triplets (since each chord is a 3-note triad), but rhythmically you could notate it many other ways as well. Ted would probably have wanted you to experiment with different rhythmic treatments, as well as playing the chords with different combinations of sustained notes, or as single-note studies.]
COMPING:
* How High the Moon, key of G, top 4 strings, 1987-04-05. [This study provides some fairly easy-to-play, basic comping over a classic jazz standard. The chords are mostly from the V-2 group (see "The V-System" here: The V-System). Notation and lead sheet combined with Ted's grid chord diagrams. Next month we'll have another comping version of this song using the middle 4 strings.]
FUNDAMENTALS:
* Melodic Minor Chord Forms, 1978-05-16. [Grid diagrams of various minor, m6, m6/9, m6/9/maj7 minor/major 9, and minor/9 chords. This is a fairly early lesson page which Ted used primarily as a reference page for students looking to incorporate these sounds into their playing.]
HARMONY & THEORY:
* Progressions Using 2nd Inversions, 1975-02-21. [In this page Ted maps out 71 different chord progressions (using Roman numerals) that include chords in the 2nd inversion (3rd in the bass). You may find it helpful to use this reference page to stimulate some ideas when creating chord progressions. Ted also includes some other inversions mixed in with the 2nd inversion – probably done to make some good voice-leading examples. Typed text is included for easy reading and study.]
FROM STUDENTS:
Under the "Contributions by Tomás Campbell" section:
* My Notes on Ted Greene – By Tomás Campbell. [Tomás shares 25 pages of his notes, important thoughts, ideas, and quotes by Ted, as taken from various audio and video recordings found on our site as well as on YouTube. Thanks, Tomás!]




Ted on YouTube

The Official Ted Greene Forums

* Of course, most of the videos are posted right here in our Video Section


+ + + + + + + + + + + + + + + + + + + + + + + + +



- - - - - - - - - - - - - - My Life with The Chord Chemist - - - - - - - - - - - - - -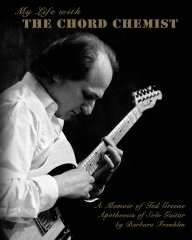 My Life with The Chord Chemist
A Memoir of Ted Greene, Apotheosis of Solo Guitar
By Barbara Franklin

BUY NOW - Available at amazon.com


Publication Date: Nov 24 2009
Page Count: 276
Trim Size: 8" x 10"


ABOUT THE BOOK
A retrospective of Ted Greene, virtuoso solo guitarist, beloved music teacher, world-renowned author and innovator of unique music concepts for guitar. This book also includes an overview of Ted Greene's early life and musical development, plus an insightful narrative of the 13 years prior to his death
Six agonizing months after losing my beloved Ted, I slowly emerged from a state of profound disbelief, almost coma-like. At that time I didn't know what to do with the remnants of my life; then a path began to unfold before me. This website was started and became a saving grace.

During the ensuing years, I organized and categorized Ted's material and personal studies. Upon completion of that massive undertaking, once again, I didn't know what to do, so I began writing.

I wrote pages, and then threw them away, until once again a path began to unfold. What I wrote is mostly a personal memoir. I suppose it was what I had to write first.

From the preface:
"The decision to reveal parts of our personal life was something I deliberated over for a long time. Because our lives became so inextricably bound, I included what I felt necessary, but not without a considerable amount of apprehension. This book illustrates the many parallels between Ted the musician and Ted the person. I felt it was important to convey how Ted was driven compulsively not just to pursue music, but so many other things he loved."
With this in mind, here is our story. It IS very personal and I still have apprehensions about publishing it. My hope is that it brings you closer to Ted, as you begin to get to know and understand this unique and extraordinary man and musician.
+++++++++++++++++++++++++++++++++++++

Don't forget to visit the Newsletter Archives :)