October 2021 • TedGreene.com Newsletter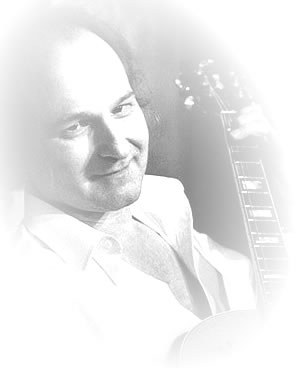 Welcome to the October Newsletter for the Ted Greene legacy website.
Before we jump into the new lessons and other goodies for this month, we want to share with you some thoughts and reminiscences from one of Ted's students. Bill Cooley attended G.I.T. with me back in 1978-79, and we lived at the same apartment complex in North Hollywood. Bill was an excellent guitarist back then, and like a good wine has gotten even better over the years. During the course of the year-long program at G.I.T., Ted came to the school and gave a jaw-dropping seminar for our class. Many of the students went on to study with him (some even while attending G.I.T.). Bill talks about some of his early exposures to Ted in an article he wrote and in a letter to GP magazine, followed by an update from him written last week.
We start with an excerpt from Bill's article, "On Teaching, Tirades and Ted Greene" as published in Mel Bay's Nashville Notes newsletter:
Ted was a L.A. guitar legend. He was a quiet, gentle soul with towering musical talent. Hearing him play moved me like few have. In 1979, I took 3 lessons from him. I'm still working on what he gave me, still finding inspiration in his lessons and in his books. His solo guitar arrangements, with their perfect voice-leading and one-of-a-kind chord fingerings, were often composed on the spot as he would play through a standard several times, each chorus modulating to a new key with a different feel. I was lucky enough to hear this shy and reluctant performer play once in public and watched how his beautiful touch and tone mesmerized a bar full of businessmen at a Friday night happy hour. By the end of the second song, you could hear a pin drop.
From Bill's letter to the Editor in the January, 2006 issue of Guitar Player magazine: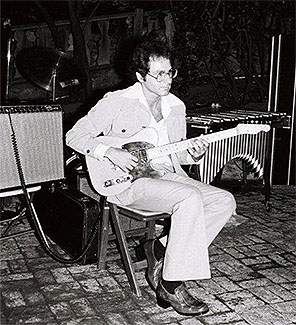 I was extremely saddened to learn of Ted Greene's passing in your November issue. It reminded me of a Friday in late 1979, when I saw Ted playing at a Holiday Inn in Ventura, California. As it turned out, Tommy Tedesco had asked Ted to fill in between sets for Laurindo Alameda, who had injured his thumb. After an hour of Tommy's trio playing to a noisy crowd of chatting businessmen, Ted and his Telecaster appeared.
As he began playing, I watched in amazement as the bar crowd, one by one, quieted down and turned their attention to the solitary figure playing quietly in the corner. By the second song, people were coming out of the nearby restaurant to listen. These were not musos, and they didn't know a G7th from a three-piece suit. They were simply drawn to this pied piper playing beautiful music with his otherworldly touch, gently pushing down on the shimmed neck of his guitar as those impossible chords rang out, giving them a subtle rotating speaker effect.
I still vividly remember his playing that night. It was that powerful. There is a legion of guitarists that have been forever changed by his music and instruction. I can echo the heartfelt tributes in your article – he was a gentle and generous musician and teacher whose talent was astounding and unique. His music and memory will inspire me for the rest of my days.
Finally, a recent update from Bill:
I have retired from the road after 40 years as a touring musician. Teaching is my regular gig now and I love it! I give online lessons and it seems to be working out well for me and my students. I think a lot about Ted from an instructor's viewpoint now that I am one. I'm always on the lookout for those "aha" moments from students...when the lightbulb comes on, a door opens, when concepts come together to show the bigger picture...those leaps in learning we've all experienced. How can I facilitate those?
I remember the day in 1979 when Ted handed me his "Systematic Inversions" page: taking 4-note chord forms and moving them across the strings – allowing for the "B string bump." I had my light bulb moment right then and there. Like most epiphanies, it suddenly struck me as obvious and...why hadn't I thought of it already? I think it hit me so hard because of the way it was presented.
Systematic_Inversions_1976-05-05.pdf
In the upper left of the page, Ted had logically laid out diagrams illustrating the fingerings. In the upper right, he explains how to practice them, and then how to vary your practice routine. Also how to apply them, how to most efficiently get them under your fingers, and then how to challenge yourself as you progress. At the bottom of the page he is talking about how to make music from this exercise and ends with one of his famous quotes, "Continue to practice – nature has a way of reshaping your hands."
Ted's lesson, "Phrases in Chord Melody Style" took longer to absorb, but that's because it's a graduate level arranging course on one page! Taking four progressions as examples, he lays out: back cycling, scale wise embellishment, diatonic embellishment, pedal tones, ascending and descending bass lines, and b5 substitution...and combinations of each. Forty-two years after I got this, I look at it as maybe the single most important page of music instruction I own.
PhrasesInChordMelodyStyle_TedGreene_1976-07-09.pdf
Is it any wonder Ted is still remembered and revered? Or that there's countless guitar players still learning from and inspired by him? Many have been exposed to his genius through his books and some online videos, but those of us lucky enough to have taken lessons in person from him are the most fortunate of all. The experience has lasted a lifetime.
~ Bill Cooley
Sept. 20, 2021, Nashville, TN
http://www.billcooleymusic.com
* * * * *
Special thanks to Mark Fitchett for his lesson recording with Ted; François Leduc for another wonderful transcription; Mike De Luca for proofreading, and to Bill Cooley for his tribute and reminiscences of hearing and studying with Ted.
~ Your friends on the TedGreene.com Team

NEW ITEMS
ARRANGEMENTS:
* Bidin' My Time (progressions), 1985-03-31. ["Bidin' My Time" is a song composed by George Gershwin, with lyrics by Ira Gershwin. It was introduced by The Foursome (Del Porter, Ray Johnson, J. Marshall and Dwight Snyder) in the 1930 musical Girl Crazy. This page contains 6 ideas (plus variations) of progressions Ted wanted to pursue for this tune. It also shows how he was working at applying the various V-System chord voicings to those progressions. Transcribed text for easy reading/study.]
* Cheek to Cheek (fragments), 1989-02-13. [This page comes from a lesson written during a private lesson. It shows two approaches to measures 8-11 of this tune. Ted wrote: "Rub. in Db" – meaning that it is to be played rubato in the key of Db. Notation provided showing the excerpt, combined with Ted's grids.]
* If. [This is another arrangement written up for a student during a private lesson. Ted didn't include the Bridge or ending. It could be that this was continued at a subsequent lesson, or perhaps never finished. Using Ted's comping study as a basis, we completed the arrangement with suggested grids. Ted would certainly have advised to use a lot of right-hand fills to give the chords some motion and life. Notation with lyrics provided.]
AUDIO:
* 1991-11-07, Ted Greene Lesson with Mark Fitchett. [Found under the header: "Lessons with Mark Fitchett" Mp3 file with 320 kbps bit rate. Length: 38:01. In this lesson they review "The Little Drummer Boy" reharmonizations with Baroque, blues, pop, and jazz application. Mark's homework assignment: do the same with "Home on the Range." This recording is a wonderful demonstration of how Ted could take a simple melody or song and spontaneously improvise, in a variety of styles, beautiful and creative arrangements for guitar.]

CHORD STUDIES:
* Bass Line Progressions, 1973-09-07. [The main focus in this lesson is the bass line movements. Ted's original page is a collection of miscellaneous thoughts jotted down for his own study and exploration, also possibly for future student lesson pages. We've provided notation, suggested grid diagrams, chord names, and transcribed text – along with a Figured Bass guide to help understand some of Ted's progressions in Roman numerals.]
* Samplers, 1979-09-25. [It's unclear what these "samples" are illustrating – possibly just a collection of different progressions that Ted was studying. He wrote this in notation and grid diagrams, and we re-notated it and drew new grids for extra clarity. Ted's notation was done without using key signatures. We added the key signatures in order to eliminate the necessity of so many accidentals. There is some faint scribbling at the bottom of Ted's original page that we didn't transcribe. In it he is detailing progressions with specific voicings: forward slash to show the soprano voice; backward slash to indicate the bass note. Figure it out if your interested -it's not that difficult!]
COMPING:
* All the Things You Are (fragment), 1985. [This page has a few V-1 voicings for measures 3-7 and 13-15. For those not afraid of long stretchy chords. We provide notation married with Ted's grids so you can see where they fit in the song.]

OTHER:
* List of Common Progressions in Standard Type Songs, 1980-10-01. [Ted wrote: "After analyzing 150 or so standard type songs, it was observed that certain progressions kept appearing over and over. Here then is a list of common progressions in standard type songs (with song listing for reference)." Transcribed to save your eyes from squinting!]
* Solo Guitar Songs by Their Initial Tones, 2001-12-21, 2002-01-01. [Three (short) pages of some songs with reminder melody notes in music notation. Ted began this page and left a lot of room to continue, but it appears he never finished. He grouped them as: Root as 1st note, 4th (as first note), 2nd, 5th as 1st note, 7th, 3rd as 1st note, and 6th as 1st note. I'm not clear of the purpose of these lists, but could have been related to ear-training and/or memorization of tunes.]
* Song List (key centers) with Progression Reminders, 1974-05-31. [Ted listed 43 standard jazz/pop tunes with Roman numerals as reminders for the chord progressions. Transcribed text for easy reading.]
TRANSCRIPTIONS:
* Meditation (from lesson with Nick Stasinos), transcribed by François Leduc. [Another fine transcription from Mr. Leduc, using standard music notation, grids, and TAB. This comes from an audio recording of a lesson one of Ted's long-time students and friend, Nick Stasinos on November 8, 1980. Found in the Audio section of our site:
https://www.tedgreene.com/audio/audio_LessonsWithNickStasinos.asp]



Ted on YouTube

The Official Ted Greene Forums

* Of course, most of the videos are posted right here in our Video Section


+ + + + + + + + + + + + + + + + + + + + + + + + +



- - - - - - - - - - - - - - My Life with The Chord Chemist - - - - - - - - - - - - - -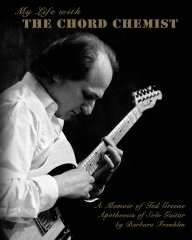 My Life with The Chord Chemist
A Memoir of Ted Greene, Apotheosis of Solo Guitar
By Barbara Franklin

BUY NOW - Available at amazon.com


Publication Date: Nov 24 2009
Page Count: 276
Trim Size: 8" x 10"


ABOUT THE BOOK
A retrospective of Ted Greene, virtuoso solo guitarist, beloved music teacher, world-renowned author and innovator of unique music concepts for guitar. This book also includes an overview of Ted Greene's early life and musical development, plus an insightful narrative of the 13 years prior to his death
Six agonizing months after losing my beloved Ted, I slowly emerged from a state of profound disbelief, almost coma-like. At that time I didn't know what to do with the remnants of my life; then a path began to unfold before me. This website was started and became a saving grace.

During the ensuing years, I organized and categorized Ted's material and personal studies. Upon completion of that massive undertaking, once again, I didn't know what to do, so I began writing.

I wrote pages, and then threw them away, until once again a path began to unfold. What I wrote is mostly a personal memoir. I suppose it was what I had to write first.

From the preface:
"The decision to reveal parts of our personal life was something I deliberated over for a long time. Because our lives became so inextricably bound, I included what I felt necessary, but not without a considerable amount of apprehension. This book illustrates the many parallels between Ted the musician and Ted the person. I felt it was important to convey how Ted was driven compulsively not just to pursue music, but so many other things he loved."
With this in mind, here is our story. It IS very personal and I still have apprehensions about publishing it. My hope is that it brings you closer to Ted, as you begin to get to know and understand this unique and extraordinary man and musician.
+++++++++++++++++++++++++++++++++++++

Don't forget to visit the Newsletter Archives :)