September 2021 • TedGreene.com Newsletter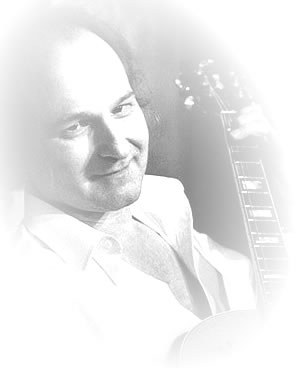 Fall Greetings to all friends, fans, and students of Ted Greene. Welcome to any newcomers.
Barbara Franklin wrote:

Ted had a collection of harmony and theory books that would rival any music store! There was no particular book he gave preference to over any other. All offered something valuable; in turn, all had their faults (in Ted's learned opinion).

Ted read thoroughly, underlined everything he thought important, elaborated upon some of the author's concepts, even argued with the author, and in some instances improved upon or even made corrections to the text!

Ted did not read or comment on every page. Usually when Ted read a book, he would not start at the beginning, but just go to a chapter of momentary curiosity or interest, then start skipping around. Generally, he would go back to the beginning at some point. However, in many instances he never read an entire book and certainly not from front cover to back cover. Only when he was at the beginning stages of study (late '60's early '70's) did Ted read some of the books from cover to cover – in chapter order – but at that time he didn't make extensive margin notes. The notes in the Aldwell and Schacter book end on page 229 (the book has 290 pages). The pages after 229 appear to be unread.
~ Barbara Franklin (excerpts from The TG Archives and the Forums)
* * * * *
This month we're posting in the "Other" section of the Lessons, a few excerpts from music theory books that Ted marked up. These were first posted by Barbara in our Forums, but we wanted to move them to a more permanent and more accessible spot, plus we included transcribed text for some of Ted's handwritten notes. The subjects involve harmony, voice-leading, and the likes, and Ted's comments are worth reading.
Recently we received a box of old magazines that Ted owned and had at his Encino apartment – mostly jazz and guitar related magazines. Ted had a copy of the November 1977 issue of Downbeat, with an interview of Benny Goodman which he extensively marked up. We're sharing that whole article as one of this month's New Items.
In the Downbeat May 5th, 1977 issue has interviews with Ray Charles and another with Sarah Vaughan. Ted highlighted a few paragraphs in each of these articles, and we wanted to share those excerpts with you, since they show thoughts that Ted agreed with or found interesting or inspiring.
First from the Ray Charles interview:
"My feeling is that what we try to do is to take the songs that we know have proven themselves – not only at the time they were recorded, but ever over the years – songs that people still love to hear, and we try to get about 65 or 70% of the songs that we know people have spent their money to come to hear. The programs may change. For instance, I might do Born to Lose one night; at another show instead of doing Born to Lose I may do You Don't Know Me or Take These Chains, which were very big songs too. One may change the position of the songs, and also, me, I'm very spontaneous. I don't sing written notes; I sing whatever I feel on that night. So Georgia is never the same, not because I'm trying to make it different, but just because that's how I sing."
* * * * *
"I still listen to Artie Shaw; I'm a great lover of his. I got to tell you that even during the era when everybody was saying the King of Swing was Benny Goodman – you know, that's the way he was considered – then and even now I still feel that Artie Shaw played as much as him but with more feeling. That's my honest opinion. To me there was a guy that really and truly was a bitch of a musician. He had a great band."
* * * * *
"I feel that the kids of today – and this is not a putdown, I just think it's an honest statement – I think the sad thing is that far too many youngsters don't take the time to really learn their instruments like musicians use to. So, as a result, there's not that much creativity in music nowadays.… See, I think that what's helpful, and what cats had to do in earlier years, is that they did have to try to expand their musical ability. Just because it was a matter of survival, so that was the motive for their doing that…."
"Musicianship is de-emphasized. I think what a guy should want to do is to really go and learn his instrument and find out what the hell is going on with it, actually learn it inside out…. This goes for young listeners too, because for whatever reason, I think they are not exposed to enough of what instruments can do, and what musicians out to be able to do with these particular instruments."
* * * * *
Pete Welding, interviewer: "Given the painful difficulty with which he acquired his own musical education, Charles appreciates, as do few performers, the value of a solid grounding in the fundamental principles of music and a thorough mastery of the full potentialities of whatever instrument is studied. He is genuinely saddened, and perhaps even nonplussed, by the present devaluation of what are, to his mind, proven, time-honored principles. He views them as critically valuable, necessary aids to genuine, and what's more important, sustained creativity – qualities he finds woefully absent in much of contemporary music…."
"Rock is not expansive enough for Charles, one feels, and this is the major reason he largely is indifferent to it. The level of its musical thought is too low, and this the singer feels is the direct result of the general lack of real musicianship among younger musicians. Coupled with and compounding this problem is the related factor of present-day radio programming practices, a subject Charles views with some concern."
* * * * *
And from the Sarah Vaughan interview:
Vaughan: It's hard enough to get a gold [record]. How do you get platinum? Honey, I have never had a gold nothing. My biggest record was Broken Hearted Melody, and they still ask for it and it drives me nuts.
Smith: How do you avoid that?
Vaughan: That's easy. Record stuff you love so you don't mind singing it for the rest of your life.
* * * * *
Smith: You did an a cappella version of Summertime. Was that the first time?
Vaughan: Well, I was in South America and I was asked by a producer, Herminio Bello Carvalho, to sing that without music. The first time was not quite a cappella. The mic was giving me so much trouble that I threw it down on the stage and sang to 2400 without the benefit of amplification. So it sort of started out as an accident.
I don't do it more often because at the end of the tune Carl usually hits the key I'm supposed to be in. I'm usually a little off and I hate that. Sometimes I'm a half-step away, and it drives me nuts. So if anybody says I have perfect pitch they are mistaken.
* * * * *
Vaughan: But it seems to me that these people [pop/rock artists] have the right idea to get the money. Get the audiences to come and buy, and then once you got 'em, do your own thing. I can't do those kinds of things, but bless those who can. They're not going to drown. I love music and I can't do all of those things just to get money.
If this Beatle album doesn't do anything, I'll be a little disappointed, maybe, but I did what I wanted to. [In 1981 Sarah released her album, Songs of the Beatles.] Of course I want a gold record, but just like the rest of my life, if it don't happen, it just don't happen. I was glad to have been nominated for a Grammy, and I know the album didn't deserve it. Ella [Fitzgerald] came backstage after the show and actually apologized for winning. She said it should have been mine. She almost had tears in her eyes. I'm never going to say that we'd better record some shit just to get some gold or a Grammy. My musical integrity prevents that.
* * * * *
As always, we want to thank the usual suspects for helping out with the new items this month: Mark Fitchett for his recorded lesson with Ted; Mike De Luca for music proofreading; and David Bishop for help with the "Minor Key Progressions…" page. Having these experts (as well as others) available for music consult, checking, and suggestions is what helps to keep the presentations of Ted's lesson pages on this site on such a high level. Our thanks to them; and thanks also from so many guitarists all around the globe.
Enjoy the new material!
~ Your friends on the TedGreene.com Team

NEW ITEMS
ARRANGEMENTS:
* Autumn Leaves – Intro, Ending, and Improvisation Ideas, 1974-09-04. [This early page shows some ideas Ted had jotted down for his playing of this song. Transcribed for easy reading/study.]
AUDIO:
* 1990-10-01, Ted Greene Lesson with Mark Fitchett. [Found under the header: "Lessons with Mark Fitchett." Mp3 file with 320 kbps bit rate. Length: 33:53. In this lesson they review the ending of Ted's arrangement of "When You Wish Upon a Star." Ted then briefly reviews the basic chords for "Over the Rainbow," and then a deeper review of "Night and Day." At the end of the lesson Ted plays an impromptu version of "When You Wish Upon a Star."]

CHORD STUDIES:
* I (or iii) - VI - ii - V Variations (parts1-3), 1975-07-31, 1975-08-11 & 22. [This is the first 3 pages of a 5-page series that Ted made for iii-VI-ii-V progressions. These are classic and unique voicings, many of which you may learn to love; others that may challenge you or may not find useful to you. On Ted's first page he marked some of his favorites with a red dot. He would encourage the student to check out all the examples and highlight ones he loves. Also, make note of the ones you want to work on to eventually learn to play smoothly. We provided redrawn grids to save you from squinting. Parts 4 and 5 will come soon….]
* Minor 7 Sounds (continued), 1974-08-17. [This sheet obviously belongs with another "Minor 7 sounds" page, since Ted titled it "continued." But we have no record of the first part. We assume that the first page(s) would include basic, common voicings for the minor 7 sounds. This "continued" page seems to have some basic forms, but also several more advanced voicings – some with considerable stretches! You may find some new ones that you love. Redrawn grids to make it easy to read.]
* Minor Key Progressions Generated by Chromatic Inner Voice, 1990-03-19. [This lesson has 5 cool examples of (mostly) triads with a chromatic inner moving voice, and some tonic pedal tones. We added notation and chord names to Ted's grids. The analysis was provided by David Bishop, and this will help you to understand what's going on harmonically. (Thanks David!)]
* Sequences of 7th Chords, 1973-09-22. [This is a very early page by Ted, written when he was still using his red grid stamper, and he hadn't yet developed his "playing order" symbols. On this page, a circle (hollow dot) is to be played after the solid dots (just like his later used of the X symbol). The harmonic sequence he is creating here is a diatonic cycle of 4ths (up a 4th or down a 5th). For almost all of these examples, Ted provided just the first few chords and then wrote, "etc." We've finished the sequences for each example so you can see what direction he was heading, and we added music notation and the new grids.]
Under the Triads header:
* Melodic Figures, and Triad Connected with Passing Tones, 1974-02-16. [This is an early sheet Ted wrote that combines some single-note A triad arpeggio exercises and some A triad inversions with inner passing tones. Ted wrote: "Do these exercises in all octaves on all diatonic degrees. (Example: in key of A, do on Bm, C#m, D, etc.) Let chords ring (at least the bass note) whenever possible, while passing tones are added." That alone will keep one busy for a long time! We didn't include any suggested grids, since each example can and should be played in multiple positions, and also modified for different diatonic degrees. That's a ton of possibilities to choose from – that's work for the serious student.]

OTHER:
* Benny Goodman Downbeat Article, 1977-11-17 – with Ted Greene comments. [This is a scan of Ted's copy of this magazine article, with all his markings. It shows how involved Ted got when he was reading something of interest.]
* Common Standards for Ensemble Playing (Ted Greene Song List), 1985-07-18. [Ted's 1985 list of songs for playing in a group setting.]
* Gibson Guitars Letter to Ted Greene, 1974-11-22. [This is Gibson's response to a letter Ted must have sent them with his observation of wiring mistakes. It seems that anyone who purchased an ES-335 after 1974 has Ted to thank for having the correct wiring.]
* Harmony – Robert Ottman – Ted Greene comments. [This file contains scans of pages 68, 69, and 285 of Ted's copy of Harmony with his handwritten comments. On page 285 Ted provides three definitions of a chord "cluster." This is definitely something Ted had on his mind, as he was developing and refining his V-System (voicing groups system) around that time. Transcribed text for page 285 is provided as an additional page.]
* Harmony and Voice Leading – Aldwell & Schachter – Ted Greene comments. [This file contains scans of pages 104, 105, 110, 111, 228 and 229 with Ted's comments. As Barb Franklin mentioned, Ted often argued with the author in the margins. Transcribed text is provided as two additional pages.]
* Structural Functions of Harmony (pages 4-7) – Schoenberg – Ted Greene comments. [You can see here how Ted disagreed with many points stated by Schoenberg. On page 7 Ted wrote in reference to Schoenberg's comments about descending progressions, a fourth down: "Sorry, but this is pathetically out of kilter with the human ear. The whole thing is wrong. Sad…. This is the hardest part of his books for me, due to my extreme disagreement in many ways." Also, "How can he possibly say awful things like this?"]
PERFORMANCES:
* Los Angeles Vintage Guitar Show 1981-05-02 & 03. [Ted wrote on the flyer for this event: "One of my finest weekends. Thumbs Carlisle, Albert Collins, and I played. Norm sold me a clean '52 Esquire and the exquisite '52 Tele ("Lulu"), which became the model for Fender's 1982 NAMM show relaunch of their Vintage program."]
SINGLE-NOTE SOLOING:
* C# Harmonic Minor – Scale, Modes, Arpeggios, 1974-03-05. [Using grid diagrams Ted lays out the C# harmonic minor scale in 5 positions, showing the correlation between the scale notes and arpeggios for each of the chords of the scale. Redrawn grids for easier reading/study.]



Ted on YouTube

The Official Ted Greene Forums

* Of course, most of the videos are posted right here in our Video Section


+ + + + + + + + + + + + + + + + + + + + + + + + +



- - - - - - - - - - - - - - My Life with The Chord Chemist - - - - - - - - - - - - - -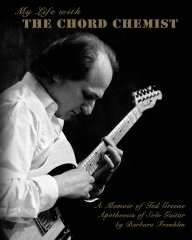 My Life with The Chord Chemist
A Memoir of Ted Greene, Apotheosis of Solo Guitar
By Barbara Franklin

BUY NOW - Available at amazon.com


Publication Date: Nov 24 2009
Page Count: 276
Trim Size: 8" x 10"


ABOUT THE BOOK
A retrospective of Ted Greene, virtuoso solo guitarist, beloved music teacher, world-renowned author and innovator of unique music concepts for guitar. This book also includes an overview of Ted Greene's early life and musical development, plus an insightful narrative of the 13 years prior to his death
Six agonizing months after losing my beloved Ted, I slowly emerged from a state of profound disbelief, almost coma-like. At that time I didn't know what to do with the remnants of my life; then a path began to unfold before me. This website was started and became a saving grace.

During the ensuing years, I organized and categorized Ted's material and personal studies. Upon completion of that massive undertaking, once again, I didn't know what to do, so I began writing.

I wrote pages, and then threw them away, until once again a path began to unfold. What I wrote is mostly a personal memoir. I suppose it was what I had to write first.

From the preface:
"The decision to reveal parts of our personal life was something I deliberated over for a long time. Because our lives became so inextricably bound, I included what I felt necessary, but not without a considerable amount of apprehension. This book illustrates the many parallels between Ted the musician and Ted the person. I felt it was important to convey how Ted was driven compulsively not just to pursue music, but so many other things he loved."
With this in mind, here is our story. It IS very personal and I still have apprehensions about publishing it. My hope is that it brings you closer to Ted, as you begin to get to know and understand this unique and extraordinary man and musician.
+++++++++++++++++++++++++++++++++++++

Don't forget to visit the Newsletter Archives :)