April 2021 • TedGreene.com Newsletter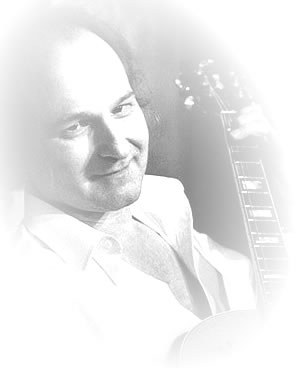 Spring greetings and welcome to the ever-growing Ted Greene website, with new material from Ted added each month. We begin this newsletter with some excerpts from a thesis by Terrence McManus, "Ted Greene - Sound, Time, and Unlimited Possibility."
* * * * *
Chapter 3 – The Blues
Throughout his career Greene used the blues as a vehicle for improvisation in his music. Toward the end of his career the blues became even more of a dominant force, becoming a major part of his teaching, specifically several of his 2003 – 2005 workshop videos. His sound also underwent a change, though not a complete one. While Greene had always played solidbody and hollowbody guitars, the late 1990's and 2000's saw an increase in his hollowbody use. His tone when using hollowbody guitars did deviate from his normal sound. The sound was noticeably grittier and earthier, with a bit less sustain and a bit more edge.
Greene's use of the blues as a teaching vehicle was prolific, and deservedly so. The simplicity of the harmonic movement of the blues makes it a great tool with which to superimpose concepts of voicings, chord substitution, and rhythm.
On his recording Solo Guitar, while certain moments have the feeling of the blues, there is not a blues piece that cycles through the traditional 12-bar blues form. This is not to say that Greene was not using the blues early in his career, his book Chord Chemistry has an entire section devoted to the blues. (See section 18 of Chord Chemistry.)
Greene was also an enthusiastic fan of blues music in general, not just jazz-blues. Greene's affinity for the blues can also be to connected to one of his major compositional influences, George Gershwin. Gershwin's work features elements of the blues and Greene even commented that Gershwin's music was a combination of classical and blues.
Greene's various versions of playing the blues are also important because of his rhythmic approach. While Greene clearly displays a mastery of feel and groove in a jazz vein, he also does the same when playing the blues in a more traditional, non-jazz feel. The Rare lesson set of two videos show Greene displaying a number of different types of blues chord playing, including what he defines as Chicago-style.
A very special piece in Greene's documented work is his 1978 recording of an improvisation called "Blues Colors." The work is important for a few reasons, including:
1. It appears to be improvised
2. Possibly his lowest tuning, guitar tuned down a fourth
3. You can hear a harmonic/melodic Gershwin influence
4. Multiple, instant tempo changes
5. His guitar taking on an organ-type sound
6. Very smooth and relaxed feel
The piece is incredibly interesting from the outset. Right from the beginning three distinct voices emerge, which is noteworthy because Greene has just started the piece and he is improvising. The opening section and other components, including the tempo changes, sound as if the work is a composed sketch, a rare sound in Greene's discography. It is also a very impressionistic use of the blues for Greene, which is singular; other blues pieces he plays are much more traditional....
Greene's harmonic sound in this piece, influenced by George Gershwin, as well as Debussy, is a good place to address Greene's philosophy about blues tonality. "Blues Colors" is, in the most primal sense, a B blues, though through various chromatic gestures and harmonic superimpositions, Greene opens up an entire new tonal landscape for himself. In his teaching, Greene breaks down tonality into three main categories, two of them, major and minor, are of course common. His third defined key, which he says a large amount of American music exists in, is what he calls a blue tone key.
~ Ted Greene - Sound, Time, and Unlimited Possibility, pages 26-29
by Terrence McManus.
* * * * *
I'd like to spend a few minutes to acknowledge and thank some of the members of the TG.com team of helpers and contributors who loaned a hand with the New Items this month.
Recently our Audio section has been getting regular additions from Mark Fitchett's collection of lessons with Ted. These recordings allow us to be a fly on the wall, to sit in on these sessions, and to hear Ted teach one-on-one with an advanced student. This provides valuable and detailed explanations for some of Ted's lesson pages and his general concepts and approaches to playing solo guitar. Because Mark was a seasoned player at the time, Ted was able to discuss and work through some advanced level lessons with him, and now for our benefit as well.
In writing up this month's page on "Urban Blues," Tim Lerch took the time to jump in and help with deciphering the cadence of the chords on this page. Undoubtedly this was one which Ted hastily jotted down during a private lesson, and there was some confusion without hearing Ted explain and demonstrate it. We always appreciate Tim's experienced insights and tips for playing solo guitar al a Ted, especially when dealing with the blues.
Looking through some older files, I recently discovered a couple of Ted pages that Leon White had notated several years ago. These somehow got displaced when the site was going through some growth and changes. Leon was one of the first to start notating some of Ted's lessons with the idea of sharing them with the world through this site – which he cofounded along with Barbara Franklin, Dan Sawyer, Adam Tyler, and Jeffrey Brown. We all have much to thank him for in keeping the TG.com strong, healthy, and in the spirit of Ted.
As the Lessons section on this site grows, it becomes increasingly evident that some kind of index or method is needed to help students navigate though the thousands of pages. Not long ago Leon White published a free Trail Guide to Chord Chemistry booklet (sixstringlogic.com), which is a valuable aid for working though Ted's classic book. This month, Mike Simonelli created another handy tool for locating specific chords in Ted's book, titled Chord Chemistry Chord Index. It's just a single page but may be able to save you time of hunting around to find just the right chord voicing that you wanted.
Recently James Cooper posted a short letter on the Ted Greene Appreciation Group Facebook page that he received from Ted in 1984 while studying with him. James has kindly allowed us to post it permanently on our site.
Our expert music proofreader, Mike De Luca has been diligently reviewing all of our notation and newly drawn chord grids to be sure that we don't make a botch of Ted's work. Mike lives in France and is a superb guitarist with a wonderful grasp on Ted's concepts and teachings. This allows him to help us to correctly interpret some of Ted's pages, such as chord diagrams, chord names, and music notation.
Another long-time team member on the music proofreading end of things, David Bishop, still continues to contribute when able, and he has been a precious aid and supporter since we began posting Ted's lesson write-ups.
Last but not least, each month, Jeffrey Brown brings his computer and music business skills to our site and puts all the pieces of the digital puzzle together, presenting you with these Newsletters and New Items for your education, upliftment, and enjoyment.
Please join me in a hearty round of applause to all of these selfless contributors.
~ Paul and all your friends on the TedGreene.com Team

NEW ITEMS
AUDIO:
* 1991-06-12, Part 1, Ted Greene Lesson with Mark Fitchett. [33:10 minutes. This lesson is an in-depth deconstruction and review of harmonizations for "The Days of Wine and Roses."]
* 1991-06-12, Part 2, Ted Greene Lesson with Mark Fitchett. [46:56 minutes. Continuation of their review of "The Days of Wine and Roses," including a discussion about "Expanded Diatonicism" and other reharmonization techniques.]
BLUES:
* Chord Phrases on the Urban Blues Side, 1995-03-08. [This page was written up during a private lesson. It's a 12-bar blues, but the bar lines are not easily apparent from a casual glance on the page. So you'll definitely want to refer to the notation page for navigation. There's a nice "gospel influence" measure that Ted put in measure 4 that you may like. In measure 12 there is an Eb major 9 chord for which Ted provided an alternate voicing. We were not able to fit that Eb major 9 chord diagram on the notated page, so you'll need to refer to Ted's original page for that one, which is a real stretcher...fingered as 4, 3, 2, 2, 1.]
CHORD STUDIES:
* Modern Chords (condensed list), 1974-12-31. [Here we have yet another collection of chord that Ted deemed important or essential for the serious student. He grouped them according to the basic types: Major, Minor 7th, Minor 7b5, Diminished 7th, Minor 6th, Minor-Major 7th, and Dominant 7ths (extended and altered). Newly drawn grids added for easy reading. You're welcome.]
* Modern Dominant Chords Viewed from Melody, 1973-10-11 &12. [This is a large collection of dominant 7th chords, grouped according to the highest (soprano) note of the chord. Ted did not assign any specific letter names to these chords, as they are all to be understood to be moveable forms. He actually wrote, "Try chords on high and low frets. Some chords sound poor and/or cannot be played on low frets." To figure out the letter name of each one, you need to use the soprano note as a reference to determine where the root is located. These pages can be a handy tool for when you need to find a new voicing when working on your arrangements. Newly drawn grids and chord qualities added to save your eyes. Thank you very much!]
COMPING:
* I'm in Love, 1997-05-16. [This is Ted's version of the guitar part for Wilson Pickett's song. Ted arranged the into to include some additional chord tones. This was written up at the request of a student. Notation provided for most of the song, combined with Ted's grids.]

SINGLE-NOTE SOLOING:
* Single-Note Soloing Over I-VI-ii-V in G Major, 1997-03-26. [Ted wrote out these three examples of a solo line over a standard jazz progression during a private lesson. Notated by Leon White, this page was posted on our site years ago, but got lost during some revisions.]
FROM STUDENTS:
Under the header "Contributions by Leon White"
* Blues in F# - Walking Bass Jumpback Blues, 1989-10-09. [This is Leon's early write-up of one of Ted's blues pages, posted in the "Blues" section as "Walking Bass Jumpback Blues (key of F#). Leon's page was misplaced years ago, only to resurface now.]
Under the header "Contributions by Mike Simonelli"
* Chord Chemistry Chord Index (4th Edition) – Compiled by Mike Simonelli. [Looking for a specific chord in Chord Chemistry? Use this handy index to instantly locate it in Ted's encyclopedic book. Mike's page numbers refer to the 4th edition, but it may apply to other editions as well (you'll need to check against your own copy).]
Under the header "Contributions by James Cooper"
* Ted Greene Letter to James Cooper, 1984-10-31. [Just thought you might be interested in seeing a sample of an example of a personal letter Ted would write to his correspondence students. One has to wonder if Ted would be using Skype, Zoom, or YouTube to give guitar lessons if he were still with us today, trying to survive thru the Covid-19 situation.]


Ted on YouTube

The Official Ted Greene Forums

* Of course, most of the videos are posted right here in our Video Section


+ + + + + + + + + + + + + + + + + + + + + + + + +



- - - - - - - - - - - - - - My Life with The Chord Chemist - - - - - - - - - - - - - -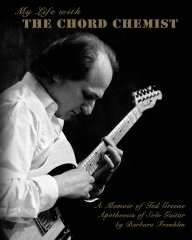 My Life with The Chord Chemist
A Memoir of Ted Greene, Apotheosis of Solo Guitar
By Barbara Franklin

BUY NOW - Available at amazon.com


Publication Date: Nov 24 2009
Page Count: 276
Trim Size: 8" x 10"


ABOUT THE BOOK
A retrospective of Ted Greene, virtuoso solo guitarist, beloved music teacher, world-renowned author and innovator of unique music concepts for guitar. This book also includes an overview of Ted Greene's early life and musical development, plus an insightful narrative of the 13 years prior to his death
Six agonizing months after losing my beloved Ted, I slowly emerged from a state of profound disbelief, almost coma-like. At that time I didn't know what to do with the remnants of my life; then a path began to unfold before me. This website was started and became a saving grace.

During the ensuing years, I organized and categorized Ted's material and personal studies. Upon completion of that massive undertaking, once again, I didn't know what to do, so I began writing.

I wrote pages, and then threw them away, until once again a path began to unfold. What I wrote is mostly a personal memoir. I suppose it was what I had to write first.

From the preface:
"The decision to reveal parts of our personal life was something I deliberated over for a long time. Because our lives became so inextricably bound, I included what I felt necessary, but not without a considerable amount of apprehension. This book illustrates the many parallels between Ted the musician and Ted the person. I felt it was important to convey how Ted was driven compulsively not just to pursue music, but so many other things he loved."
With this in mind, here is our story. It IS very personal and I still have apprehensions about publishing it. My hope is that it brings you closer to Ted, as you begin to get to know and understand this unique and extraordinary man and musician.
+++++++++++++++++++++++++++++++++++++

Don't forget to visit the Newsletter Archives :)