March 2020 • TedGreene.com Newsletter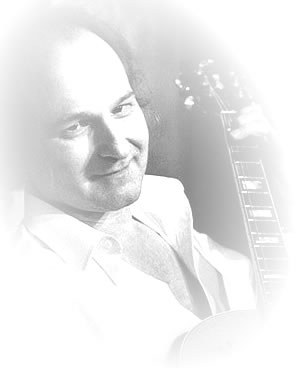 Welcome to our March Newsletter!
This month we have some reminiscences about Ted from one of his long-time students and friends, Nick Stasinos. Most of this was taken from his entries in the Ted Greene Memorial Tribute page, but Nick went thru it and updated and expanded some of it. Part 2 will be presented in our April Newsletter.
Once Upon A Time in... Canoga Park
By Nick Stasinos
Part 1
I am deeply moved by all the folks who have posted here [in the Memorial blog], from some whom I'm sure our paths have crossed at one time or another, bringing back so many precious memories and feelings for the one whom I am honored to have known as my teacher, my inspiration, my mentor, and my friend.
At the Lighthouse, a famous jazz club in Hermosa Beach, California, there was this opening act called "The Blue Light District" featuring a very cool Stevie-Wonder-styled chromatic harmonica player. Sitting in with the band was a session guitarist with long red hair, who played the most amazing string of harmonics I had ever heard. It was harp-like, fed through a flanger. Angelic! During the break this guitarist leaned over from the stage to answer someone's question in the front row. I heard him say, "Ted Greene taught me those!" Yes, that guitarist was Jay Graydon! Wow! Even the pros go to Ted for a lesson!
I first met Ted at Dale Zdenek's Ernie Ball Guitar Shop on Topanga Canyon Blvd. at Sherman Way, Canoga Park, in the mid-70s while taking lessons from Darol Caraco. Ted taught in one of the other small practice rooms there. I never saw much of him until late one Saturday afternoon. I walked in on an impromptu concert given by a very talented black male vocalist, and Ted was accompanying him on a modified Tele with Humbuckers and lots of toggle switches. Playing song after song, I was in total awe! I never thought it was possible to play guitar the way he did. Where's the bass player?! In addition to Ted playing complex bass lines, he was also the harpist, the horn section…he was the whole damned orchestra! He could emulate the nuances of other instruments while sounding like more than one person playing! His deep rich tone and intricate arrangements were so beautifully moving. Mesmerizing!
After seeing Ted's paste-ups for Modern Chord Progressions (1976) lying about Dale's shop in preparation for publication, I knew I just had to hook up with the author for lessons. There was a two-year waiting list! No problem! Another talented teacher at the shop, Chips Hoover, got me started on some of Ted's copious handwritten sheets until there was an opening. That opening came much sooner in 1977 after Ted moved his teaching operation to his parent's home. Being 21 years old and not having very much in terms of a musical education, I was so nervous yet very thankful that Ted was gracious enough to take me on as a student. My very first lesson was on Baroque harmony, closed triads, and voice-leading – all for only $15. "Broke" harmony? All I wanted was to learn was those big, lush jazz chords and harmonic chimes! Ted eventually changed my mind when he made all those little triads, moving lines, and related nuances dance, taking on a special magic all their own. He opened a door to a much larger world musically that I never knew existed. He insisted on my recording every lesson, and I am so grateful he did! I recently listened to that same lesson I recorded decades ago. It is just as fresh and as exciting as it was back then. I will cherish and revisit all those tapes and videos with very fond memories of our time together.
How much could you get out of a single lesson? It was good for months, even years' worth of study and practice. Those who have taken lessons with Ted know! So, I never really felt adequately prepared before for the next lesson. Again, the material he gave in one single lesson was a lot to wrestle with, and his sheets were damn difficult to play even after doing all those knuckle bending, finger stretching exercises he showed me. "You know, nature will reshape your hand if you do it enough!" He had a lot of patience and was always ready with a word of encouragement. I never doubted that the next lesson would be as exciting as the last. Ted was a goldmine of information, and his creative well never ran dry! He always had the right chord or set of changes for any song I would bring to him. "Harmonic Improvement" was an understatement!
This humble man was not a self-promoter and he shunned public attention. It used to drive me crazy finding out about his gigs after-the-fact. I didn't even know he had an LP out until I stumbled upon it at Valley Arts Guitar. It took me years to get around to asking Ted to autograph it for me, but what a sweet sentiment it was! When it comes to guitar heroes, Ted is right up there at the top!
~ Nick Stasinos
* * * * *
We hope you find something inspiring in the new lesson material this month. We have a lot of items in the "Chord Studies" section, and this trend will continue to the end of our dissemination of Ted's teaching files….he is, after all, the king of chords!
~ Your friends on the TedGreene.com Team

NEW ITEMS
ARRANGEMENTS:
* Maria (from West Side Story), 1994-05-23. [Here we have Ted's arrangement of the classic song from the very popular musical, West Side Story, music written by Leonard Bernstein, whose compositions Ted loved very much. There's a short version and a long one for this song, and Ted's arrangement uses the longer version. It was hastily written out during a private lesson, which might have spanned two different sessions, hence the somewhat sloppy presentation in the original sheet. As usual, we've added the notation and lyrics, and included Ted's chord diagrams. We hope this makes it easier to learn. It's a beautiful piece. You'll notice that the grids and the notation for the first measure don't exactly match up very well, but they do in measure 5 as the repeat. (Just follow the notation for an accurate reading). Thanks to David Bishop for his help in proofreading this arrangement.]

CHORD STUDIES:
* Chord Name Quiz – Modern Dominants, 1978-12-18. [Take this quiz after you work through the "V7-I Progressions" and "V7-I Resolutions" pages listed below. Separate pages are provided with the answers in blue font...but don't peek until you've finished! Great lesson for checking yourself, and you might also want to give these to some of your students. Even though Ted listed this quiz as "page 1," we don't have a page 2 for this subject. You can find other similar quizzes in our "Fundamentals" section. Check 'em out.]
* V7-I Progressions – Organized by Melodic Considerations, 1978-11-10, 12, & 19. [In this lesson Ted is presenting a variety of dominant chords (mostly altered to some extent) resolving to a major type chord (usually a major 9, major 7, 6/9, or 6). The page is subtitled, "organized by melodic considerations." Notice the melody and the voice-leading that are used. Memorize a few of your favorites, and leave the rest for "future study and inspiration."]
* V7-I Resolution Quiz – Modern Dominant Chord Forms, 1978-12-28. [Take this quiz after working though the below "Preliminary V7-I Resolutions" page. Notice that most of the chord could be named several ways. On the provided answers sheet, you'll see that we chose the chord names (interpretations) that matched with the chords presented in Ted's "Preliminary" page. This would be a great lesson page for discussion with your advanced students.]
* V7-I Resolutions, Preliminary – Organized by Melodic Considerations, 1978-12-17, 18, & 27. [This is an excellent reference page for V7-I chord moves. Play thru all of the examples, mark the ones you love, and dig into them….and ignore the rest until a future date when you may wish to discover something new.]
Under the "Triads" header:
* Gospel Low-End Open Triads, 1999-02-04 and 1999-03-04. [Ted gives us some interesting and lovely "Gospel-ish" sound with open triads, mostly on the lower 4 string set. There are some nice moves here that you may want to add to your harmonic bag of tricks. Notation provided.]
* Minor Open Triad, 1994-06-01. [This is by no means an exhaustive examination of the minor open triad. It seems to be just the beginning of a bigger project that Ted never completed. The focus here seems to be on the lower 4 strings. If you love this sound and want to take it further, you might take the forms from this page and, using the "string transference" principle, move them to the middle 4 strings, as well as the top 4 strings.]
Under the "Harmonization of a Given Melody" header:
* Varying Harmonic Rhythm Under a Melodic Pattern, 1985-04-21. [Ted subtitled this lesson: "Also study in 1) colors, 2) modulation, 3) mild counterpoint, 4) phrase development." This lesson is more than just the taking a set melody and harmonizing it. Ted takes the given phrase and moves it around to different degrees of the key, harmonizing it differently, sometimes expanding on the phrase. There's a lot of food for thought here, especially for someone who is looking to develop his skills for creating rich, melodic intros, endings, interludes, and solo fills while playing solo guitar or comping. Notation and chord names provided – although other rhythmic interpretations may also be possible, and likewise, some of the chords might be differently named.]
COMPING:
* Songbird, 1993-09-27 and 1993-10-27. [This is Ted's comping study for this beautiful but little-know song, written Loonis McGlohon and recorded by Daryle Rice in 1980 (you can hear it on Youtube). Ted certainly was attracted to the unique melodic and harmonic content of this piece. I found the following interesting comment in a blog about this song: "There is a double connection to be made with the performance of 'Songbird.' It is a song that conveys appreciation of an avian recital in much the same way that Hoagy Carmichael and Johnny Mercer provided in 'Skylark'."
Ted's chords are for comping, not chord-melody, and so you will find some instances where the melody of the song clashes with the voices in his chords – see measure 9, beat 4, and measure 10, beat 4 (and several others) for examples. Perhaps Ted was only looking at the progression itself and enhancing that, not taking into account the melody, and possibly constructing his progression for the use of comping behind a soloist. By themselves, his chords have a melodic integrity that stands on its own. Notation and lyrics provided combined with Ted's grids for easy analysis, reading, and learning.]
OTHER:
Under the "Harp-Harmonics" header:
* C Dominant 7 Chords for Harp-Harmonics, 1979-05-25. [This is an untitled worksheet that Ted filed along with his other harp-harmonic pages. Here he's focusing on C7 type chords in 3rd inversion (7th in the bass) and also in root position. At the bottom of page 2, you can see that he had a note to himself, "Write out [right-hand picking] patterns for harmonics on 4-note chords." Redrawn diagrams for easy reading.]


Ted on YouTube

The Official Ted Greene Forums

* Of course, most of the videos are posted right here in our Video Section


+ + + + + + + + + + + + + + + + + + + + + + + + +



- - - - - - - - - - - - - - My Life with The Chord Chemist - - - - - - - - - - - - - -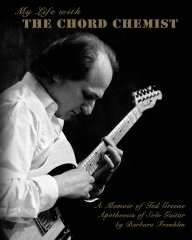 My Life with The Chord Chemist
A Memoir of Ted Greene, Apotheosis of Solo Guitar
By Barbara Franklin

BUY NOW - Available at amazon.com


Publication Date: Nov 24 2009
Page Count: 276
Trim Size: 8" x 10"


ABOUT THE BOOK
A retrospective of Ted Greene, virtuoso solo guitarist, beloved music teacher, world-renowned author and innovator of unique music concepts for guitar. This book also includes an overview of Ted Greene's early life and musical development, plus an insightful narrative of the 13 years prior to his death
Six agonizing months after losing my beloved Ted, I slowly emerged from a state of profound disbelief, almost coma-like. At that time I didn't know what to do with the remnants of my life; then a path began to unfold before me. This website was started and became a saving grace.

During the ensuing years, I organized and categorized Ted's material and personal studies. Upon completion of that massive undertaking, once again, I didn't know what to do, so I began writing.

I wrote pages, and then threw them away, until once again a path began to unfold. What I wrote is mostly a personal memoir. I suppose it was what I had to write first.

From the preface:
"The decision to reveal parts of our personal life was something I deliberated over for a long time. Because our lives became so inextricably bound, I included what I felt necessary, but not without a considerable amount of apprehension. This book illustrates the many parallels between Ted the musician and Ted the person. I felt it was important to convey how Ted was driven compulsively not just to pursue music, but so many other things he loved."
With this in mind, here is our story. It IS very personal and I still have apprehensions about publishing it. My hope is that it brings you closer to Ted, as you begin to get to know and understand this unique and extraordinary man and musician.
+++++++++++++++++++++++++++++++++++++

Don't forget to visit the Newsletter Archives :)