November 2021 • TedGreene.com Newsletter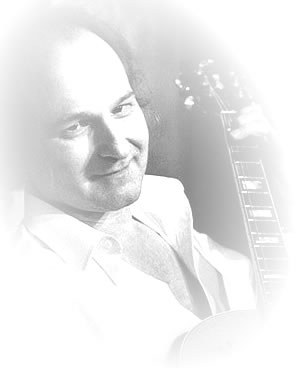 Greetings and welcome to all Ted Greene fans, friends, students, and lovers of harmony!
Ted had a lot of guitars. When asked how many guitars he had Barbara Franklin wrote:
"Hundreds over the course of his lifetime. During our 13 years we never counted them. Ted didn't want to know." And they all had unique personal names. [see Gear] And he shared them regularly with students if there was a need or special interest. Barb also wrote, "Ted's Ibanez L-5 lived mostly at his apartment, as he loved using it during lessons and sharing her with his students…. He had a favorite saying, 'Guitars should be played, not displayed.'" And sometimes he would help a student with the purchase or selection a guitar.

In her book, My Life with the Chord Chemist, Barb wrote: "On many occasions he would loan out guitars and amplifiers to his students, sometimes for months on end. He truly believed he could trust most people, and this was borne out, considering the hundreds of guitars and amplifiers he loaned out over the years, only rarely were they not returned."
Below are a few accounts from the TG Memorial Blog, the TG Forums, and from emails. If you have a related story of Ted loaning you one of his instruments or helping you buy one, we'd love to hear from you in our Forums or on Ted's Facebook page.
* * * * *
I remember seeing a Guild T-100D at a pawn shop one day and told Ted about it a few days later. He recommended that I buy it, so I did. As time passed, I told him I was not too happy with the sound, that I preferred the archtop sound of his Guilds – you know how he loved his Guilds! By coincidence I saw an ad in the Recycler for a Guild X-500, and I called Ted for advice. It turned out that one of his students was selling it, so Ted put in a good word about me. I drove 60 miles to check it out. His student told me that I could take it home and try it out, without leaving a dime for it. I was shocked. This guy trusted me because he trusted Ted. I ended up buying the guitar, and all payments were made through Ted. Ted even bought my Guild T-100D so that I could use that money towards my new Guild. Just another Ted gem....
~ (no name given)
* * * * *
Ted went with my mother-in-law and picked out my first guitar. He restrung it for me and showed me my first chords (playing them left-handed). It was the best birthday present I ever got. He always had such kind words, telling me "I know you're going to do it." The next time I saw him I was so taken by his talent I couldn't even play, but he still told me how much I'd improved. That feeling of awe never changed, nor did his words of encouragement. He said if you ever get down on yourself, just switch hands and it will show you how far you have come. I feel so honored just to have known him. He will truly be missed!
~ Dave Kerbeck
* * * * *
…I remember the time Ted insisted I borrow an early priceless 'Broadcaster' to check out: "Bring it back when you feel like it."
~ Dennis Belt
* * * * *
I took lessons from Ted for many years in the 80's and 90's. For a while he let me borrow several of his semi-hollow and archtop guitars (really fine instruments), just because I enjoyed playing them at the lessons. I remember one lesson where we took a walk to Trader Joe's, bought a couple of sodas, and discussed the chord changes to "My Funny Valentine." It was a great lesson even though we didn't touch the guitar! He was a special person, a big influence and, as everyone knows, a brilliant musician.
~ Haskel Joseph
* * * * *
When a luthier was re-working my neck on the Les Paul, Ted let me borrow his '65 Fender Jazzmaster and take it home. I had a gig during that time. I was playing with a small jazz combo out of Orange County and the baseball All-Stars wives had a dinner after the All-Star game, and we were the entertainment that year. I played Ted's '65 Jazzmaster at that gig.
~ Jim Handy
* * * * *
When I started studying with Ted, he loaned me one of the "Granny's" for a while. He didn't even really know me yet. He just said something like "Guitars are meant to be played. I know you'll take good care of it – just be sure to keep it in the case at night." It was one of the kindest acts of faith that anybody had ever directed towards me. Of course, I enjoyed the guitar, practiced my butt off, and returned it unharmed a few months later. I still regularly think about the experience of being trusted.
~ J. Hammond
* * * * *
Once I bought a Gibson 335 clone and Ted really loved it, and said that if I ever wanted to sell it, please tell him about it first. Another time Ted offered to help me select a guitar by going to Norm' s with me. He offered to give any guitar a thorough inspection before I laid down any cash. I thought was very nice of him.
During one of my lessons there was a knock on the door and a guy brought in a Tele that Ted had loaned him. He was so happy to see it once again, and said that guitar was named "Eggman." Ted told me that he often loaned out guitars and sometimes forgot about them! He was extremely generous.
~ Dan Sindel
An addendum to the above story: In her book, Barbara Franklin shared the following:
Ted granted the most ardent wish of one student, "7/15/04 Chris N. is absolutely overjoyed with his new purchase of my '70s natural finish, ash bodied Tele, 'Egg,' or 'The Egg Man' with the '50s lead pickup and the Gibson humbucker in the neck pickup."
Ted had asked me about selling Egg, and expressed to me how much his student loved it. I told him I thought that was wonderful. Egg was a bit too heavy in weight for me so I never played it much, nor had Ted for a long while. Actually, Egg had been out "on loan" on and off to several students for quite some time. So, we were both grateful it would have a good loving home."
* * * * *
Oh man, Ted was so generous with his guitars! He frequently told me I could borrow his guitars. One time I mentioned I never played a Gretsch guitar. He was playing one (I think it was green), and he immediately handed it to me and said, "Take it home." I could not do it. He was so sincere, but I just couldn't take on that responsibility. He told me that he frequently loaned his guitars out to his students.
We talked a lot about buying/selling guitars, etc. One time I mentioned I was in the market for a Tele, and he immediately connected me with one of his students who was selling a '68 Tele (Cesar?). I've had it ever since. Like everything that interested Ted (muscle cars, baseball cards, etc.), he knew the market so well.
He also worked on all my guitars. We would spend part of a lesson or two tearing my guitars apart or setting them up. He helped me rout, wire, and update my sunburst '71 Tele as well.
~ Mark Levy
* * * * *
This month we got a lot of help with the new material (you guys are making my job much easier!), and I really appreciate it. The contributors this month:
Mark Fitchett – what can we say? Each month he pulls another gem out of his collection for us.
Xavier Riley shared his transcription of Ted's "Someday My Prince Will Come" plus he hunted down the 2005 Just Jazz Guitar magazine memorial article on Ted.
François Leduc is a monster transcriber, tirelessly notating great guitar solos, and he often focuses on Ted. We are very grateful that he continues to share these with our site. Merci!
Mike De Luca for his expert proofreading and musical advice.
And finally, a round of applause for all those who shared some of their stories of Ted for the newsletter message.
~ Your friends on the TedGreene.com Team

NEW ITEMS
ARRANGEMENTS:
* I'll Build a Stairway to Paradise (fragments), 1993-01-02. [Ted wrote out grid diagrams for measures 8-12 in the key of Bb, then he modulates to Gb and gives us with another measure of grids. That's all. We provided the lead sheet to help you navigate though the piece and perhaps finish it. Ted also had alternate grids for both sections that you can find at the end of the write-up. "Suggested" chord names are provided in blue.]
* Miscellaneous Arrangements Fragments. [A collection of short snippets of 7 songs: A Sleepin' Bee, Giant Steps, Mona Lisa, Mr. Lucky, Scrapple from the Apple (comping), Yesterday, and What'll I Do?]
* Song List with Arrangement Sketch Ideas, 1963-07-09. [This is a very early (1963) song list of some jazz standards, with Ted's rough sketch ideas for playing a solo guitar arrangement. Typed text provided to save you from squinting eye syndrome.]
Under the "Classical Pieces" header:
* Mozart – Symphony No. 40 in Gm, Minuet. [This is Ted's very early arrangement for guitar of the 3rd movement of Mozart's famous symphony in G minor. Ted wrote out the notation, but didn't include grid diagrams or fingerings. This is a very challenging piece, and we have provided clean notation with "suggested" grids and chord names. You'll notice that the measures and bar lines are formatted more like a jazz or pop lead sheet with 1st and 2nd endings, rather than classical scores with incomplete measures at the beginning and end of the sections. I hope this doesn't offend any classical purists.]
ARTICLES & INTERVIEWS:
* Just Jazz Guitar Magazine, November 2005 – Ted Greene Memorial. [This article is actually three separate pieces written a few months after Ted passed. "Loss of Legendary Guitarist Ted Greene" and "Ted Greene Memorial: A One-of-a-Kind Man" were both written by Harvey Barkan, and by Rich Severson of Guitar College shared some of his memories of Ted. Thanks to Xavier Riley for tracking down this article and sending us a copy to post. Also, thanks to JJG magazine for giving us permission to reprint any of their articles relating to Ted.]
AUDIO:
* 1991-12-19, Ted Greene Lesson with Mark Fitchett. [Found under the header: "Lessons with Mark Fitchett" Mp3 file with 320 kbps bit rate. Length: 36:54. In this lesson they review "Silent Night" with reharmonization experiments, then the same for "O Christmas Tree" ("O Tanenbaum").

CHORD STUDIES:
* Mixing Major Scale Ext. Primary Colors, 1985-08-31. [Three examples in the keys of Eb and D. Notation provided combined with Ted's original grids.]
Under the "Triads" header:
* IV-I in Open Triads – Descending Chains with Voice-Leading, 1984-10-31. [Excellent exercises for good voice-leading of IV to I progressions, with an emphasis on sustained notes. Notation provided combined with Ted's original grids.]
COMPING:
* Giant Steps (V-2 comping fragment), 1995-06-18 and 1996-09-21. [This is a quick study for comping chords for the first 6 measures of this classic jazz tune. We provided lead sheet notation for the whole piece, with notation for Ted's chords. Part of the "homework" for the student was to add the chord qualities to the letter names of the chords. We did this using blue font. We also provided blank grids for the rest of the piece, in case you wanted to continue where Ted left off.]

OTHER:
* Solo Guitar Concepts and Reminders. [This is a collection of miscellaneous notes from four pages from Ted's Personal Music Study files. This was never intended to be a lesson hand-out, but simply reminders for his own playing. We typed out the text and included newly drawn graphics so you wouldn't have to strain to read Ted's small handwriting.]
TRANSCRIPTIONS:
* Original Theme (from the Ted Greene with Rowanne Mark collection), transcribed by François Leduc. [François wrote: "This is another one from Ted Greene. It was requested a few years ago, but I was having problem with the tuning and it ended in a 'drawer' for a while." Ted tuned his guitar down 11/2 steps for this one, but the notation reads as if it is for standard tuning. Notation + Grids + Tab. You can find the recording in our Audio section: Ted Greene with Rowanne Mark or find it on Francois' YouTube channel,
* Someday My Prince Will Come, transcribed by Xavier Riley. [This is a transcript of Ted playing an improvised arrangement while at the same time giving instruction and running commentary, during a lesson given to Cesar Pineda. This is on a YouTube video HERE. This is a different recording from the other transcripts we have of Ted playing this same song on the recording collection, "An Afternoon with Ted." Notation + Grids + Tab.]



Ted on YouTube

The Official Ted Greene Forums

* Of course, most of the videos are posted right here in our Video Section


+ + + + + + + + + + + + + + + + + + + + + + + + +



- - - - - - - - - - - - - - My Life with The Chord Chemist - - - - - - - - - - - - - -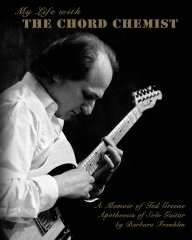 My Life with The Chord Chemist
A Memoir of Ted Greene, Apotheosis of Solo Guitar
By Barbara Franklin

BUY NOW - Available at amazon.com


Publication Date: Nov 24 2009
Page Count: 276
Trim Size: 8" x 10"


ABOUT THE BOOK
A retrospective of Ted Greene, virtuoso solo guitarist, beloved music teacher, world-renowned author and innovator of unique music concepts for guitar. This book also includes an overview of Ted Greene's early life and musical development, plus an insightful narrative of the 13 years prior to his death
Six agonizing months after losing my beloved Ted, I slowly emerged from a state of profound disbelief, almost coma-like. At that time I didn't know what to do with the remnants of my life; then a path began to unfold before me. This website was started and became a saving grace.

During the ensuing years, I organized and categorized Ted's material and personal studies. Upon completion of that massive undertaking, once again, I didn't know what to do, so I began writing.

I wrote pages, and then threw them away, until once again a path began to unfold. What I wrote is mostly a personal memoir. I suppose it was what I had to write first.

From the preface:
"The decision to reveal parts of our personal life was something I deliberated over for a long time. Because our lives became so inextricably bound, I included what I felt necessary, but not without a considerable amount of apprehension. This book illustrates the many parallels between Ted the musician and Ted the person. I felt it was important to convey how Ted was driven compulsively not just to pursue music, but so many other things he loved."
With this in mind, here is our story. It IS very personal and I still have apprehensions about publishing it. My hope is that it brings you closer to Ted, as you begin to get to know and understand this unique and extraordinary man and musician.
+++++++++++++++++++++++++++++++++++++

Don't forget to visit the Newsletter Archives :)