January 2020 • TedGreene.com Newsletter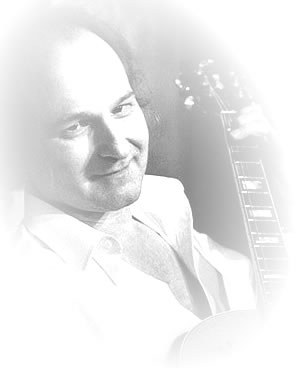 New Year's greetings to all Ted Greene friends, fans, students, and family!
Sharing
Happy New Year to you all, hoping you had a wonderful holiday season. The month of December is often called the season of giving, but this month I'd like to focus for a moment on a similar quality: sharing. Ted Greene was all about sharing: sharing the beauty he discovered in his music, sharing his wealth of knowledge of the guitar and music in general, his enthusiasm and time during private lessons, sharing material things when needed, and his insights for a sane perspective on life and the universe. Below are a few reminiscences about Ted's sharing, taken from the TG Memorial Blog:
* * * * *
Ted in essence, was that of a true musician. He lived and loved music, and wanted to share the love he had for the music with anyone willing to learn or listen.
~ "Full Metal" Mike
Great beings and artists that are from the outer reaches of human experience, and who guide lesser creatures to view and share their realm, grace and inspire us only once in many lifetimes. We were so blessed as musicians to be here when Ted passed through with his sharing nature to inspire, motivate, and challenge us to explore music far beyond our dreams.
Ted, you had a very fruitful visit, thanks.
~ Mike S.
Ted loved to share his insights and discoveries with all who would come his way. We were all blessed to have not only made his acquaintance but to have spent time with this wonderful and beautiful human being.
I can't thank Ted enough for the monumental influence he had on not only my guitar playing but on the way I looked at the world, and the respect for each person's individuality both musically and otherwise. I have taken his lessons with me throughout my life and dealings with people. Not only will his genius be missed, but one of the kindest souls to traverse this planet will be remembered and cherished always. We thank you, Ted, for sharing your achievements and love with us.
~ Ron Freshman
[As addressed to Ted:] Lending out instruments? Hell, I remember the day you handed me one of your guitars and told me to take it down to Norman's and see what he would give me for it, so I could purchase my own archtop! You were actually going to give me a guitar so I could get another guitar! I was not one of the unfortunates that needed a guitar (my wife would have disowned me if another one came into this house), nor was I financially strapped. Were you trying to tell me, "Ricky, enough is enough, go get your own archtop"? I think not. You were getting joy out of helping another human being share YOUR joy, and in this case, utilizing a guitar to help bring the joy. Frankly, I thought you were nuts! (That's the difference between the master and the pupil.) You were just being you: one of the most generous, unselfish people I have ever known.
What amazes me is that I now realize you were a true master. My ego thought that you had a special place in your heart for me! You never let on, you never discriminated, you were just being the master that you were – EVERYONE was made to believe that they had (for whatever reason) a special place in your heart. The fact is, you were able to make all of us your "special" people.
Ted, as humble as you were, now I know, you knew the whole truth. I am not just talking about music here. Many people believe that you were put on this earth to teach. But your teachings ranged from the simple, "Put your fingers here and strum," to the most complex theories of music that any one of us has ever been privileged to witness.
I believe it even goes farther than that. Those lessons, Ted, were about life! So many times, the lessons had nothing to do with music, but on how I could be a better human being, how to understand and cope with the everyday trials and tribulations that life had to give out. I need to be very careful here, I do not want to offend anyone, but from my perspective, you are one of those very rare individuals put on this planet to help other human beings to grow and to learn life. You did it thru the music. God wants and desires for us to be happy – that's all He/She wants for us. Like our own children, we don't care what our kids are doing just as long as they are safe and happy. That is you, Ted. You didn't care what we played, just as long as we were safe and happy doing it.
We now grieve because we miss you...I will miss you deeply, my friend.
~ Ricky Katz
Thank you, Ted for your incredible generosity in sharing your knowledge of the guitar, music in general, and all the minutiae of the world, with me and with all those you touched. You are unforgettable.
~ Anthony Wilson
Ted Greene's impact on the L.A. guitar community was monumental. He shared his knowledge unselfishly with all, and many successful musicians owe an extreme debt of gratitude to him.... Everyone that knew Ted will miss his beautiful playing, but most of all will miss his kind spirit and demeanor.…
~ Norman Harris
Ted was the single biggest inspiration in my young life. He shared everything he knew so graciously, and with such compassion and understanding for individuals. I miss him so much.
~ Cade Carradine
I hope that Ted's many friends and students can find some way to share his unpublished lesson sheets and tape recordings, perhaps on a web site… What better way to pay tribute to this wonderful man than to make his recorded legacy available? I sort of have the feeling that he would prefer it be given away freely than distributed any other way.
~ Thomas Brown
* * * * *
Yes, Thomas, we have done just that, and the sharing continues! Our aim here is to pass along to you all – guitarists all over the world today and in the future – Ted's lessons, recordings, writings, transcriptions, and "all things Ted."
An interesting coincidence that one of the lessons for this month – "3-Note Chords for the I Chord in G Blues" – includes a letter from Ted wherein he talks about sharing. An excerpt from that letter:
"I've never given this material out before – it's just you and me with it. Let's keep it for ours for a while…. I'd like to publish all my stuff, and God willing, I will. Sharing is cool (you know). For now, I'm sharing this material with you and only you. I've never quite codified it before so it's kinda new for me too."
This was written in 1995, so perhaps enough time has passed and Ted would approve of us posting this lesson for the world.
And now we'd like to ask you to pay it forward. How? Tell your guitarist friends about this website, give them a copy of Ted's Solo Guitar CD, loan them a copy of Chord Chemistry or Modern Chord Progressions. If you're a guitar teacher, perhaps you might print out one of Ted's lessons or arrangements and use it as a teaching tool. Go to Ted's Facebook page or YouTube channel and "like" us. Share/post those links so that others can be directed to this site. And let people know that Ted's legacy is being offered in the spirit of his generosity. And of course, you can make regular donations to help keep this site up and running. And most of all, one of the best ways you can really share Ted's music and teachings is for you to improve your own playing, to become a better musician. Absorb and exemplify the lessons that he taught. Enrich your harmonic vocabulary. And maybe when people ask you how you learned to play so beautifully, you'll be able to say that Ted Greene was responsible for at least a part of it.
Enjoy and the new lesson material… and share with others!
~ Your friends on the TedGreene.com Team

NEW ITEMS
ARRANGEMENTS:
* Born Free (partial), 1978-12-25. [Here's a partial arrangement that Ted wrote the chords for the first 5 measures only, and left the rest for the student to finish. We included the notation for Ted's chords, and then melody only for the remainder of the song, with plenty of space for you to add your grid diagrams. This could be considered as a fairly easy chord melody.]
* Norwegian Wood, 2000-05-04 & 1992-11-11. [We've added this under the new "Beatles Tunes" header in the Arrangements section. I think this arrangement was used as an example to illustrate mixolydian melody, or a song in a mixolydian key – more than just to show how to play this song. There are actually two versions here: one is complete, the other partial. The 1992 partial version is in the same key (E mixolydian), but has the melody up an octave, so could certainly combine them anyway you wish. For some reason Ted didn't include his normal dot, X, box, triangle notation for the first couple of chords, and then later went back and added red dots to show the additional melody notes. You'll need to watch the notation to follow along (or just use your ear if you're familiar with this song). Notation with lyrics provided.]
ARTICLES & INTERVIEWS:
* Vintage Guitar Magazine, February 1996 - "Spotlight" - Ted Greene - Solo Guitar.
[We posted a new copy of Ted's original article with his handwritten comments, and have now added another PDF which has the text of the original article, with Ted's handwritten comments in a red font, and a copy of the VG magazine cover. I think you'll find it a lot easier to read than the scan of Ted's original copy.]
BAROQUE:
* Chromatic Dm Fugue, 1970-09-03. [This piece is a bit of a mystery. One guess is that it is an early attempt of Ted's to compose a classical piece. This was written around the time that he was diving deep into Bach Chorales and other classical pieces. It appears that in 1983 he went back to the page and added something, but it's not clear what – so apparently, he valued the page enough to save it, even after a review 13 years later. At the bottom of Ted's original page, he added notation that seems to be some kind of variation that may or may not be related to the "Fugue." We provided new notation and "suggested" grid diagrams for at least one way to play it.]
BLUES:
* 3-Note Chords for the I Chord in G Blues (w/letter), 1995-12-16. [This page is from a letter Ted wrote. Ted had some students that took lessons via mail. This wasn't as effective as a private face-to-face lesson, but for those living hundreds or thousands of miles away, was a good way to connect with Ted's ocean of knowledge. In this lesson he shares some cool two-chord phrases that work well over the I chord of a blues. We typed out the letter and notated the chord moves (with some rhythmic interpretation) to make them clearer.]
CHORD STUDIES:
* Harmonizing Melodic 3rd Intervals, 1985-02-23. [This page is located under the "Harmonization of a Given Melody" header. Like all lessons in this series, it gives you wonderful insights into the Ted's mind as to how he approaches variations for harmonizing simple melodies. Notation combined with Ted grids for easy assimilation.]
COMPING:
* Two for the Road. [This lesson sheet is undated, but based on the way it was written out and his handwriting, I would venture to guess it is circa 1991. After learned to comp the song with these chords try this: move the melody up an octave incorporate it into the soprano portion of Ted's chords. You'll have experiment and make some slight (and sometimes drastic) modifications to his chord forms in order to do this, but it can be done with wonderful results. Notation and lyrics combined with Ted's original grids.]
HARMONY & THEORY:
* Chord Progressions – What to Expect in Popular Music, 1974-03-23. [We get a little bit of music theory here, some of which is redundant to information that is contained in other lessons by Ted. The reason for this is that he was constantly revising and improving his hand-out sheets; upgrading them or making completely different versions. Some great teachers say that repetition is an essential part of learning, so a little redundancy will only help to reinforce the process. Typed text provided for easy reading.]
* Common Chord Progressions and Harmonic Principles, 1974-12-28 & 29. [There's another lesson page by Ted from 1973 with the exact same title as this lesson, so we've added "(1974)" at the end of it so as to differentiate the two. But actually, the full title of this new lesson is "The Most Common Chord Progressions and Harmonic Principles Used in 20th Century Popular Music" – but that is too long, so we shortened it. This page has some good basic music theory, and there's some overlap of information with the above listed lesson on "…What to Expect in Popular Music" – but repetition, repletion, repetition…. Typed text for easy reading.]
* Favorable Matings of Qualities and Degrees – List, 1975-09-19. [In 1990 Ted wrote another lesson page with the same title as this new lesson, but they are very different. Similar lesson material, but different presentation. The 1990 version deals only with Dominant chords, whereas the 1975 version includes dominant, major, and minor chords. It is suggested to study both pages together. Typed text for easy reading, thank you!]
OTHER:
* Cumulative Ear-Training Program, 1993-01-06. [Using chords, Ted wants us to hear the changes of the moving 3rd (minor 3rd, major 3, 4th), and moving chords by minor 3rds. Notation provided combined with Ted's chord diagrams. Notes in red indicate the moving notes to listen for.]




Ted on YouTube

The Official Ted Greene Forums

* Of course, most of the videos are posted right here in our Video Section


+ + + + + + + + + + + + + + + + + + + + + + + + +



- - - - - - - - - - - - - - My Life with The Chord Chemist - - - - - - - - - - - - - -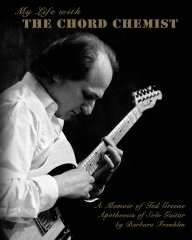 My Life with The Chord Chemist
A Memoir of Ted Greene, Apotheosis of Solo Guitar
By Barbara Franklin

BUY NOW - Available at amazon.com


Publication Date: Nov 24 2009
Page Count: 276
Trim Size: 8" x 10"


ABOUT THE BOOK
A retrospective of Ted Greene, virtuoso solo guitarist, beloved music teacher, world-renowned author and innovator of unique music concepts for guitar. This book also includes an overview of Ted Greene's early life and musical development, plus an insightful narrative of the 13 years prior to his death
Six agonizing months after losing my beloved Ted, I slowly emerged from a state of profound disbelief, almost coma-like. At that time I didn't know what to do with the remnants of my life; then a path began to unfold before me. This website was started and became a saving grace.

During the ensuing years, I organized and categorized Ted's material and personal studies. Upon completion of that massive undertaking, once again, I didn't know what to do, so I began writing.

I wrote pages, and then threw them away, until once again a path began to unfold. What I wrote is mostly a personal memoir. I suppose it was what I had to write first.

From the preface:
"The decision to reveal parts of our personal life was something I deliberated over for a long time. Because our lives became so inextricably bound, I included what I felt necessary, but not without a considerable amount of apprehension. This book illustrates the many parallels between Ted the musician and Ted the person. I felt it was important to convey how Ted was driven compulsively not just to pursue music, but so many other things he loved."
With this in mind, here is our story. It IS very personal and I still have apprehensions about publishing it. My hope is that it brings you closer to Ted, as you begin to get to know and understand this unique and extraordinary man and musician.
+++++++++++++++++++++++++++++++++++++

Don't forget to visit the Newsletter Archives :)