May 2018 • TedGreene.com Newsletter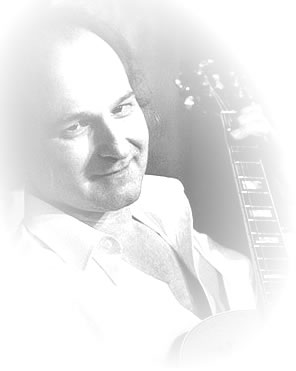 May Greetings!
Before we dig into the new lesson material we'd like to share an excerpt from an essay written a few years ago by Omar Haddad: Ted Greene–The Legacy Lives On, an essay by Omar Haddad which can be found in our Personal/Articles & Interviews section. You'll want to read the rest of the article if you haven't already done so.
* * * * *
Probably the greatest influence on Greene's capacity to deal with many voices and treat them independently was his study on baroque and neo-baroque music, two styles that reside in polyphony. Ted Greene's knowledge of this music has been widely reported on several media, including his own website, TedGreene.com: The Legacy of Ted Greene Lives On, where his own students have posted private lesson material dealing with baroque music.
Greene directly talks about the connection between his solo arranging approach and baroque music in his 1993 master class, available on YouTube as "Ted Greene 1993 GIT Seminar pt.3," which took place at the Guitar Institute of Technology, an affiliate of Music Institute of California: "The root movements f Bach… those are just like those old standard tunes…. These kinds of progressions… have been around for a long time. It's still the same stuff," he says as he improvises a walking bass line, solo line, and chords on "Autumn Leaves" (6:25).
Greene also explains his conception of Bach's music: "Implied chords. That's what Bach did. Bach teaches us that his music is about chord tones that are stitched together with either scale tones or chromatics, and the genius is that there are motifs binding it all together, themes… but if somebody wrote in a similar style but didn't use actual themes, they could still get the effect of the harmonic environment of a Bach, if they knew his harmonic vocabulary" (2:41).
Based on all these accounts, it is possible to establish that Greene's interest in and knowledge of baroque music aided him in the development of his solo arranging style capable of polyphony. Additionally, the incidental connection between jazz and baroque music through similar chord progressions (cycle of fourths) and moving bass lines (the baroque basso continuo and jazz walking bass line) made the music of Bach a practical model whereby Greene could develop mature arranging and performing techniques.
Another of Greene's musical incorporations in his style, taken most likely from jazz pianists, can be seen in his voicing choice. The introduction to "They Can't Take that Away from Me" on Solo Guitar shows how Greene moves far away from typical guitar voicings. The progression constitutes a chromatic cycle of fifths that supports a soprano voice moving independently. Greene strategically selects rootless altered dominants of four or five notes, creating a dissonant texture by using the tritone and two of the dominant's alterations or far extensions, such as the sharp ninth or the thirteenth…. [Go to full article to see the notated example.] These quartal dissonant chords resemble Bill Evans's voicings and are played within the uppermost frets of the guitar, a usually neglected area. Thus, this approach addresses the need to incorporate universal jazz vocabulary beyond the resources that the instrument offers.
Ted Greene stands out as a solo arranger and performer by achieving polyphony on the guitar, giving different voices independent treatment simultaneously, and incorporating piano and bass resources into guitar playing. These accomplishments are all the more admirable when observed in the context of the year Solo Guitar came out, when nobody was doing anything similar at that time or before. Wes Montgomery had incredible command of the fretboard on chord soloing and captured a wide range of audiences with his particular touch, but he never established polyphonic textures, much less develop such an unusual stylistic crossover.
A similar comparison could be made between Ted Greene and Joe Pass, who was a pioneer on progressions with walking bass lines but did not achieve the voice independence present in Greene's style. Furthermore, Pass did not develop a technique that would allow him to play walking bass, chords, and melodies at the same time, although he was able to stand alone solidly and improvise on jazz standards with his own accompaniment.

Pass and Montgomery's music was significant in and of itself, and Greene's development does not invalidate or diminish either performer's accomplishments. Measuring artists against each other is like comparing apples and oranges, and competition is not the point of this observation, as all music has its own right to be enjoyed and preferred. Nevertheless, these contrasts point out that Ted Greene was indeed one of the greatest jazz masters of all times, as we can perceive in Greene a high degree of musicality development and unique innovative contributions to music and jazz guitar in particular.
* * * * *
Special thanks to Alex Mesquita and Demma K. for sharing their cassette recordings of Lessons with Ted. Alex mailed them to us from Brazil and we now have the mp3 files in our Audio section. We'd also like to thank Tony Darren for sharing the pages from his private sessions with Ted. These have been posted in our "From Students" section. We'll have a few more of his pages to share next month.

~ Your friends on the TedGreene.com Team

NEW ITEMS
ARRANGEMENTS:
* And Your Bird Can Sing, 1989-03-14. [This is not really an arrangement as much as it is a transcription of Ted's interpretation of the "lead breaks" for this old Beatles song from the album "Revolver." He wrote this up as a special request during a private lesson. We added a lead sheet to Ted's grids to show the format of the song….you'll have to fill in the rest of the chords.]
* Just in Time, 1982-12-15. [This arrangement is not too difficult to play and might be a good one to start with if you're relatively new to playing Ted's pieces. Notation and lyrics added to Ted's grids.]
AUDIO:
* Ted Greene Guitar Lesson with Alex Mesquita and Demma K., 1997-05-21.
[mp3 file, 35 min., 320 kbps.]
* Ted Greene Guitar Lesson with Alex Mesquita, 1997-06-19.
[mp3 file, 48 min., 320 kbps.]
* Ted Greene Guitar Lesson with Alex Mesquita, 1997-10-13
[mp3 file, 51 min., 320 kbps.]
BAROQUE:
* Common Diatonic Chord Progressions in Baroque Harmony, 1975-03-24. [Ted explains the common chords for both major and minor keys, defining Primary and Non-Primary Triads as well as Related Triads. He shows these relationships in Tonic, Subdominant and Dominant families. He then gives 34 progressions for major and 38 examples for minor using Roman numerals. He titled this for "Baroque Harmony," but the concepts explained here have a much broader application and can be used for other kinds of music. Typed translation page included for easy reading. (Ted had two copies of this page, one with additions notes later added.)]
CHORD STUDIES:
Under the Bass-Enhanced Triads header:
* Bass-Enhanced Triads - Misc. Ideas 1, 1989. [A collection of ideas Ted jotted down in 1989, probably saved to be used for the book he intended to write about Bass-Enhanced Triads. Notation provided for easy reading.]
Under the Harmonization of a Given Melody header:
* Warm Harmonization of Diatonic Major Scale Melodies, 1985-09-01. [In this lesson, Ted provides 14 different ways to harmonize a melody of E, F#, D, A, and he gives a brief description of each version, like "Scale-wise bass heading for IV, or Expanded Diatonicism via bVII, etc. Lots to learn by playing and analyzing these examples. Notation and chord names added for clarity and ease of absorbing the concepts.]
COMPING:
* All the Things You Are (V-1 chords), 1985-06-18. [Ted subtitled this page, "Mostly V-1's on the middle strings," so you'll encounter a few long stretch chords here. We combined Ted's grids with their notation and a lead sheet with lyrics. This allows easy analysis of Ted's reharmonization compared to the original chord changes.]
OTHER:
* For My Book on Harmony (or The Harmony of American Music), 2000-10-10. [This is from Ted's Personal Music Studies files, and it's one of several pages he wrote as outlines for various books that he wanted to write. On this one he describes some ideas for a chapter on "Favored Diatonic Progressions." These outlines afford us a window into his thought processes for presenting some musical concepts. New typed text included for easy reading.]
SINGLE-NOTE SOLOING:
* Diatonic Major Scale Runs - Part5, 5th Position, 1977-11-11. [This is a continuation of the series we posted last month. They come from Ted's original manuscript for his Single-Note Soloing Vol. 1 book, although he never included these pages, but instead chose other similar ideas. New music notation has been included to make it easier for you to read.]
* Diatonic Major Scale Runs – Part6, 6th Position, 1977-11-11. [see above.]
* Diatonic Major Scale Runs – Part7, 8th Position, 1977-11-12. [see above.]
THE V-SYSTEM:
* Chord Homonyms for Favorite 4-Note(Voice) Chords, 1980-04-18 &1984-11-22. [This is a worksheet from Ted's Personal Music Studies files, and shows his analytical thinking revolving around exploring every possible combination of 4-note chords. As James Hober writes in the comments/introduction page, "This page is the birth of his V-System." It's a monumental achievement that outlined a path which Ted might not have expected to go down, but now seems inevitable owing to the extreme thoroughness in his harmonic investigations. The V-System is one of his unique contributions to guitar pedagogy, and this is the page that set the stage for it to flower. We meticulously transcribed every smudged letter from his original page (no easy feat that!) and present it here for your consideration – if you feel so inclined to join Ted in his exploration. We've placed this document under the header, "Ted's Comments on the V-System." Thanks to James Hober for his explanations and gentle prodding for us to get this page transcribed. Whew!]
FROM STUDENTS:
Under the "Contributions from Tony Darren" header:
* Chord Progression, 1991-12-00. [All these pages are ones that were written up during private lessons with Tony Darren. This one focus on a progression of E11-Amaj9-Am7/11-Am9-Gmaj9-Abm9. The top line of this page is not Ted's grids or chord names, but instead is probably a homework assignment written by Tony.]
* Chord Spelling-Triads, 1993-01-06. [This is a fundamentals lesson on triad spelling.]
* Cumulative Mental Scale Practice, 1988-10-31. [Another fundaments lesson on how to add flats in key signatures, plus he shows the name of the keys by bolding the second-to-last flat in each key signature. Ted wrote out a descending A major scale in small, then larger and larger portions, for "cumulative" learning. Ted wanted this to be primarily a mental practice.]
* Harmony Fundamentals, 1988-07-13. [This lesson contains a lot of fundamental information all crammed on one page: triad spelling, intervals, diatonic triads, harmonized scale, Roman numerals, etc. ]
* Mental Drills, 1986-02-26. [I believe this page was intended to provide some drills for practicing the guitar mentally only, focusing on the learning the notes all over the fretboard.]
* Notes on Tony's Tunes, 1991-01-31. [I assume this is Ted's comments he jotted down after listening to some tunes that Tony wrote. It has some analysis of some concepts/tendencies that Tony seemed to favor. Ted listed his main "harmonic palette." It is interesting to see how Ted can quickly sum up a person's level of harmonic understanding by reviewing a few of his pieces…one of the signs of a great teacher.]



Ted on YouTube

The Official Ted Greene Forums

* Of course, most of the videos are posted right here in our Video Section


+ + + + + + + + + + + + + + + + + + + + + + + + +



- - - - - - - - - - - - - - My Life with The Chord Chemist - - - - - - - - - - - - - -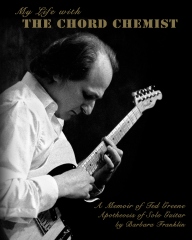 My Life with The Chord Chemist
A Memoir of Ted Greene, Apotheosis of Solo Guitar
By Barbara Franklin

BUY NOW - Available at amazon.com


Publication Date: Nov 24 2009
Page Count: 276
Trim Size: 8" x 10"


ABOUT THE BOOK
A retrospective of Ted Greene, virtuoso solo guitarist, beloved music teacher, world-renowned author and innovator of unique music concepts for guitar. This book also includes an overview of Ted Greene's early life and musical development, plus an insightful narrative of the 13 years prior to his death
Six agonizing months after losing my beloved Ted, I slowly emerged from a state of profound disbelief, almost coma-like. At that time I didn't know what to do with the remnants of my life; then a path began to unfold before me. This website was started and became a saving grace.

During the ensuing years, I organized and categorized Ted's material and personal studies. Upon completion of that massive undertaking, once again, I didn't know what to do, so I began writing.

I wrote pages, and then threw them away, until once again a path began to unfold. What I wrote is mostly a personal memoir. I suppose it was what I had to write first.

From the preface:
"The decision to reveal parts of our personal life was something I deliberated over for a long time. Because our lives became so inextricably bound, I included what I felt necessary, but not without a considerable amount of apprehension. This book illustrates the many parallels between Ted the musician and Ted the person. I felt it was important to convey how Ted was driven compulsively not just to pursue music, but so many other things he loved."
With this in mind, here is our story. It IS very personal and I still have apprehensions about publishing it. My hope is that it brings you closer to Ted, as you begin to get to know and understand this unique and extraordinary man and musician.
+++++++++++++++++++++++++++++++++++++

Don't forget to visit the Newsletter Archives :)