August 2018 • TedGreene.com Newsletter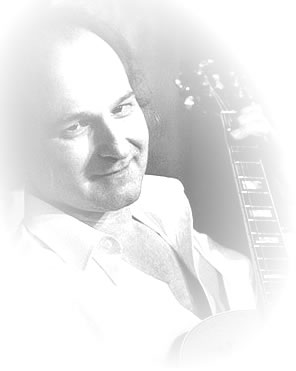 Summer Greetings to all our friends and students (both old and new) of Ted Greene.
This month we'd like to share some accounts from the Ted Greene Memorial Blog by those who knew Ted and as relating to Norman's Rare Guitars – one of Ted's favorite places.
First, some excerpts from Barbara Franklin's book:
In May Ted attended the fabulous 2-day Norm's Rare Guitar Show, which took place at the Hollywood store. Ted and owner Norman Harris had already formed a long and solid friendship, and this was an especially exciting and rewarding weekend. An elated Ted expressed in his datebook, "One of my fondest memories these two days."
At least once a month we'd also visit…Norman, Danny, and "the guys" at Norm's Rare Guitars.
…One of our errands included stopping at Norm's Rare Guitars to pick up a tape of a song Ted needed to learn for the next night. Norm had asked Ted if he would play at his and Marlene's 25th anniversary party. Of course Ted would never have declined this honor from such a good friend. We sat in the living room and I listened and watched as Ted figured out the song in less than an hour, conversing with me at the same time and giggling over many things, including Ted telling me he was a licensed hypnotherapist.
In Ted's datebook was this: "Work on '100 Ways' (by James Ingram) for tomorrow. And wonderful laughing time for a few hours w/Barb…"
About the night of the party, in Ted's words: "Norm & Marlene's 25th anniversary party…An all-time supportive vibe night. My dear '52 Tele 'Lola' tuned 1/2 step down & my black face Vibrolux Reverb. Some of the great support: Barbara, Scott Borden ("I'd like you to meet the greatest guitarist in the world"), Rob Bolger, Danny Duehren, his sister Marianne (she loved the music), Robert Stamps (gave me the "trigger"), his employee Jim ("You tore the place up. It was great to hear real music"), various musicians who have Chord Chemistry, Barry Z., and especially Norm & Marlene both stopped and told me they loved it after their favorite singer Donnie and I did '100 Ways'…as I was leaving the stage. And the sound the crowd made when he said my name after we did the song, I'll cherish the love sent toward me. It's such a joy to be able to make others happy."
~ Barbara Franklin from My Life with the Chord Chemist, pages 13, 42, and 50.
* * * * *
Ted Greene's impact on the L.A. guitar community was monumental. He shared his knowledge unselfishly with all, and many successful musicians owe an extreme debt of gratitude to him. Ted was a very special friend to many, and always had time to listen and talk with anyone that needed help.
Ted and I met about 35 years ago when I first came to Los Angeles. We became close friends, and a lot of the success of my business came from Ted's recommending my store to his many friends and students.
Everyone that knew Ted will miss his beautiful playing, but most of all will miss his kind spirit and demeanor. Ted will never be forgotten and it was my pleasure knowing him for so many years.
~ Norman Harris, Norman's Rare Guitars
* * * * *
I first met Ted at Norm's Rare Guitars back in the early 1990's. If my memory serves me well it was on a Tuesday and I was just hanging out and Ted came in (at the time I didn't know who he was). Dan Durhren, who was Norm's partner at that time approached me and did his Jimmy Stewart-meets-Mumbles voice and says to me, "Jim, Jim, just shut-up for a minute!" I asked why, and Dan said, "If you will be quiet, he might play (guitar) and he's the best there is." I heeded Dan's advice and sure enough Ted grabbed a Telecaster off the wall and plugged it into a Silver Face Twin Reverb and played some of the most incredible music I have ever heard. In less than 5 minutes Ted had coaxed just about every imaginable tone possible and in several genres of music. After Ted left, I asked Dan who that was and he told me that was Ted Greene.
The next time I met Ted was again at Norm's and I was noodling away on a guitar trying to figure out a song and doing a bad job of it. After about 10 minutes Ted walked by me and casually said, "You have a good right hand." I later learned that that is what Ted was all about: he always had something kind to say. One of my biggest regrets will be not getting a chance to see Ted play more than I did, or ever get to know him more than just a couple of brief encounters at a guitar store, as he was a true gentleman as well as one hell of guitarist!
~ E.J. "Big Jim" Mead
* * * * *
The first time I went to Los Angeles was in the mid 1970's with my friend Steve Watson. We went to Norm's Rare Guitars while we were in L.A. to check out some guitars. I heard what I thought was a record being played in the back room and asked the owner, Norm, "Is that the Great Guitars with Barney Kessel, Herb Ellis and Charlie Byrd album you're playing?" (It sounded like three guitarists playing simultaneously.) Norm replied, "No, that's Ted Greene trying out a Telecaster." I said, "No way that is just one guy!" Norm said, "Go back and take a look."
Steve and I went back and there was Ted playing a Telecaster through a small Fender Deluxe amp. He motioned for us to come in and we sat there in awe! I had never heard such shimmering beauty from the guitar in all my life! (and haven't since!)
Ted was so nice and friendly to us and spent the afternoon talking with us. When he found out we were from Florida he invited us to his house and gave us both lessons and copies of his book. His sweet mom made us a snack and we went back to Florida with such inspiration it was unbelievable! We became friends and kept in touch, and several years later when I moved to L.A. I took lessons with him.
Ted was not only one of the greatest guitarist/musicians the world has ever known, but one of the finest human beings that ever was. His passing is a sad time for all of us who knew Ted. We rejoice his beautiful spirit and the genius that touched our lives.
~ Ted Shumate
* * * * *
Since I began teaching privately in the San Fernando Valley in 1972, I can't remember a time when Ted Greene was not known as the greatest private guitar teacher around. Ted was the one who most of the successful guitar instructors I knew studied with and would refer any students to who were beyond their expertise.
I will always treasure the memories of our talks about teaching, the early L.A. Dodgers, watching him play at Norman's Rare Guitars (and even playing classic guitar for him!), and the honor of having him record some overdub improvs at my home studio in Reseda for Jordan Harris (Norm's son) and my own son Jason Gutierrez.
Ted Greene has left us heavy hearted but not empty handed. Every time we play the guitar we should think of the love and respect he shared for the music, the instrument, and the human beings privileged to play it.
~ Sal Guitarez
* * * * *
We are very grateful to the many contributors who continue to send us their transcriptions of Ted's recordings. Our collection is growing! This month we have another transcription from Ted's "Private Concert at Alex Sliverman's Home" which we posted in 2016 in our Audio section. This gem that comes from Francois Leduc, which includes notation, TAB, and Grids. Also this month we've got a well-notated transcription of Ted's "Autumn Leaves" from the MI Seminar, by Andres Schifferdecker. Andres sent this to us several months ago, but for some reason it got misplaced and forgotten until now. So sorry for the delay! Thank you, Andres and Francois for sharing your wonderful work!!
~ Your friends on the TedGreene.com Team

NEW ITEMS
ARRANGEMENTS (under the "Classical Pieces" header):
* Bach – Chorale No. 44 (BWV 377), 1980-05-27. [Ted's handwritten arrangement of this Bach Chorale. We created new notation and added "suggested" chord grids.]
* Bach – Chorale No. 45 (BWV 108.6), 1980-05-27. [As above. Ted wrote these two pieces on the same page...perhaps he thought they should be played together.]
CHORD STUDIES:
* Combining 6th and 5th String Root Chords in Short Progressions, 1985-09-15, 16.
* Diatonic Major Key V7-I Root Position – Intense Focus, 1986-09-21. [Ted didn't write the chord names for each grid. We've added an extra "answers" page with translation page in case you have difficulty reading his handwriting.]
* Diatonic Major Key V7-I Root Position, 1986-09-21, 22. [This file has 4 of Ted's original pages. We've included standard notation to the first two, and we added chord name "answer" pages to the other two.]

COMPING:
* Bye Bye Blackbird, V-1 & V-2, Key of E, Top 4 Strings, 1985-06-30. [This is a somewhat easy page to play, with a nice combination of V-1 and V-2 chords. Notation and lead sheet with lyrics added to help you to sync up the chord with the melody.]
* Our Love is Here to Stay, Key of F, V-2, Top 4 Strings, 1991-08-18. [Here we have another relatively easy comping page that sounds great. Notation, lead sheet with lyrics, plus Ted's original grids.]
FUNDAMENTALS:
* 3rd in the Bass Chord Forms – Introductory Page, 1983-09-28 &1984-02-29.
* 5th in the Bass Chord Forms – Introductory Page, 1984-02-29.
* Cumulative Chords - 3-Note Major and Minor Close Triads and Friends, 1984-03-06. [On this page Ted shows chords with the 3rd string "anchor" root and the intervals surrounding it. Then chords are built upon that. No chord names are given, and it's your assignment to fill in the names.]
* Cumulative Chords - 3-Note Major Types, 2nd String Root-Anchor, 1984-02-26. [As in the above page, Ted shows chord with a 2nd string "anchor" root. Again, you'll need to fill in the chord names.]
* Cumulative Chords - 3rd in Bass - From 5th String, 1983-06-26. [There are two pages here. The first one Ted called an "exposure page," showing the root on the 3rd string and the intervals. The second has the 3rd in the bass on the 5th string. Extra pages with chord name "answers" has been included.]
* Cumulative Chords - 6th String Root, Major Types, 1984-03-03, 04. [Ted subtitled these pages "memorizing layout." You can see at the top left-hand corner of the first page the 6-dot-up arrow-R symbol. As mentioned in last month's Newsletter, this indicates that the root it on the 6th string, and the downward pointing arrow means that the chord forms are all built pointing downward from that root note, or toward the bridge of the guitar. Ted's second page has the 6-dot-up arrow-R symbol, meaning that this page has the chords being built upward from that root, or toward the nut of the guitar. Additional pages with the filled-in chord names have been included.]
* Cumulative Chords - 6th String Root, Sus Types, 1984-03-04. [As above, this "memorizing layout" page has the 6-dot-down arrow-R. configuration of sus type chords. root on the 6th string. An chord names page is included.]
* Cumulative Chords - Beginning Progression to Apply, 1984-02-02 & 1984-06-15. [Some very basic short progressions.]
* Interval Layout and Some Common Combinations - 6th String Root, 1984-03-16. [This page shows the 6-dot-arrow-R, with the arrow pointing both upward and downward. Ted is showing the beginner player how to visualize the layout of the intervals in relation to the 6th string root.]

SINGLE-NOTE SOLOING:
* Sustained Scale and Slide Sounds in the Pentatonic Scale, 1985-01-23. [Ted wrote for this page, "Keep notes sustaining wherever you can throughout this page." Notation combined with Ted's grids.]
TRANSCRIPTIONS:
* Autumn Leaves, from MI Seminar, June 1993. Transcribed by Andreas Schifferdecker. Notation and TAB. Watch it here: YouTube. Andres sent this to us several months ago, but for some reason it got misplaced and forgotten until now. So sorry for the delay! Thank you, Andres for sharing your wonderful work!
* Ol' Man River, from "Solo Guitar" transcribed by Francois Leduc, Notation + TAB + Grids. [This is an updated version that Francois has just given us. You'll want to swap this with the one you downloaded months ago. Thank you, Francois, for keeping us updated on your Ted transcriptions. We really love them!]
* Somewhere Over the Rainbow, from "Private Concert at Alex Silverman's Home." Transcribed by Francois Leduc. Notation + TAB + Grids. This beautiful rendition of this classic piece comes from a recording we posted in our Audio section in June 2016 (go back and read the June '16 Newsletter for more info. about that recording). Thanks again, Francoise!




Ted on YouTube

The Official Ted Greene Forums

* Of course, most of the videos are posted right here in our Video Section


+ + + + + + + + + + + + + + + + + + + + + + + + +



- - - - - - - - - - - - - - My Life with The Chord Chemist - - - - - - - - - - - - - -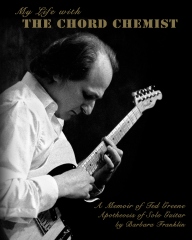 My Life with The Chord Chemist
A Memoir of Ted Greene, Apotheosis of Solo Guitar
By Barbara Franklin

BUY NOW - Available at amazon.com


Publication Date: Nov 24 2009
Page Count: 276
Trim Size: 8" x 10"


ABOUT THE BOOK
A retrospective of Ted Greene, virtuoso solo guitarist, beloved music teacher, world-renowned author and innovator of unique music concepts for guitar. This book also includes an overview of Ted Greene's early life and musical development, plus an insightful narrative of the 13 years prior to his death
Six agonizing months after losing my beloved Ted, I slowly emerged from a state of profound disbelief, almost coma-like. At that time I didn't know what to do with the remnants of my life; then a path began to unfold before me. This website was started and became a saving grace.

During the ensuing years, I organized and categorized Ted's material and personal studies. Upon completion of that massive undertaking, once again, I didn't know what to do, so I began writing.

I wrote pages, and then threw them away, until once again a path began to unfold. What I wrote is mostly a personal memoir. I suppose it was what I had to write first.

From the preface:
"The decision to reveal parts of our personal life was something I deliberated over for a long time. Because our lives became so inextricably bound, I included what I felt necessary, but not without a considerable amount of apprehension. This book illustrates the many parallels between Ted the musician and Ted the person. I felt it was important to convey how Ted was driven compulsively not just to pursue music, but so many other things he loved."
With this in mind, here is our story. It IS very personal and I still have apprehensions about publishing it. My hope is that it brings you closer to Ted, as you begin to get to know and understand this unique and extraordinary man and musician.
+++++++++++++++++++++++++++++++++++++

Don't forget to visit the Newsletter Archives :)