February 2019 • TedGreene.com Newsletter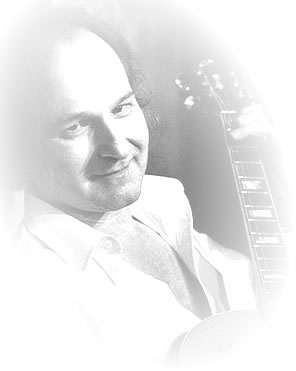 Welcome to the February edition of our Newsletter.
As usual we have an assortment of new lessons from Ted this month, but first we'd like to share some stories and memories about Ted that you might enjoy from some fellow guitarists.
From Brad Rabuchin:
I was very fortunate to be living in Canoga Park when I first took up guitar while in high school in the 70s. I say fortunate because Ted was teaching in a little music store on Topanga Canyon near my house called Dales' Guitars. I was taking lessons with him before I really had a clue about who/what or how great he was. I was probably neither good enough nor serious enough to rate a teacher of his caliber. Still, he always had a way of being very kind and supportive, but still make me feel the "heat" a bit (I wasn't always practicing much back then). So, for quite a while I scuffled through his lessons but then at some point it began to click. I ended up studying with him quite a bit, and with even an occasional lesson until a few months ago.
Many of you remember his hand-written Xeroxes: musical examples or chord diagrams often with tiny written explanations crammed into every corner of the page. You could spend months getting down just one of those sheets. I still have a huge stack of those sheets daring me to practice them.
Ted really became a profound influence on my playing, particularly chord-wise and harmonically, and a huge reason why I play guitar professionally to this day. So, I just want to say thank you Ted for helping set me on course to experience the adventure of music and providing me with the tools to somehow live and work doing something that I love these past 25 years. You'll always be in my music and in my thoughts,
~ Brad Rabuchin
From Chips Hoover:
Ted was probably the kindest and most prolific person I've ever known. Even though I haven't been able to keep in constant contact, I've always felt he was one of my best life-long friends. He is responsible for the majority of whatever musical abilities I have and had a major effect on my life for the better. He did more for furthering guitar harmony than anyone I know of. When I sat with Ted, he always inspired me, always made me feel I could accomplish anything on the instrument that I desired. That's what made him one of the greatest teachers of all time.
The planet is, and will always be a better place for his visit.
~ "Chips" Dana Hoover
From Sid Jacobs:
We all miss him. He was the personification of the truth that music is a spiritual path. Even beyond his amazing musical talent, his humility and generosity touched anyone who came in contact with him. Students, if they couldn't make a lesson, were asked to send in a substitute. For him, there is no substitute. Such a unique treasure, it's hard to imagine how a Ted could exist in the world, and now it's hard to imagine a world without him.
~Sid Jacobs
From Barry Zweig:
[Ted and I] knew each other for over thirty years. He was an inspiration as a teacher and player. He showed me the perfect chord for a certain note in one of my own compositions.
~ Barry Zweig
* * * * *
~ Your friends on the TedGreene.com Team

NEW ITEMS
ARRANGEMENTS:
* I'll Follow the Sun, 1996-01-04. [Here's Ted's interpretation of this fun Beatles song. This page was created at the request of a student during a private lesson with Ted. At the top of the page he added some comments for that student's next session: "1) open triads, 2) pedal tones and triads, 3) other chord progressions, 4) minor keys." This has nothing to do with this arrangement, so it wasn't included in the compilation page. We created a document that has standard music notation with lyrics combined with Ted's grids to make it easier to read and learn. The ending was interpreted based on Ted's previous treatment of the same passage.]
CHORD STUDIES:
* Chord Hearts and Blocks: ii7-V7-I, 1983-09-23 & 24. [This lesson page contains three pages from Ted's files: page 1, page 2, and a supplement to page 2…plus we included an additional copy of the supplement page with the names of the implied chords. Even though Ted titled these lessons for "comping or chord soloing," we did not place it in our "Comping" section since the examples are universally useful for any ii7-V7-I situation. At the top of page 1 Ted wrote: "Play with jazz feel and add syncopation. Repeat each example in Part 1 (this is a get-acquainted section)."]
COMPING:
* I Fall in Love Too Easily, 1996-04-18. [This page was filed away in Ted's cabinet of arrangements, and I quickly discovered that it's a comping study instead. Lead sheet with lyrics combined with notation of Ted's grids provided for easy reading.]
* You Are There, 1994-11-21. [Some of these chord forms are a bit challenging to play all together smoothly, but there's some rich harmonies and good voice-leading throughout. The lead sheet was included as a reference and for harmonic comparison of the original "basic or standard changes" to Ted's chord choices. He didn't include the chord qualities for most of the grid diagrams, as that was the assignment for the student to do, so we added them in blue. Also take note of Ted's famous "17th" chord in measures 9 and 20. The voicing here is: Root, b7, 11th, 13th, 3rd (or 17th – a 3rd up two octaves). Ted has stated that for the 17th chord, the major 3rd must be above the 11th. This has a unique sound…check it out for yourself. Compilation page provided for easier reading and learning.]

SINGLE-NOTE SOLOING:
* 3rd Stacks and Runs in 3rds, 1980-02-10. [This isn't technically a lesson for single-note soloing because it is for playing two notes together, but it fits right in with SNS playing, so we've added it to this section on the site. We've included notation for each grid diagram to make it perfectly clear what Ted was trying to convey for these 35 examples. Many of the runs are similar or exactly the same as others with the same chord/harmonic quality name, but the position on the neck is what changes. This will become clear as you work thru the exercises.]





Ted on YouTube

The Official Ted Greene Forums

* Of course, most of the videos are posted right here in our Video Section


+ + + + + + + + + + + + + + + + + + + + + + + + +



- - - - - - - - - - - - - - My Life with The Chord Chemist - - - - - - - - - - - - - -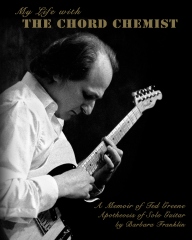 My Life with The Chord Chemist
A Memoir of Ted Greene, Apotheosis of Solo Guitar
By Barbara Franklin

BUY NOW - Available at amazon.com


Publication Date: Nov 24 2009
Page Count: 276
Trim Size: 8" x 10"


ABOUT THE BOOK
A retrospective of Ted Greene, virtuoso solo guitarist, beloved music teacher, world-renowned author and innovator of unique music concepts for guitar. This book also includes an overview of Ted Greene's early life and musical development, plus an insightful narrative of the 13 years prior to his death
Six agonizing months after losing my beloved Ted, I slowly emerged from a state of profound disbelief, almost coma-like. At that time I didn't know what to do with the remnants of my life; then a path began to unfold before me. This website was started and became a saving grace.

During the ensuing years, I organized and categorized Ted's material and personal studies. Upon completion of that massive undertaking, once again, I didn't know what to do, so I began writing.

I wrote pages, and then threw them away, until once again a path began to unfold. What I wrote is mostly a personal memoir. I suppose it was what I had to write first.

From the preface:
"The decision to reveal parts of our personal life was something I deliberated over for a long time. Because our lives became so inextricably bound, I included what I felt necessary, but not without a considerable amount of apprehension. This book illustrates the many parallels between Ted the musician and Ted the person. I felt it was important to convey how Ted was driven compulsively not just to pursue music, but so many other things he loved."
With this in mind, here is our story. It IS very personal and I still have apprehensions about publishing it. My hope is that it brings you closer to Ted, as you begin to get to know and understand this unique and extraordinary man and musician.
+++++++++++++++++++++++++++++++++++++

Don't forget to visit the Newsletter Archives :)