October 2018 • TedGreene.com Newsletter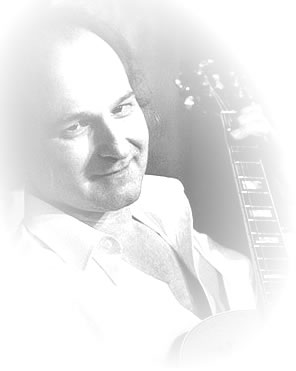 A warm Fall greeting to all Ted Greene friends, fans, and students!
This month there are a few new items that we'd like to discuss briefly. First off, we want to let you know that we created a new header in the "Chord Studies" section called "4th Chords." A couple of weeks ago, as part of the "Lesson File Upgrades," we moved all of Ted's previously posted lessons relating to 4th chords into this new area, and at the same time upgraded them as needed. Some of the older files were a combination of 2 or more pages that really didn't belong together, so we separated, upgraded (usually by adding standard notation and/or adding chord names), and renamed them for clarity sake. You can find a break-down of exactly what was done in our Forums under the "Forum/Site Updates" section in the thread on "Lesson File Upgrades."
If you have your own collection of files that you've been downloading from our site, we hope you've been keeping up with all these improvements over the past couple of years. The rest of the "upgrades" should be completed in the coming months, and we'll keep informed about future developments.
For this Newsletter we've added Ted's remaining lessons on 4th chords from his teaching archives as well as from his Personal Music Studies files. This pretty much finishes that section now, unless other related pages are discovered in Ted's PMS collection (which is still not completely indexed yet, due to the size and complexity of it).
Another treat we have for you this month is two different arrangements of "The Man I Love" by Ted. He first wrote out a basic "simpler" version of it in 1974 in the key of Eb, and included a brief "analysis" for some points of interest in the arrangement. During this time Ted had not fully developed his system of chord grid notation (using dots, x's, squares, and triangles to show moving lines on the chord), so we redrew the diagrams (using Ted's later, more developed grid system), added standard music notation, and provided the lyrics to the song. All this should make it much easier for you to navigate thru the piece.
(If you're somewhat new to Ted's grid system we would recommend that you look in Modern Chord Progressions, pages 5-10, and also check out this document that we posted in our "From Students" section: How to Read Ted Greene Chord Diagrams.)
Now, for an added bonus and aid for learning this piece, Tim Lerch agreed to do a YouTube video performance and review of this arrangement for us. Tim really brings the piece to life and shows some very useful tips for playing and expanding upon the arrangement. I especially like his observation of the repeated descending chromatic line that was part of the original Gershwin piano score, and how he integrates that into Ted's arrangement, and then elaborated further on that by added a contrary-motion line to it. This is quite nice, and it makes the arrangement richer and more interesting. Here's a link to Tim's YouTube review/lesson for Ted's arrangement in Eb. The Man I Love.
As Tim points out, these written arrangements of Ted's are not meant to be played strictly as notated. The notation acts as a guide to help you to get the elements in the right places and with the proper melody and structural format—but Ted always encouraged the student to add their own personal interpretation and variations in order to bring some new life and color to the piece. Make it your own!
We're very grateful to Tim for taking the time from his busy schedule to make this video. If you haven't checked out his YouTube channel be sure to do so: Tim Lerch YouTube channel. You'll be pleased to find many videos relating to some of Ted's lessons, arrangements, comping studies, blues, and other items, as well as a ton of his own excellent guitar lessons, arrangements, equipment reviews, etc.
In addition to the 1974 arrangement, Ted also made a more complicated version of "The Man I Love" in the key of E during October of 2000. This one has some similar chord moves to the 1974 version, but is much more involved, which requires extra time to get under your fingers. Because it's in the guitar-friendly key of E it utilizes some open strings which sound very nice. If you're ambitious you might want to learn both the Eb and the E versions and then combine them by either transposing the 1974 version to E, or by starting off playing the 1974 version, then modulate up a 1/2 step and play the 2000 version. Or try making your own combinations, experimenting with transposing to different keys, adding intros, interludes, modulations, etc. Whatever you do you'll find a wealth of musical ideas hiding within these pieces.
And finally, we want to end this month's newsletter by sharing Tim Lerch's comments from the Ted Greene Memorial Blog, which he wrote back in August of 2005:
Ted has had an incredible influence on me. I have spent years striving to play solo guitar in a way that is musical, improvisational and fun to listen to. Ted has always represented the high watermark on all of these points.
Over the years he encouraged me, gently called me on my weaknesses or laziness, and always inspired me to continue to search for my own voice. As we all know, it was easy to lose yourself in Ted's brilliance, but he never let me get away with just imitating him or anyone else. It was fine as far as it went, but now what do you have to say for yourself? This question continues to guide me.
Having Ted as a teacher and mentor was a privilege that we will all be thankful for as long as we live, play, and help others. While there is obviously a musical influence, perhaps the most important thing Ted gave me is that he was one of the most genuine and authentic people I have ever met. He said things to me in the course of lessons and phone calls that have percolated into the deepest regions of my mind and heart, and have helped me to form a compassionate and healthy world view.
Ted helped me grow less cynical and embrace beauty. I learned about ethics from him and how it is possible to really care for others and still be honest and even critical. He showed me how you can believe in yourself and your convictions and not be arrogant. It is rare to meet a truly generous person, a truly kind person, one who gets joy from the simplest of human interactions. Ted was a true Bodhisattva.
I miss you Ted. Thank you
~Tim Lerch
Okay, now jump in and enjoy the new lesson material, and use it to help you in creating your own musical vocabulary, your own voice, your own artistic expressions of beauty.
* * * * *
~ Your friends on the TedGreene.com Team

NEW ITEMS
ARRANGEMENTS:
* The Man I Love (key of Eb), 1974-05-15. [See newsletter message above. Notation, new grids, and lyrics provided.]
* The Man I Love (key of E), 2000-10-30. [See newsletter message above. Notation and lyrics provided.]
ARTICLES & INTERVIEWS:
* "Ted Greene – Chord Chemist" by Stuart Goldman. Unknown music magazine, January 1980 issue, p.88. [We found this article on the Internet but have been unsuccessful in determining the magazine in which it was published or in contacting the author. If you happen to know more about this, please contact us.]
BAROQUE:
* Phrases with Root Position Triads (Chorale Style), 1975-03-08. [In this lesson page Ted wrote out 20 short phrases with soprano and bass lines only. The assignment for the student is to fill in the missing inner voices (tenor and alto) with a Chorale style. Ted gives two "sample solutions" for the first example. New notation is provided, but no other suggested "solutions" are given. Because Ted instructed the student to do all the examples in various keys using close and open voicings, with good voice-leading or with parallel motion - the possibilities are too numerous for us to try to make suggestions. You'll have to come up with your own. Good luck.]

CHORD STUDIES:
Under the "4th Chords" Header:
* 4ths, undated. [Five examples in the key of F.]
* Diatonic 4th Chords - V-3 and Others, undated. [Two examples: in the key of C and F.]
* Miscellaneous 4th Chord Studies, various dates. [This is a collection of several ideas Ted jotted down for this personal study and observation – not intended as lessons pages.]
* Seminal 4th Chords, 2004-05-20. [Here are a few 4th chords for major, minor and dominant types that Ted deemed as important. An additional page is provided that includes the chord names.]
* Stacked 4ths, undated. [This is a collection of five exercise using diatonic 4th chords in melodic phrases. Notation is given, along with some "follow-thru" and chord names when applicable.]

COMPING:
* Watch What Happens (key of D, V-2 and V-1, middle strings), 1980-02-04. [Great comping study using both V-2 (drop-2) and V-1 (close voicing) chords. This study focuses on the middle 4 strings.]
* Watch What Happens (key of D, V-2 and V-1, top strings), 1980-02-04. [As above, but this study is for the top 4 strings only. You'll notice that the notation/notes are exactly the same in this version and the middle strings version: only the location and the shape of the chords on the neck changes.]
* Watch What Happens (key of D, middle 4 strings), 1980-02-04. [This version is a variation of the other study on the middle strings – very similar, but slightly different in spots. You'll have to study it to see where the differences occur.]
FUNDAMENTALS:
* Chord Construction Quiz, 1976-05-25. [We typed out Ted's page and added new grids to make it easier to read. In addition, we've included an "answers" page. This might be a good item to hand out to your guitar students for homework.]

HARMONY & THEORY:
* Modes, Scales, Tonal Resources, 1975-02-07. [Ted lists various periods of music (Ancient, Baroque, Classical-Romantic, Impressionistic, 20th Century) and explains what modes or scales and other elements that were used at that time in that music. Typed out text for easy reading.]

SINGLE-NOTE SOLOING:
* Double-Line Playing – Preparatory Page for Learning, 1981-02-26. [Even though this page isn't about "single-note soloing" – it seems like it is related to this kind of soloing, and we've therefore added to this section. We added notation to show exactly what Ted is illustrating in in grid diagrams.]

THE V-SYSTEM:
* Choice V-1 for Top 4 Strings, 1992-12-18 and 1993-01-09. [Here Ted wrote out "only the practical" choice voicings for the 35 4-note chord types that land on the top 4 strings. This is his "initial rough list." Chord type #1 was not included, probably because Ted decided that they were not practical for playing. New grids have been drawn to make it easier to read, and some of the groups were rearranged so that the chord types are in sequential order (as Ted indicated on his work sheet).]




Ted on YouTube

The Official Ted Greene Forums

* Of course, most of the videos are posted right here in our Video Section


+ + + + + + + + + + + + + + + + + + + + + + + + +



- - - - - - - - - - - - - - My Life with The Chord Chemist - - - - - - - - - - - - - -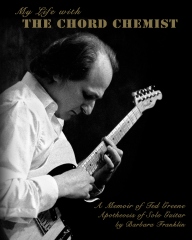 My Life with The Chord Chemist
A Memoir of Ted Greene, Apotheosis of Solo Guitar
By Barbara Franklin

BUY NOW - Available at amazon.com


Publication Date: Nov 24 2009
Page Count: 276
Trim Size: 8" x 10"


ABOUT THE BOOK
A retrospective of Ted Greene, virtuoso solo guitarist, beloved music teacher, world-renowned author and innovator of unique music concepts for guitar. This book also includes an overview of Ted Greene's early life and musical development, plus an insightful narrative of the 13 years prior to his death
Six agonizing months after losing my beloved Ted, I slowly emerged from a state of profound disbelief, almost coma-like. At that time I didn't know what to do with the remnants of my life; then a path began to unfold before me. This website was started and became a saving grace.

During the ensuing years, I organized and categorized Ted's material and personal studies. Upon completion of that massive undertaking, once again, I didn't know what to do, so I began writing.

I wrote pages, and then threw them away, until once again a path began to unfold. What I wrote is mostly a personal memoir. I suppose it was what I had to write first.

From the preface:
"The decision to reveal parts of our personal life was something I deliberated over for a long time. Because our lives became so inextricably bound, I included what I felt necessary, but not without a considerable amount of apprehension. This book illustrates the many parallels between Ted the musician and Ted the person. I felt it was important to convey how Ted was driven compulsively not just to pursue music, but so many other things he loved."
With this in mind, here is our story. It IS very personal and I still have apprehensions about publishing it. My hope is that it brings you closer to Ted, as you begin to get to know and understand this unique and extraordinary man and musician.
+++++++++++++++++++++++++++++++++++++

Don't forget to visit the Newsletter Archives :)