June 2018 • TedGreene.com Newsletter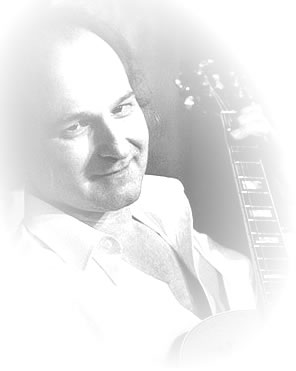 June Greetings!
This month we're gonna keep the newsletter short and sweet. We'll start out by sharing one tribute to Ted from the TG Memorial Blog by one of his long-time students:
After 19 years of studying with Ted Green on a bi-monthly basis, I received a phone call from a close friend, Loni Spector, who had received a call from Dan Sawyer, saying that Ted Greene had passed away last Saturday. It has taken me several days and many hours of discussing with my wife my heartfelt grief over the loss of Ted. I had looked forward to another 30 years of Ted's guidance. I could go on forever about all the stories I have about him, but I just wanted to share just one little gem:
About 7 years ago Ted was playing at a little restaurant called the Seashell on Ventura Blvd., near his home. Ted liked to be close to home. Those of you who know Ted, know he was not a self-promoter and would seldom say where or when he was playing. On that evening I waited for the dinner crowd to thin out and then greeted Ted. As usual he was still playing because he never took a break. Unlike me who can't put two words together when I play solo guitar, Ted kept on playing as we talked for a few minutes.
Then I sat down at a table by myself next to two fellow long-hairs – obviously guitar-types and obviously expressing a mutual admiration for Ted. We broke into conversation. One of the gentlemen introduced himself as Shawn Lane. (Those of you who know, the incredibly talented Shawn Lane unfortunately is now deceased, too.)

After Ted had played for 2 - 3 hours, noting our enthusiastic support, he decided to give us a little something extra. Starting with what seemed to be an almost folk-like theme, Ted proceeded to spin the theme covering Baroque, R&B, Bebop, you-name-it, ultimately returning to its original simplistic form. All I can say is that it was akin to what Keith Jarret can do when he grabs a hold of a theme: spontaneous composition. About half way through this display of incredible musical prowess, I realized I had tears running down my face. I turned and looked over at Shawn and saw that he, too, was crying.
After the show was over, Ted and Shawn talked for hours about 1920-30 classical pianists, as well as their love of Bill Evans and Art Tatum. Ted and Shawn were both truly diverse in their love of music. It was an incredible night.
Every once in a while in life you come across something incredibly special – to me that was Ted Greene. His quest, as he told me numerous times, was beauty. And Ted could articulate that in a way that no one else that I've ever met could.
I will miss my dear friend, teacher and mentor forever. God Bless, Ted.
Love,
Bob Holt
* * * * *
This month for our new items we're posting the last of Ted's pages of preliminary ideas for his "Bass-Enhanced Triads" book that he intended to write. There still may be a few pages hiding in the unindexed folders of his Personal Music Studies files – and if we do come across any we'll be sure to post them right away – but at this time I think we've got 'em all.
And now that we've finished posting all of Ted's "official" V-System hand-out sheets, we can now focus on sharing some of Ted's worksheets for the various voicing groups. This month we have something for V-2, V-3, V-4, and V-5. Thanks to James Hober for his explanation of the V-5 page relating to the Overtone Dominant scale.
It was great to have some extra contributors for the new materials this month. It really helps! Special thanks to Tony Darren for sharing three more of his pages from private lessons with Ted, and to Hak-Yoo Lee and Radons Atremble for their transcriptions. (Radons invites you to visit his YouTube channel for more free transcriptions here. And he anticipates that he'll be doing more transcriptions of Ted in the not-so-distant future that he will share with us.) Thanks, guys!
~ Your friends on the TedGreene.com Team

NEW ITEMS
ARRANGEMENTS:
Under the "Classical Pieces" header:
* Bach – Chorale No.274, 1974. [This is another very early transcription/arrangement by Ted of one of Bach's chorales. It's not exactly clear where Ted left off with this score. It could be that this is just the first stage in the process of making his guitar arrangement: combining the 4 voices onto one staff. From there Ted usually would slightly modified that notation so it would be more "guitar-friendly," like change keys, or move one of the notes to make it playable. He might have written it down, or just worked it out in his head and fingers. In the case of this chorale, it seems he stopped, since he never wrote out anything further as either notation or chord grids. We've put Ted's original notation on the computer to make it easier to read and added some "likely possibilities" for chord forms to play it, although you may find other forms that you prefer. We also added a copy of the original Bach notation in 4 voices.]
Under the "Lead Sheets Written by Ted" header:
* Day by Day (from "Godspell"), 1974-04-26. [Ted's lead sheet is written in 4/4 time, whereas this song is normally played in 3/4 – perhaps the 4/4 is a common variation, or maybe it's Ted's unique rendering. New notation plus Ted's original sheet.]
BAROQUE:
* Baroque Modulation Schemes, 1975-03-27. [Ted details about 90 different progressions for modulations in the key of C, and he grouped them as: I to ii, I to IV, I to vi, I to iii, and I to V. He further classifies them as to the type of modulation used: via chord scale, via cycle, ascending/descending bass, direct modulation, sequence modulation, etc. Keep in mind that for many of the chords he wrote figured bass to indicate specific inversions. (see Ted's page on figured bass for more info. Here or here.) Ted had two different copies of this lesson, one with extra text he added later. We've typed out the text, combining both copies.]

CHORD STUDIES:
Under the "Bass-Enhanced Triads" header:
* Bass-Enhanced Triads - Misc. Ideas 2, 1996-1999. [A collection of miscellaneous idea tidbits for B.E.T., taken from Ted's Personal Music Studies papers. New notation added to his grids.]
Under the "Harmonization of a Given Melody" header:
* Diatonic Major Harmonization of Ascending Bass Starting from Various ii's, 1985-03-14. [The melody in this case is a major scale, starting on the 5th degree (or you could call it a mixolydian scale), and harmonized with diatonic chords from that key using ascending bass lines and a 2-to-1 melody-to-chord ratio. There's some nice ideas here in this group of 21 examples. Notation added with Ted's grids for easy assimilation.]

COMPING:
* The Shining Sea, 1995-01-09. [This is the love theme for the 1966 comedy film, "The Russians are Coming, the Russians are Coming!" written by Johnny Mandel, lyrics by Peggy Lee. I was expecting this page to be an arrangement, since it was filed along with Ted's other arrangements. I had a hard time tracking down a lead sheet for this song. Apparently, this song was popular in 1966, but it has pretty much become a somewhat obscure tune. After purchasing a chart online, I discovered that Ted's page is really a comping study. I believe that the 4-measure intro is Ted's own. If you want to play this as a solo piece you'll have to make your own arrangement. You might use Ted's reharmonization and chord forms as a loose guide to get you started. Notation with lyrics combined with Ted's grids for easy reading…oh, and we added the chord qualities to his grids, as would have been the homework for the student.]
FUNDAMENTALS:
* Basic Major, Dominant, and Minor 7th Type Chords and Intervals from 5th & 6th String Roots, 1985-09-16. [This page provides some basic first steps in learning to see moveable chords on the fingerboard, using root tones as anchor points and showing the 3rd, 5th, 7th, and 9th tones in relation to it. Filled-in "Homework" pages are provided along with Ted's originals.]
* Locating the Tones in the Main Chord Forms, 1978-11-26. [More fundamental work on seeing chord intervals in relation to a given root tone. Filled-in pages included for reference.]
THE V-SYSTEM:
* V-2, The 15 Major Extensions in Efficient Transformation Schemes, 1993-05-26. [Ted labeled this page as "the 15 major extensions," but he only did 7. These are all V-2 chord, and by moving one or two of the notes he shows how they are various transformed to other chord qualities. We've added a page of newly drawn grids with text to better show the transformations.]
* V-3, Choice V-3 Major Types, 1986-01-26. [Ted lists the 15 "regular" major chord types with extensions (no altered, 11 or #11 chords), and then gives V-3 forms for each, grouped according to the soprano voice. This page focuses on the middle 4 and top 4 strings only. Newly drawn grids with typed text provided for easy reading.]
* V-4 Voicings for Minor 7 and Minor 7/11, 1988-04-01. [On this worksheet Ted is exploring all the voicings for chords #32 and #30 from his list of the 43 4-note chord qualities. Newly drawn grids for easy reading.]
* V-5, All V-5 Chords in the Overtone Dominant Scale, 2001-04-27. [This one is a bit difficult to understand. In this worksheet Ted is listing all V-5 chords that are diatonic to the Overtone Dominant scale, organized according to the soprano note. The chords have not been named. Included are newly drawn grids for easy reading plus a valuable explanation by Mr. James "V-System" Hober.]
TRANSCRIPTIONS:
* Just A Little Lovin' – Transcribed by Radons Atremble. [Standard notation with TAB. Take from the YouTube video of Ted on December 19, 2004 at Mark Joseph's birthday party.]
* Manha De Carnaval – Transcribed by Hak-Yoo Lee. [Standard notation with chord grid diagrams. This was taken off the video lesson made by Nick Stasinos on Jan. 16, 1997. Be sure to also check out the comping page Ted was playing thru in the video: ManhaDeCarnaval.]
FROM STUDENTS:
Under the "Contributions from Tony Darren" header:
* Dorian to Dorian – Lesson from Ted, 2002-03-31. [The title is deceptive – it's a page with a collection of different progressions: Dorian to dorian, Gospel, Just a Little Lovin' and Straight Gospel 3. Ted grids only. Your homework is to play thru and give names to the chords and understand the progressions.]
* I-IV-iii-vi-ii-V-I Studies – Lesson from Ted, 1986-12-31. [Diatonic chord progressions in the key of B, D and A. Ted's grid chord diagrams.]
* Minor Key Jazz Progression – Lesson from Ted, 1988-10-19. [Again, the title describes only the first of the three examples. Number 2 = "Fusion" and number 3 = Diatonic Melodies with Harmonization.]



Ted on YouTube

The Official Ted Greene Forums

* Of course, most of the videos are posted right here in our Video Section


+ + + + + + + + + + + + + + + + + + + + + + + + +



- - - - - - - - - - - - - - My Life with The Chord Chemist - - - - - - - - - - - - - -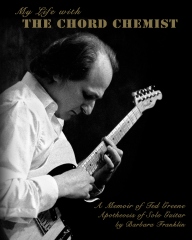 My Life with The Chord Chemist
A Memoir of Ted Greene, Apotheosis of Solo Guitar
By Barbara Franklin

BUY NOW - Available at amazon.com


Publication Date: Nov 24 2009
Page Count: 276
Trim Size: 8" x 10"


ABOUT THE BOOK
A retrospective of Ted Greene, virtuoso solo guitarist, beloved music teacher, world-renowned author and innovator of unique music concepts for guitar. This book also includes an overview of Ted Greene's early life and musical development, plus an insightful narrative of the 13 years prior to his death
Six agonizing months after losing my beloved Ted, I slowly emerged from a state of profound disbelief, almost coma-like. At that time I didn't know what to do with the remnants of my life; then a path began to unfold before me. This website was started and became a saving grace.

During the ensuing years, I organized and categorized Ted's material and personal studies. Upon completion of that massive undertaking, once again, I didn't know what to do, so I began writing.

I wrote pages, and then threw them away, until once again a path began to unfold. What I wrote is mostly a personal memoir. I suppose it was what I had to write first.

From the preface:
"The decision to reveal parts of our personal life was something I deliberated over for a long time. Because our lives became so inextricably bound, I included what I felt necessary, but not without a considerable amount of apprehension. This book illustrates the many parallels between Ted the musician and Ted the person. I felt it was important to convey how Ted was driven compulsively not just to pursue music, but so many other things he loved."
With this in mind, here is our story. It IS very personal and I still have apprehensions about publishing it. My hope is that it brings you closer to Ted, as you begin to get to know and understand this unique and extraordinary man and musician.
+++++++++++++++++++++++++++++++++++++

Don't forget to visit the Newsletter Archives :)