February 2018 • TedGreene.com Newsletter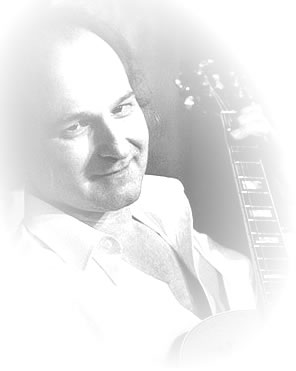 Greetings to all old and new fans, friends, and students of Ted Greene – the Chord Chemist!
In the process of preparing the new lesson material for this month, we came across one of Ted's lead sheets for "Lullaby Medley" arranged by Cathy Segal-Garcia and Ted. As you may already know, a beautiful recording of this can be found in the GIT seminar from 1978. I contacted Cathy and asked if she was okay with us posting the arrangement, and if she had any comments about that piece. We've combined her thoughts along with Ted's notation and harmonization. You can find it in the "Arrangements" section below.
And since we were looking at that piece, I thought it would be nice to share the comments that Cathy added to the DVD/CD, "Never Forgotten" she released in 2014:
Never Forgotten
Album Notes by Cathy Segal-Garcia
Ted Greene was my friend since the day I met him in 1976. I had heard about him at Berklee College of Music in Boston when I attended 1972-1975, since there were a lot of guitarists there when I attended. Ted was (and still is, in my opinion) a gentle and kind spirit. Intensely focused and obsessed with what he was obsessed with! A loving and giving friend to many, he got a real kick out of people, and helping them. His sweet girlfriend Barbara totally "got" him, and loved him with all she had. I'm content that they are traveling spirits together now. Humble, almost to a fault, I'm afraid Ted would not have loved that I put these recordings out. But like I always said to him, we're artists because we can reflect the state of mankind, and that's a gift that we've been entrusted with – we've got to do it and give it to the people! So Teddy, this is for you, and me, and everyone. You've made mankind just a little bit better because of you and your art. I love you.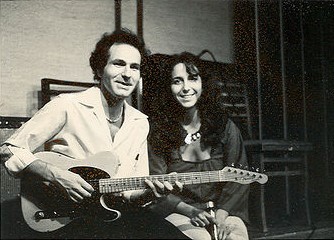 This package is one DVD and one audio CD. The DVD is a complete gig in 2000 at the famed "Rocco's" in Los Angeles, up on Mullholland Drive. Ted and I did a mix of old pop hits, standards, and other genres. Seeing Ted play and hearing him speak is a joy and a treasure! These archival audio-only recordings are from two places: One from 1978 at the old Musician's Institute in Hollywood, a performance for the students. And the other from 1998 when we did a gig at Papashon Restaurant in Encino. The audios were originally recorded on cassette, and re-mixed in 2014, for quality listening by the amazing musician and engineer, Wayne Peet, of Killzone Music, Los Angeles.
I was one of the only vocalists to work with Ted. I met him when I waitressed at the well-known jazz club in L.A., "Donte's". He fainted (he had a problem with loud sound) and I was leaning over him when he woke up! I knew of him, but had never met him. When he found out I was a singer, he asked me if I wanted to get together and play. We did. We worked up a repertoire of standards, in which every single one modulated to at least one other key. I remember when I had my first non-Ted gig after that, I totally had disregarded for myself that my songs were in several keys. Oh boy! That was an embarrassing night!
The first gig Ted and I had was at The Sound Room in Studio City, for owner David Abhari. I had to convince David to book us, we were the first live group he hired. I went around and put up 3 flyers. I didn't realize that Ted didn't play out a lot, and that he had a serious following. When I showed up at the gig, there was not even standing room! That was actually my first gig in L.A.
For those of you who know Ted's playing, you'll love being privy to him just playing a few gigs, like a regular guy! For those of you who don't know Ted, look him up on the web, he has a site. He played the bass line, the chords, and the melody all at the same time. And amazing harmonies to boot. A beautiful human being and a major contributor!
* * * * *
If you don't have a copy of this album, you might enjoy hearing and watching a master accompanist working with a fine jazz singer. I wanted to point out one very subtle thing in Ted's preamble to "Lullaby Medley," which I've transcribed here:
Ted: "[This is] a medley of lullabies and associated tunes Cathy had put together, and hopefully it'll put you in a nice place…not to suggest you're not in it already."
This last short comment is so typical of Ted. My experience with him was that he never criticized people, or even suggested that they had problems or imperfections. As a guitar teacher it's so easy to get into the mode of pointing out things that are wrong with a student's playing and to being somewhat critical in the helping process. Ted would do exactly the opposite by complimenting you on some aspect of your playing, no matter how small or seemingly insignificant it was. He made you feel like you were progressing just fine, and that he was simply sharing some new ideas and sounds that you might like or find helpful to your playing. He made you comfortable about where you were at, but was always encouraging you to push yourself beyond your comfort zone.
So now…on to the new lesson material…not to suggest that you need any of these ideas or that you're playing isn't in a nice place already….
~ Your friends on the TedGreene.com Team

NEW ITEMS

ARRANGEMENTS:
* Love Walked In, (key of Eb), 1977-05-25. [This arrangement comes from Ted's "red period" – when he used red ink with a chord grid stamper. Boy, we don't like writing up these pages, because every grid needs to be straightened and cleaned of all the extra lines, etc. If you don't know this song, listen to Ella Fitzgerald sing in on YouTube… then slow it down even more so that you can make the melody sing with the sustaining chords. New notation provided.]

AUDIO:
* Ted Greene Lesson for John C. McCain, September 1991. [This is a lesson recorded as a special request for one of his students. Ted was alone while making this tape, and talks without the focus of having a student present, so the content is more stream-of-consciousness. Some subjects touched on are I-vi-ii-V formulas with walking bass, "I Remember You," some blues improvisations, and some comments about studying/practicing and teaching. MP3 file, 177 kbps, 50 minutes. This file has been added to the "Miscellaneous" section under the header "Lesson for John McCain."]

BAROQUE:
* Progressions Using 1st Inversions; Figured Bass, 1974-12-27, [Ted explains Figured Bass, and details 75 different progressions using Roman numerals and figured bass. See Mark Thornbury's "From Students" file for the chord grids he made as "homework" for this lesson. His chords provide just one of the countless ways to play these progressions.]

CHORD STUDIES:
* Melodizing ii7-V7-I in Close Harmony , 1980-11-10. [Some interesting ii-V-I moves with mostly V-1 type voicings. Five exercises with moving voice in the bass, and five with moving voice in the soprano. Ted's grids combined with standard notation.]
* 3-Note ii7 Voicings in ii7-V7-I Progressions , 1984-01-01. [Eighteen examples of ii-V-I progressions with 3-note voicings, most of which are close voicings, or V-1 type or fragments. Notation added to Ted's chord diagrams.]

In the Bass-Enhanced Triads section:

* Bass-Enhanced Triads Stuff, 1991-09-30, 1992-12-10. [Some misc. ideas Ted collected for his B.E.T. book. Notation provided and added chord names.]

COMPING:
* Time After Time, 1977-08-21. [Key of C. Please also see Ted's arrangement of this song and his lead sheet/arrangement outline page.]

FUNDAMENTALS:
* Chord Progressions , 1974-12-25. [Ted explains and lists 13 basic progressions. Typed text provided.]
* Guitar Layout and Sight-reading Foundation Studies , 2001-09-24.[Using large-sized grids, Ted shows how one melody can be played in several places on the guitar neck. This understanding lays a foundation for being able to sight-read all over the fretboard, not to be stuck in just one or two positions.]

HARMONY & THEORY:
* Non-Voice Leading Exercises on Important Progressions , 1974-11-15. [Ted explains some things to do when voice-leading is abandoned. He also gives 11 progressions in major, and 10 in minor as homework for the student to work out different chord voicings using to these ideas. Re-typed for easy reading.]
* Tonality Types – Modulation & Tonality Transitions , 1975-10-10_12. [Ted lists 15 different tonality types and defines them by rhythms, textures, chord types used, and other various uses such as bass movements, moving lines, pedal tones, and other harmonic devices. A good reference sheet or a tool to help inspire new ideas. Typed text added to save your eyes from too much squinting.]

OTHER:
* Harp-Harmonic Forms on the Top 5 Strings, (More Consonant), 1980-11-01, 24 & 1980-12-07. [Here Ted defined 329 chord forms to be used for harp-harmonics. These are ones which he considered "more consonant" sounding. There's quite a few finger-stretchers here, and lots of optional notes. Next month we'll give Ted's collection of "more dissonant" chord forms for harp-harmonics. Re-drawn grids for easy reading.]

PERFORMANCES/SEMINARS
* 1978 — G.I.T. Seminar. Given at the first G.I.T. building at 5858 Hollywood Blvd, Hollywood, CA. [Ted gave two seminars this day with Cathy Segal-Garcia to the students and faculty. An audio recording of one of these can be found in our AUDIO section as well on the DVD/CD" Never Forgotten." See Set List.
* 1998, Dec. 10 — Papashon Restaurant, Encino, CA. Ted and Cathy Segal-Garcia performed live here. This event was audio recorded and appears on the DVD/CD " Never Forgotten." See Set List.
* 2000, June 13 — Rocco's, Los Angeles, CA. Ted and Cathy Segal-Garcia performed live here. This event was videotaped and appears on the DVD/CD " Never Forgotten." See Set List.

PERSONAL/DISCOGRAPHY & PUBLICATIONS
* 2014 — "Never Forgotten" DVD/CD. Cathy Segal-Garcia & Ted Greene. A documentary: Live at Rocco's in Los Angeles, CA, 2000, plus live audio recordings from 1978 at G.I.T and 1998 at Papashon Restaurant in Encino, CA.

SINGLE-NOTE SOLOING:
* Major Scale Sounds for Single-Note Playing, 1975-07-15. [Here is one of Ted's early reference sheets for single-note soloing. Here is one of Ted's early reference sheets for single-note soloing. It outlines five basic positions for the notes in the key of Bb major and shows the corresponding chord and various arpeggios for each degree of the scale. This is great for those new to soloing or for those who want to better see the chord/scale/arpeggio relationships within the scale patterns. Redrawn grid diagrams for easy reading.

THE V-SYSTEM:
* V-1, ii7-V7-I on Top and Middle 4 Strings , 1980-11-05 and 1979-06-23. [Ted called this page, "Exercise and 'Acquaintance.'" He wrote out 75 different voicings. Although he didn't title the page as a V-1 lesson, it certainly falls in that category, with the exception that some of them are 3-note chords, rather than a formal 4-note V-System voicing. Be ready for some finger-stretchers here!]
* V-1 Minor 7th Streams as ii7 or vi7 , 1985-04-19. [This lesson could also have been placed in our "Chord Studies/Chord Streams" section, but since Ted titled it as a V-System page it seems better suited to be combined with the other V-1 lessons. Standard notation provided for all 10 examples. Ted indicated in red that he thought it was best to divide this lesson into 2 pages when giving to students, but apparently he didn't do this. However, you can just consider examples 1-5 as part 1, and examples 6-10 as part 2.]
* V-1 Minor 7th Types - Close Harmony-Derived Voicings , 1980-11-09. [Ted details the voicings and names of 95 different V-1 minor 7 types: 31 for the top 4 strings, and 64 for the middle 4 (and top 5) strings. Technically, 5-note chords do not belong in the V-System lessons, but since Ted titled this page as such we've included it. The page was created in 1980, but at some later date he made a few additions with his red pen (as Barbara Franklin told us that he was constantly reviewing and revising many of his old lesson pages).]

FROM STUDENTS:
* Progressions Using 1st Inversions; Figured Bass , 1974-12-27 [Mark Thornbury's chord grids he made as his "homework" assignment for this lesson page. These sheets are an excellent companion to Ted's original lesson. Be sure to see the typed version of Ted's page in the "Baroque" section. Thanks Mark!]




Ted on YouTube

The Official Ted Greene Forums

* Of course, most of the videos are posted right here in our Video Section


+ + + + + + + + + + + + + + + + + + + + + + + + +



- - - - - - - - - - - - - - My Life with The Chord Chemist - - - - - - - - - - - - - -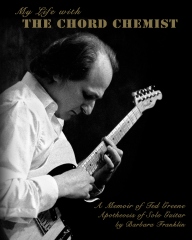 My Life with The Chord Chemist
A Memoir of Ted Greene, Apotheosis of Solo Guitar
By Barbara Franklin

BUY NOW - Available at amazon.com


Publication Date: Nov 24 2009
Page Count: 276
Trim Size: 8" x 10"


ABOUT THE BOOK
A retrospective of Ted Greene, virtuoso solo guitarist, beloved music teacher, world-renowned author and innovator of unique music concepts for guitar. This book also includes an overview of Ted Greene's early life and musical development, plus an insightful narrative of the 13 years prior to his death
Six agonizing months after losing my beloved Ted, I slowly emerged from a state of profound disbelief, almost coma-like. At that time I didn't know what to do with the remnants of my life; then a path began to unfold before me. This website was started and became a saving grace.

During the ensuing years, I organized and categorized Ted's material and personal studies. Upon completion of that massive undertaking, once again, I didn't know what to do, so I began writing.

I wrote pages, and then threw them away, until once again a path began to unfold. What I wrote is mostly a personal memoir. I suppose it was what I had to write first.

From the preface:
"The decision to reveal parts of our personal life was something I deliberated over for a long time. Because our lives became so inextricably bound, I included what I felt necessary, but not without a considerable amount of apprehension. This book illustrates the many parallels between Ted the musician and Ted the person. I felt it was important to convey how Ted was driven compulsively not just to pursue music, but so many other things he loved."
With this in mind, here is our story. It IS very personal and I still have apprehensions about publishing it. My hope is that it brings you closer to Ted, as you begin to get to know and understand this unique and extraordinary man and musician.
+++++++++++++++++++++++++++++++++++++

Don't forget to visit the Newsletter Archives :)