January 2019 • TedGreene.com Newsletter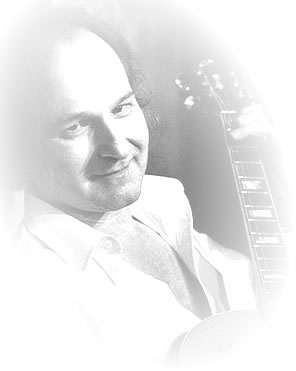 Happy New Year!
To start off the new year we have a short piece to share that came from Dan Sawyer: a short story and some information about Ted and his guitars.
Ted and Barbie's Pet Guitar Names
At some point, Ted and I traded guitars. I had a Guild X-175 with P-90 type pickups that he really liked. He said the narrow fingerboard would be perfect for Barbie's small hands. Ted had a cherry-red Guild Starfire II that I loved. It had the normal Gibson neck width (1 & 11/16th inch). Before we could do any kind of trade Ted wanted to make sure Barbie liked it, so we waited for a few weeks. Once Barbie gave her thumbs up, the deal was set. One condition per Ted, was that I loved the guitar. Liking it was not enough for him. Ted asked for a little extra money because his guitar came with a really nice Gibson case which he said was more valuable than my Guild case. I was fine with this and really wasn't going to argue because I "loved" his Starfire.
Ted and Barbie's name for the Starfire was Camille. Barbie explained that they originally called the guitar Camouflage which was shortened to Camo and then finally, feminized to Camille. My old Guild guitar became Danette…named after me but with changed gender. (Notice that all Ted's pet names are female.) A few years later I bought The Lady, his Gibson 1960 ES5 that's on equipment list in the Personal/Gear section. It was named Lady because of the beautiful gold parts and luscious blonde wood.
Ted and Barbie really used these names when talking to each other. For example; "Please bring Daisy in here. She would be perfect for this Bach piece". Or, "Lulu needs her B string changed."
~ Dan Sawyer
Before we jump into the new lesson material for 2019, we thought to give a quick summary of Ted's lesson materials that we posted in 2018:
New Lesson Items Posted in 2018: total: 217
Arrangements: 25
Articles & Interviews: 4
Audio Recordings: 5
Baroque: 13
Chord Studies: 49
Comping: 17
Discography & Publications entries: 1
From Students: 12
Fundamentals: 36
Harmony & Theory: 8
Jazz: 1
Other: 3
Performances Date entries: 9
Single-Note Soloing: 12
Transcriptions: 6
The V-System: 16
Lesson File Upgrades posted in 2018: 91.
That's a total of 277 upgrades since we started this project. There's 37 more to go, and then we should be ready for a site overhaul.
Also featured in 2018 were two articles written specially for our site: one by Adam Levy titled, "Three Things I Learned from Ted Greene," and another penned by Leon White: "Ted Greene's Solo Guitar - About the Recording." Tim Lerch also created a very helpful instructional YouTube video reviewing Ted's arrangement of "The Man I Love."
In 2017 we posted 222 new lessons and 168 "upgrades," so we're about even with the new stuff, and considerably down with upgrades. (Many of those upgrades in 2017 were somewhat quick fixes, but the 2018 ones generally required more time.) We hope to continue with this same flood of material in this new year….so buckle your seatbelts, hold onto your hats and get ready for some great guitar lessons that will challenge your fingers, expand mind, and delight & amuse your ears — as usual from Ted!
If you're somewhat new to this site you might find it interesting to look back through our older newsletters. There you'll often stumble across some buried treasures that you won't easily find elsewhere. And we'd like to invite any of you transcribers out there to share your Ted transcriptions with us. We want to keep our "Transcriptions" section ever growing. Also, please remember to visit the TedGreene Facebook page and "like" us there; visit our Forums regularly and participate in discussions there. And of course, we want to deeply thank you all for your donations — these are always greatly appreciated and help to keep everything here free for guitarist around the world.
Have a beautiful, exciting, and musical 2019!
* * * * *
~ Your friends on the TedGreene.com Team

NEW ITEMS
ARRANGEMENTS:
* A Time for Us – "Love Theme" from Romeo and Juliet, 1994-03-10. [This is a beautiful song for which Ted made a nice arrangement that's not too difficult to play. You'll want to add a lot of right-hand arpeggios to fill in certain spots. Something unique on this page is the symbols for the playing order. This is the only instance I've seen where Ted used a hexagon shape for the fifth note to be played (following his triangle). In the past he sometimes has used a diamond or star-shape symbol, but never a hexagon. Interesting…and he only used it once, in measure 24 on the Ebm chord. After measure 32 Ted created an extended ending. I'm not sure if this is Ted's own creation, or if it is part of the film score arrangement. The diagrams look more daunting than they actually are. All those ties mostly indicate chord arpeggios played after the initial chord is struck, then a couple of melody notes at the end. Notation with lyrics combined with Ted's grids provided for easier reading.]
CHORD STUDIES:
* 3rd Stacks – Dominant Type Chords, 1979-05-10. [This is an interesting lesson page. Ted shows stacks of 3rds as laid out on the fretboard to be used for creating melodic phrases with either 2, 3, or 4 note groupings. Given are diagrams for the 4 main dominant types ("regular," "sus," "overtone series," and "altered"). We've redrawn the diagrams to make them easier to read, plus added the chord tone names below the strings (as was the assignment).
* More Progressions Using Modern Dominant Voicings, 1979-02-02. [This collection of 10 exercises use advanced voicings mostly with 3-b7 or b7-3 on the bottom end of the chords. A real modern sound that seems most suitable for jazz settings.]
* Starting Chords, 1973-03-26. [Ted subtitled this page, "Also all close voicings and semi-close." It's unclear what he meant by "starting" chords. It's a collection of major type sounds all in the key E. We've added newly drawn grids for easier reading. On Ted's original page many of the chords include colored numbers showing the chord tone for the top note. These were not added to the redrawn grid pages. Most likely this was an assignment for the student to do.]
Under "Chord Streams" header:
* Comping Vocabulary - 3-Noters, Major Family, 1992-07-11. [Ted titled this page as "Comping Vocabulary" and you'd think we should have put this in our "Comping" section. But this page is more like a "chord stream," being that Ted strung together a series of 3-note chords (triads, if you prefer) that outline a specific chord sound. This page is very similar to some of his "Chord Hearts" pages. Many or all of the lessons in the "Chord Streams" section may be used effectively for comping purposes, especially when used as fills in places where a single chord lingers for a longer period of time. On the top of the page he wrote, "2nd Set of Strings, p.1" although we don't have any record of page 2 or any other string sets being written up. One could certainly take this as an assignment to do for yourself: Move these same exercises to the top 3 strings, and to other string sets (5,4,3 and 6,5,4) changing keys as necessary. We provided an extra copy of this lesson page with the chord names written in with blue letters. Ted would probably have wanted the student to think of the "visual root" for each chord form, and to also be aware of the chord tone of each of the soprano notes.]
COMPING:
* Fascinating Rhythm – comping on the middle strings (key of Eb), 1984-08-29. [Here's another comping page for this jazz standard. Compare this page with the one we posted last month for the key of F, using the top 4 strings. Notation and lyrics combined with Ted's grids for easy reading.]

SINGLE-NOTE SOLOING:
* Playing in One Position, 1977-10-24. [Three exercises for playing through the cycle of 5ths (4ths) progressions and staying in one position of the neck. Ted subtitled this page, "As a tool for learning major scale sounds and transitions between them." However, he covers not only major add9 sounds, but also dominant 9 and minor add9 sounds as well. New notation provided for easy reading.]




Ted on YouTube

The Official Ted Greene Forums

* Of course, most of the videos are posted right here in our Video Section


+ + + + + + + + + + + + + + + + + + + + + + + + +



- - - - - - - - - - - - - - My Life with The Chord Chemist - - - - - - - - - - - - - -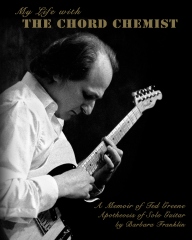 My Life with The Chord Chemist
A Memoir of Ted Greene, Apotheosis of Solo Guitar
By Barbara Franklin

BUY NOW - Available at amazon.com


Publication Date: Nov 24 2009
Page Count: 276
Trim Size: 8" x 10"


ABOUT THE BOOK
A retrospective of Ted Greene, virtuoso solo guitarist, beloved music teacher, world-renowned author and innovator of unique music concepts for guitar. This book also includes an overview of Ted Greene's early life and musical development, plus an insightful narrative of the 13 years prior to his death
Six agonizing months after losing my beloved Ted, I slowly emerged from a state of profound disbelief, almost coma-like. At that time I didn't know what to do with the remnants of my life; then a path began to unfold before me. This website was started and became a saving grace.

During the ensuing years, I organized and categorized Ted's material and personal studies. Upon completion of that massive undertaking, once again, I didn't know what to do, so I began writing.

I wrote pages, and then threw them away, until once again a path began to unfold. What I wrote is mostly a personal memoir. I suppose it was what I had to write first.

From the preface:
"The decision to reveal parts of our personal life was something I deliberated over for a long time. Because our lives became so inextricably bound, I included what I felt necessary, but not without a considerable amount of apprehension. This book illustrates the many parallels between Ted the musician and Ted the person. I felt it was important to convey how Ted was driven compulsively not just to pursue music, but so many other things he loved."
With this in mind, here is our story. It IS very personal and I still have apprehensions about publishing it. My hope is that it brings you closer to Ted, as you begin to get to know and understand this unique and extraordinary man and musician.
+++++++++++++++++++++++++++++++++++++

Don't forget to visit the Newsletter Archives :)